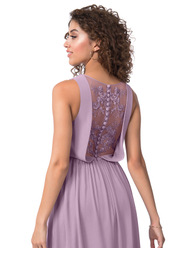 Azazie Jessa
Robes de demoiselle d'honneur
139€
information sur le produit

Le style Azazie Jessa par azazie est une robe de demoiselle d'honneur Longueur ras du sol A-ligne/princesse dans un facile Mousseline de soie, Dentelle. La robe charmant présente un décolleté Col V et un style de dos . Le style Azazie Jessa de Que vous l'habilliez avec des bijoux tendance ou avec des chaussures plates et un cardigan, il incarne la beauté intemporelle. azazie est disponible dans les tailles A0 à A30. 
Critiques de photos (4)
Avis les plus récents
Notes
Obligeance
rachaelsmith
Révisé le :
16 juil. 2022
Couleur:
Mulberry
Taille commandée:
A18
This dress was gorgeous!!!! It was a perfect fit for me, I didn't need a lot of alterations on it and the back lace was really cool. I got a lot of compliments on the dress. If you choose the dress, you will definitely not be disappointed. I'm so glad I picked it.
aemartinag
Révisé le :
4 juin 2022
Couleur:
Twilight
Type De Corps:
Hourglass
Taille commandée:
A8
The dress looked beautiful and complimented the other azazie dresses very well!
schadege
Révisé le :
23 oct. 2021
Couleur:
Plum
5'6" 140lbs athletic. This dress needed alteration only at the hem when worn with flats. Lace on the back was NOT itchy. Could not have been happier with this choice.
katrina.nygaard
Révisé le :
26 août 2021
Couleur:
Ivory
Such a beautiful dress - I am not sure why there aren't any reviews yet (must be a new product). This dress fits true to size and has a stunning back lace detail. I ordered the dress in ivory size A0 and will be wearing it as my wedding dress at a fraction of the cost of other dresses. The chiffon material is beautifully draped over a double layer of lining. The dress is surprisingly lightweight but still covers underwear lines. The bodice includes padding and boning so no need for a bra if you're small chested like me. This dress would be beautiful in any color for a bridesmaid or bride. I'll just be adding a beaded belt to complete the look.
dina_38
Révisé le :
23 juil. 2022
Couleur:
Cabernet
Received the dress and the gathering around the waist is so messy with enourmous folds it is not good at all. The back and the front look so différent from each other. Very disappointing!!
Jstricklinlott
Révisé le :
17 juil. 2022
Couleur:
Bleu Roi
Beautiful color and beautiful dress. Not very flattering for girls on the thicker side. The back while gorgeous makes you look wider. And the waist line is fairly blunt. For someone tall this would be beautiful
embertucci
Révisé le :
9 juil. 2022
Couleur:
Dusty Rose
Taille commandée:
A10
The Jessa dress was the nicest one from Azazie I've ever worn! The back detail is so pretty and I got many compliments. It is SO comfortable and supportive because of the wide straps. I have a larger chest and didn't need to have any extra support to feel comfortable dancing. This dress was true to size (I'm usually a size 10 dress and the A10 fit perfectly) however I found that it fit a little bigger than the other azazie dresses that I tried on (A 12 fit best in some other styles). 10/10 would recommend.
imasenger
Révisé le :
7 juil. 2022
Couleur:
Mauve Vintage
Type De Corps:
Straight
Taille commandée:
A6
I LOVE the back of this dress. Ordered this as a try-on dress and had a few of my bridesmaids try it on (and also tried it myself). Before everyone tried it this was my definite favorite, but we sadly ruled it out after the try on. The front was too boring and a bit frumpy/unflattering, though the back was really beautiful! I think it would be best on a tall, thin, willowy type body, but did not look so great on more normal bodies (no one was overweight). Try it on though, might look great on you or be worth it for the back! The sizing seemed good, I think the front is just designed more loose and unfitted. Quality and materials are great. The back looked amazing. Just didn't like the front.
bristowjenn
Révisé le :
20 juin 2022
Couleur:
Paon
This was my absolute favorite of all the dresses I tried on from Azazie. Typically in pants I'm a size 18 and this fit true to that size. It was not tight anywhere, it fit perfectly and was beautiful. I will most definitely be buying in a different color to keep in the near future.
makaylachase07
Révisé le :
18 juin 2022
Couleur:
Sky Blue
Taille commandée:
A14
I love the back of this dress! I ordered an A14. I am 5'1 and around 160 pounds. It was long on me, but I knew it was going to be. I had to have it altered, but I was expecting to. Just wish it had a slit. Loved it regardless tho!
audreyr
Révisé le :
27 mai 2022
Couleur:
Sky Blue
Type De Corps:
Pear
Taille commandée:
7496
I got so many compliments on this dress! The Sky Blue color is beautiful.
efire29
Révisé le :
4 mars 2022
Couleur:
Sauge Poudrée
Beautiful dress! I ordered this try on dress to make sure it would be comfortable for my bridesmaids to wear at my wedding and I was blown away! The back is simply stunning and the front was very flattering. I was worried the lace on the back would be itchy or uncomfortable, but it wasn't! I am very pleased with this product and I ordered it in the size I typically have bought a bridesmaid dress in and it fit perfectly! I think some of my girls might do custom sizing for their dresses which is such a nice option!
Jankowsa
Révisé le :
19 févr. 2022
Couleur:
Black
Type De Corps:
Hourglass
Taille commandée:
A8
100% would recommend the custom alterations. It was perfect!
lanierose93
Révisé le :
19 févr. 2022
Couleur:
Ink Blue
I really loved the dress. It ran a little small at the band on the waist. For that I should have sized up. By the end of the reception I was so ready to get the dress off! I also had to get the dress trimmed up. It was pretty for the pictures though.
jesusenfriend
Révisé le :
17 févr. 2022
Couleur:
Noir
I loved the design of the dress and the back lace is beautiful. It fits well and the dress is beautiful! I ordered try on dresses to find the right size and I found the right size. Good customer service!
caitlinemccabe
Révisé le :
1 nov. 2021
Couleur:
Grape
Type De Corps:
Pear
Taille commandée:
CUSTOM SIZE
Received loads of compliments on the back of the dress - and it was super comfortable!
brown.shelby057
Révisé le :
22 oct. 2021
Couleur:
Paon
This dress is gorgeous! This is what I will be wearing as maid of honor in my friend's wedding. The back appeal is amazing and the front is so flattering! CAN'T WAIT!
jacquelinemdoto
Révisé le :
2 oct. 2021
Couleur:
Twilight
I felt so comfortable in this dress. I'm a more curvy girl with larger breasts (G) & this dress was perfect. I used goodlines boob tape & I couldn't have felt better. I got so many compliments on it from so many people. I love that it looks like a pretty standard dress from the front but there's this gorgeous surprise in the back. It was beautiful & I felt amazing dancing all night in it. I also bought a few other dresses because I just wanted to make sure this was "the one" & customer service is awesome with returns. Highly recommend honestly for all body types!!