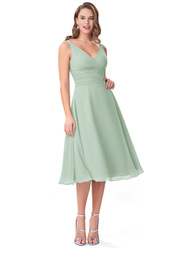 Azazie Jayla
Robes de demoiselle d'honneur
139€
information sur le produit

La robe de demoiselle d'honneur gracieux Longueur thé de azazie an une A-ligne/princesse coupée dans un magnifique Mousseline de soie. Le style Azazie Jayla présente une encolure Col V et est disponible dans une gamme complète de tailles (A0-A30). {Embellissement} 
Critiques de photos (7)
Avis les plus récents
Notes
Obligeance
krisnsam
Révisé le :
30 avr. 2022
Couleur:
Eucalyptus
Type De Corps:
Poire
Taille commandée:
A14
Perfect bridesmaid dress!
cediedri
Révisé le :
26 févr. 2022
Couleur:
Jade
I'm 5'-5" and about 140lbs. The top portion of Jayla is quite large in comparison to the bottom portion of the dress. The waist fit true to size with the measurements provided on the website, but the top portion was HUGE on me. I love the shape of the cut on the back, but the straps were not in proportion to my body, and would have required a LOT of alterations. The front was also huge on me. Maybe a custom sizing would be better for this type of dress? This dress is for someone with large chest, smaller waist and long torso.
Des
Révisé le :
10 juin 2021
Couleur:
Rose Poudré
Type De Corps:
Sablier
Taille commandée:
CUSTOM SIZE
Very nice dress, but the shoulders are a little weird and it doesn't fit right in my chest area. I'll tack the front in a few more places (I have a small chest) and possibly use some two sided tape and it should be fine. When ordering custom measurements, I'd round up, these dresses are snug!
alia.siegrist
Révisé le :
15 juin 2019
Couleur:
Gris Acier
Ordering the custom size was definitely the way to go. The dress fit perfectly, even if it did take a group effort to get it zipped up when I put it on. However, once it was zipped, it was great! I was comfortable in the dress the whole night, and I never felt like I couldn't move or breathe or anything like that. I will note that the hook and eye closure at the top of the zipper was installed incorrectly, so that it could not be closed, which might have been part of what made it so hard to zip up; however, it did not affect my enjoyment of the dress.
Tia
Révisé le :
27 août 2018
Couleur:
Bleu Roi
Taille commandée:
A18
My best friends wedding went perfectly. I ordered the wrong size initially and Jennifer in their customer service was so nice and accommodating in correcting my error. The new size came and it fit like a glove. Everyone kept commenting how nice I looked.
homa9512
Révisé le :
21 sept. 2017
Couleur:
Gris Acier
Loved buying a dress through Azazie! Customizing was so easy. Great price for a superior quality dress my friend's whole bridal party bought dresses through Azazie and we all loved them! Great no pressure shopping with lots of options and help if you need it!
Rebecca Ordon
Révisé le :
27 juil. 2015
Here are my Matron and Maid of Honor in the sample Jayla dresses we ordered. I think initially they were skeptical ordering dresses online but we all loved these on them! I just wish the samples had been available in Royal Blue since that's the color they'll wear.
TANYA
Révisé le :
16 mars 2022
Couleur:
Corail
Type De Corps:
Sablier
Taille commandée:
A8
The Jayla dress is a very pretty design and the fabric was also quite nice. It just wasn't for me
amleigh_28
Révisé le :
3 sept. 2021
Couleur:
Noir
Taille commandée:
A20
Loved the dress. The only issue I had was that the 18 was too tight and the 20 was too loose and finding the middle ground with altering was difficult.
mctiggerr15
Révisé le :
28 août 2021
Couleur:
Bordeaux
Taille commandée:
A18
This silhouette is very lovely. The dress was a bit big in the bust and the length was a bit long on me (5'6 and about 215), but over all the flow was so pretty! Would have been great if the wedding wasnt postponed.
Lindybradforde
Révisé le :
24 août 2020
Couleur:
Acier Bleuté
Taille commandée:
Custom size
Loved! But not what I was looking for
Lindybradforde
Révisé le :
24 août 2020
Couleur:
Acier Bleuté
Taille commandée:
Custom size
Loved. Just not entirely what I was looking for!
sspencer0328
Révisé le :
18 juin 2020
Couleur:
Crépuscule
I ordered this dress in a custom size. It came pretty much fit for my body and I loved the dress. The only thing I will say about it is it was still to big in the chest area. I was expecting it to come without me having to do any alterations to it. I am having to take in about an inch to an inch and a half in the chest area to make it fit correctly. Other than that the dress is great. Length is great on me and I really liked the Twilight color.
CLB
Révisé le :
2 avr. 2020
Couleur:
Rose Poudré
Ordered a 14, which was a size down from my measurements, but it fit just fine and as I would expect a 14 to fit me. The only thing that would have needed alterations were the shoulder straps, because they kind were a little long. It's a pretty dress, and the quality was better than I expected. The shape was flattering. My stomach is where I carry most of my weight, but I still have a fairly defined waist from straight on, as my hips and shoulders balance out the weight in the middle, and this dressed helped cover the extra weight in my midsection while also helping me keep a shape. I liked the tea length, because it's long enough that I could wear undergarments to prevent the dreaded thigh "chub rub" but it wouldn't drag on the ground during the outdoor wedding. I ended up ordering the Diana, but this was a close runner up.
guayama93
Révisé le :
27 août 2019
Couleur:
Lilas
I bought this dress for my sister's wedding. I have never used the site before and was not sure about my size so I ordered a sample dress in my size. The sample dress fit great; only minor adjustments needed to be made on the shoulders. But once I received the actual dress, it was way too small... With no time to send it back, I am extremely disappointed. I understand that the dresses are made to order, but the sample dress that I ordered (in the same exact size) fit me completely different. I would have loved to keep that one if it was in the color that I needed. Will not order from this site again.
guayama93
Révisé le :
27 août 2019
Couleur:
Rose Rougissant
Fit great. Wish that the dress I ordered and spent money on fit me the same way...
Kara K.
Révisé le :
16 juil. 2019
Custom sizes are needed for this dress. We ordered this dress for my bridesmaids, and they ordered general sizes, and every single one of them had to be altered in the straps and busts because it was very large on all of them, even the girls with bigger chests. More work than we wanted to have, and it's another cost to go get them altered, so make sure that you measure your girls carefully before buying this dress! Otherwise, it's a beautiful dress, with good material, and it is very flattering on body shapes and sizes of all kinds.
Heather Lee
Révisé le :
28 juin 2019
Couleur:
Noir
Taille commandée:
A22
Way too big in the bust! Material is scratchy and feels cheap. I'll spend the extra 20 bucks and go to David's Bridal next time.
lindseybell1988
Révisé le :
20 juin 2019
I researched and researched for months trying to find the perfect dress that's budget friendly but also a dress that would make my two best friends feel pretty to wear for my wedding. After researching for so long, I finally found the one!!! They absolutely loved this dress. I did have to order the dresses to be custom sized for them because their measurements did not fit with standard sizes but no biggie. Thank you so much for providing a dress that made my girls feel so beautiful on my wedding day. ❤️
kerriekramer82
Révisé le :
14 mai 2019
Couleur:
Paon
Type De Corps:
Droite
Taille commandée:
A0
I love the dress; however, it's far too big in the bust area and will require a great deal of alterations. It fits pretty well everywhere else however and once it's altered, I believe it will be exactly what I was looking for. The color is perfect.