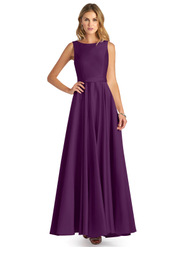 Azazie Jakayla
Robes de demoiselle d'honneur
169€
information sur le produit

Amusante et séduisante, cette robe de demoiselle d'honneur en élégante Satin convient à tout mariage, de la plage à l'église. Votre fête de mariage va adorer cette robe fantastique Longueur ras du sol A-ligne/princesse avec un décolleté Col bateau. {Embellissement} 
Critiques de photos (3)
Avis les plus récents
Notes
Obligeance
Michelle Bartel
Révisé le :
22 juin 2020
Couleur:
Cabernet
This dress fit perfectly! I ordered this style and 3 others for my four girls and custom sized every one. Since they are all different shapes and sizes and height I didn't want them to have to get a bunch of alterations. I'm very pleased with the end result! My wedding is in October and I got these in plenty of time.
Susan B.
Révisé le :
4 déc. 2018
Wow, I am impressed with Azazie's customer service and their dresses! We got samples dresses with such ease. Then we ordered using the custom sizing, and the dresses were spot on!! My girls look a bit rough in the picture, but I had to post a review because I was so thrilled with everything....the quality, the fit, the timeliness, and dress bags were included. I would highly recommend Azazie!!
czw0041
Révisé le :
9 avr. 2018
I thought these dresses were beautiful and looked great on all my bridesmaid. High quality. Do custom measuring It works the best!
Briannetaylor314
Révisé le :
20 mars 2022
Couleur:
Bleu Marine Foncé
Type De Corps:
Poire
Taille commandée:
A10
Beautiful dress! Lots of material on the bottom, and the material does attract every hair, lint, dust particle around, especially in the dark navy!
88hestia
Révisé le :
17 mars 2022
Couleur:
Bleu Poudré
Taille commandée:
A8
To be honest aside from it running slightly small, I misread what kind of fabric the dress was made in. I thought it was a taffeta like fabric which I think would be prettier. The satin makes the dress seem cheaper. Satin is not flattering on women with curves.
Oliviam80
Révisé le :
10 févr. 2022
Couleur:
Rose Poudré
Type De Corps:
Sablier
Taille commandée:
A8
Fast shipping and easy to ship back! Dress was true to size. Def will get it hemmed!
cady.michele.t
Révisé le :
10 nov. 2021
Couleur:
Rouille
Type De Corps:
Droite
Taille commandée:
A10
It was a perfect fit-I received many compliments.
drountree
Révisé le :
7 août 2021
Couleur:
Tahiti
My daughter wanted a satin dress with structure and simplicity. Jakayla was perfect for her, elegant and comfortable. We went with custom sizing and the fit was great.
Stephanie Taylor Arnold
Révisé le :
16 mars 2021
Couleur:
Pétale De Rose
cgalligan36
Révisé le :
16 janv. 2021
Couleur:
Lilas
The dress fit perfectly in the mid-section/hips, but was overall large everywhere else. But as a petite woman I already knew I'd need to get it altered no matter what, so no complaints. Shipping was fast, and the dress arrived in perfect condition. I'm happy with my purchase!
Erica
Révisé le :
26 sept. 2020
Couleur:
Rouge
Taille commandée:
A18
A lot better than what I was expecting for the price! My bridesmaids will be purchasing these for the wedding!
Nicole
Révisé le :
14 sept. 2020
Couleur:
Bleu Poudré
I ordered a try on dress for my bridesmaids to try at home. I absolutely love the fit of this dress. The high neckline is exactly what I was looking for and I love the sparkly buttons and the cut out on the back. The only reason I didn't give this dress five stars is because I'm not so sure about the fabric yet. I am worried that it will be shinier than I want it to be. My wedding dress is also satin, and I don't want the bridesmaids to have the same fabric as I do. I ordered this dress in lilac so that I can see exactly what the fabric will look like before I order for all of my bridesmaids.
lacy.sisk
Révisé le :
6 août 2020
Couleur:
émeraude
Type De Corps:
Droite
Taille commandée:
Custom Size
I ordered this for my sister who is very small and consistently has ill-fitting clothing. She did custom sizing and it fits perfectly. The only thing we wish we had done was maybe given her an inch or two extra in the waist because it fits like a glove. Overall we are thrilled with the purchase. The color is fabulous and she even said she could wear it to a formal school function. Could not recommend highly enough.
pespears
Révisé le :
3 nov. 2019
Couleur:
Glycine
Type De Corps:
Droite
Taille commandée:
A4
Gorgeous dress. Fabric is very nice and quality is great.
dextererin1
Révisé le :
26 juil. 2019
Couleur:
Vert Foncé
Taille commandée:
A4
This dress is beautiful and the fabric works well for a winter wedding! I'm usually a size 2/4 and I ordered a 4 and it fit great
Tobijedwards
Révisé le :
23 juin 2019
Couleur:
Vert Foncé
Top is beautiful - skirt is too full and heavy for my taste
gemvcraig
Révisé le :
13 juin 2019
Couleur:
Glycine
Incredibly disappointed in this dress... It just looks cheap. FAR too long... easily 5 inches too long.. still drags even with heals on. WAY too much fabric for the skirting. When I brought it to the tailor she pulled nearly half of it away. Looks bulky and the structure around the bust is an awkward inch or so too wide. Nothing about it is flattering. Not nearly as sleek as it appears online.
SC
Révisé le :
16 janv. 2019
5 stars! Purchased this dress in Dark Navy, size 4, and it's absolutely perfect! True to size, elegant, and great quality. I'm 5'8" and the length is perfect for my shoes with a 2.5 inch heel. This is the second dress I've purchased through Azazie for an annual black tie event and both experiences have earned 5 stars. Dresses have arrived early both times and both have been exactly what I hoped. Thanks, Azazie!
Lisacarothers79
Révisé le :
13 nov. 2017
Couleur:
Marron
Nice looking dress, nice fabric. Custom sizing very disappointing. Also the "waistband" isn't securely attached, but rather barely tacked down and not very well in some cases.
Lisacarothers79
Révisé le :
13 nov. 2017
Couleur:
Marron
Ordered the sample dress and it was a perfect fit in every way - so excited and unusual considering my 6'1" frame. Ordered the dress in the same size, different color and it is WAY too short. My aunt on the other hand, ordered a custom size and it arrived WAY too long. I'm beginning to wonder if alternations cut mine rather than hers since they were ordered together. Been hunting for a Azazie phone number today and still haven't found it. Disappointing. Still trying.