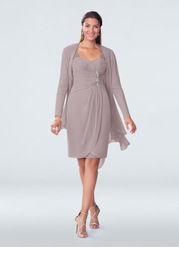 Azazie Imperial
Mère de la mariée Robes
279€
information sur le produit

Cette robe Longueur genou, Gaine/Colonne de azazie est confectionnée dans un exquis Mousseline de soie, Tulle. Azazie Imperial présente un style de dos et une encolure Encolure en coeur. Azazie Imperial par azazie est disponible dans les tailles A0-A30. {Embellissement} 
Critiques de photos (1)
Avis les plus récents
Notes
Obligeance
callmemle
Révisé le :
9 sept. 2021
Couleur:
Crépuscule
I liked the design of the dress - it is flattering and I am a plus size. I have large arms & chest, so the lace portion was tight. The lace and mesh it was sewn to was very rigid and uncomfortable, which would make it difficult to stretch no matter your size. I was expecting it to be softer - it would have been scratchy if I had to wear it longer. Take note of the designs that have a "stretchy" banner across the product photos if you want a more forgiving design. I would definitely order 1 size larger of any dress. I loved the try on option, but it takes 10 days to get them - if they have what you want in stock. I'd suggest ordering different sizes at one time (I'm assuming the sizing is the same for all their dresses), if you order several to try on so you can more easily compare sizing. Then count on 5-6 weeks to receive your order color/size. I'd start looking at least 3 months in advance if you plan to order from this site.
briannabro
Révisé le :
6 juil. 2022
Couleur:
Rose Poudré
Taille commandée:
A14
Ordered for my mother for my wedding. Went by the measuring chart and was extremely disappointed when it arrived. It was at least two dress sizes too big. Material was good. Will be returning.
sbeahan
Révisé le :
9 avr. 2022
Couleur:
Bleu Poudré
Didn't wear the dress, too small and uncomfortable
grovegirl2004
Révisé le :
4 avr. 2022
Couleur:
Bleu Marine Foncé
Taille commandée:
A18
As in some of the reviews, I should have ordered this dress in a larger size. Also, the sheer jacket didn't come with the tryon so I was not able to get a clear picture of how the dress would ultimately look. Despite this, the dress is very classy and elegant.
arar1956
Révisé le :
30 mars 2022
Couleur:
Bleu Poudré
Taille commandée:
A16
elisebcormier
Révisé le :
12 févr. 2022
Couleur:
Bleu Poudré
Taille commandée:
A12
This Imperial MBD was just a Try-On dress for me, I really liked it on the model. Unfortunately this style did not flatter my body type at all. Yes, I knew it would be a bit larger in the bust area, that was not really my concern. The bust area was like a real focus point. It had more gathered fabric than I had realized, which I was not really liking- made me look "Busty". The remainder of the dress was very pretty and flowed nicely. Very nicely made also. The Dusty blue color did not favor my complexion, it made me look a bit "washed out".
bdwells67
Révisé le :
4 févr. 2022
Couleur:
Gris Acier
Type De Corps:
Sablier
Taille commandée:
A8
Way undersized! I am a size 8 but ordered a size 10 just because not sure of the sizing. Couldn't even get it on. Not sure where your sizing chart comes from but it is wayyy off!
jmudel5
Révisé le :
25 janv. 2022
Couleur:
Bleu Marine Foncé
Type De Corps:
Pomme
Taille commandée:
A16
Chose to try this dress on. It's a beautiful dress, but just wasn't for me. The sleeves felt a little off.
Jacquigallo
Révisé le :
11 déc. 2021
Couleur:
Bordeaux
This dress was lovely. It laid perfectly. The jacket was a classy added touch. I felt wonderful in it. And I received lots of compliments.
sdiedrich32
Révisé le :
24 sept. 2021
Couleur:
Orageux
Type De Corps:
Droite
Taille commandée:
7535
So glad I ordered this beautiful try on dress even though I ultimately ordered it in a smaller size and color . Nicely made , size true to description. Can't wait to get my final dress , I'll let you know ! And I recommend getting swatches first to pick your favorite color and see the great quality of materials
kelleytichenor
Révisé le :
17 mai 2021
Couleur:
Orageux
I ordered the sample dress in size 14. It fit well and was flattering for my 54 year old body. I thought the dress was beautiful but I can't say it feels comfortable wearing it. But, I figured I could deal with some slight material discomfort in exchange for the overall look, for my son's wedding. I ordered size 14 in stormy. I tried it on and could not breathe when my husband zipped it up. It was crazy tight under the bust. Returned it and will not reorder. I typically wear a 12. It would be way to big in several places in size 16. I think my size 14 dress was simply sewn too small under the bust...a sewing issue. I'm 5'7" and 175 lbs
Jennifer
Révisé le :
8 avr. 2021
Couleur:
Mauve Vintage
It was so nice to try on the dress to see if I ordered the right size. My top is larger than my bottom so I was concerned it might be too small up there. The dress was very pretty but was too fancy for me. I ordered a different one from you as well that is more my style. Can't wait for it to come.
Karen
Révisé le :
31 mars 2021
Couleur:
Cabernet
This was my first time ordering from Azazie, so I wasn't sure what to expect. My expectations were definitely met and exceeded. I ordered 3 try-on dresses for my son's upcoming wedding. The quality of the fabric and workmanship on each dress was outstanding. The fit was true to the sizing chart. Returning the two dresses I decided against (they were beautiful, but a size smaller than what I purchased - hope springs eternal!) was extremely easy. The return label was included with the dresses. All I had to do was repackage them as they came and take it to FedEx. I was so impressed that I ordered another dress for an upcoming dance event. Can't wait for it to arrive!
kelleytichenor
Révisé le :
26 mars 2021
Couleur:
Cabernet
I thought this dress was flattering and minimized my problem areas. I'm 5'7" and 175 lbs...I always wear a size 12 and sometimes a 10 for a forgiving style of dress. However, I fit size 14 in this dress (per the Azazie measurements I should've ordered a size 16 in the bust; 14 in the waist and 10 in the hips...apparently I'm an ice cream cone shape). And, now I'm trying to lose a few pounds to give myself some wiggle room. I think the dress is gorgeous. I'm going to wear the sheath jacket for part of the time; I like the overall look with the dress; however, the jacket is a little sloppy and big in the shoulders. And, there's really nothing quality about it. I may see if my tailor can add banding at the cuffs...so, the jacket is disappointing. But, I don't regret ordering it for an October wedding.
Raytiuk
Révisé le :
28 févr. 2021
Couleur:
Orageux
Type De Corps:
Pomme
Taille commandée:
A18
Dress was very stiff feeling, not comfortable to me at all
Bobsladydy
Révisé le :
21 févr. 2021
Couleur:
Bleu Roi
Taille commandée:
A12
The hips were too big and looked like I had wings
parentofgirls
Révisé le :
28 oct. 2020
Couleur:
Rose Poudré
I ordered a try-on of this dress and one other. They arrived promptly and I tried them on the same day. I have a very broad back so I should have ordered a size up. It fit everywhere but the bust. I sent both dresses back and ordered one of them in a size larger. But it did give me a chance to see how they would look on me. This dress has lace sleeves which were beautiful. It wasn't scratchy and it flowed nicely.
elaniemoog
Révisé le :
7 sept. 2020
Couleur:
Crépuscule
What an absolutely beautiful dress. The size was perfect. The color was very similar to the online pictures. It was super easy to order and my dresses arrived sooner than my original estimated delivery date. I will definitely order from Azazie in the future.
Révisé le :
7 juin 2020
Couleur:
Bordeaux
The dress arrived very quickly, just a promised. It was very pretty, although not the shade I need. I have a long torso, and the body of the dress was like a petitie-fit. While I had plenty of room to move around, the waist of the dress hit me right under my breasts instead of at my waist-level. The skirt of it made me look dumpy. The return was VERY easy!
2nichols
Révisé le :
3 mars 2020
Couleur:
Mauve Vintage
Everything fit fine except the sleeves. I couldn't get my arms through them. Sleeve sizes need to be proportioned to the body sizes.