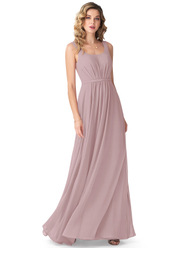 Azazie Hunter
Robes de demoiselle d'honneur
109€
information sur le produit

Amusante et séduisante, cette robe de demoiselle d'honneur en à l'aise Mousseline de soie convient à tout mariage, de la plage à l'église. Votre fête de mariage va adorer cette robe à la mode Longueur ras du sol A-ligne/princesse avec un décolleté Scoop. {Embellissement} 
Critiques de photos (0)
Avis les plus récents
Notes
Obligeance
lisahaskell9
Révisé le :
3 juil. 2022
Couleur:
Bleu Marine Foncé
Type De Corps:
Pear
Taille commandée:
A18
This dress is more beautiful than I could've ever imagined. Just lovely.
nmcbride15
Révisé le :
9 avr. 2022
Couleur:
Dark Navy
Type De Corps:
Hourglass
Taille commandée:
A18
Dress fit great, I am only 5'6" so it was a bit long but with 4 inch heals would be fine.
Josefina Chun
Révisé le :
17 mars 2022
Couleur:
Cabernet
lindseyarnold24
Révisé le :
7 mars 2022
Couleur:
Orageux
Taille commandée:
A4
The dress was just slightly long, but depending on your shoes, it may be perfectly fine. For me, its just a bit too long given I'll be barefoot on a beach. The straps were also just slightly big which I can probably take care of with a different bra. Otherwise, the dress fit great.
Inspirebetterdays
Révisé le :
30 janv. 2022
Couleur:
Pin
Type De Corps:
Apple
Taille commandée:
A20
This dress was ok. It was sort of cute but i won't be wearing it. The straps wouldn't stay on...they kept falling off of my shoulders. They didn't seem that long, just sort of lightweight and cheap and angled wrong. Also the bust was too large with no support. Just big and baggy. I didn't find the scoop neck flattering in comparison to the vneck dresses I tried on. The neckline is sort of blah. On the other hand, I really liked the bottom of the dress. The ruching was flattering and concealing and I liked this particular sort of straight vertical ruching...it was modern and elegant. The dress was lightweight and comfortable and easy to walk in. The back was also cuter than I was expecting. It was fun and modern with the slightly sheer vback. Overall I think if you can fix the bust and straps and don't mind the scoopneck, you may like this dress. The quality felt a little cheap but it photographed ok and was sort of cute. I'm going to chalk that down to price. Azazie, PLEASE allow custom bra measurements in the custom size. All of the busts on the size 20/22 dresses are huge. The padded bra cups are all way too big and unsupportive and look so bad when you don't fill them out. They may work for some women but definitely aren't a one size fits all.
dakota.olberding4
Révisé le :
5 janv. 2022
Couleur:
Bordeaux
Type De Corps:
Straight
Taille commandée:
CUSTOM SIZE
Did not like where the waist sat, think it would be okay on someone with a small chest. Back was pretty
Abarkouskie
Révisé le :
1 août 2021
Couleur:
Terracotta
Taille commandée:
A12
Great fit, only need to take up the straps a bit, but it is a great quality dress!
mmcguire0104
Révisé le :
20 juin 2021
Couleur:
Bleu Marine Foncé
Type De Corps:
Straight
Taille commandée:
A6
The dress is cute. I have a pretty small chest and would have to wear a decent amount of padding in it for it to look good. Also the back isn't as sheer as it looks in the picture. It was okay, but nothing special. I liked others that I tried on better.
Ellen
Révisé le :
6 mai 2021
Couleur:
Dusty Blue
This dress was well-made, and beautiful. It arrived earlier than expected. I was between two sizes, so I got a custom size and it fit fairly well. It just needed the straps taken in. The bust area of the dress was still somewhat large on me despite the custom measurements but it was not obvious when looking at it.
Alicia Vincent
Révisé le :
11 avr. 2021
Couleur:
Bleu Marine Foncé
I was not a big fan of the bodice on this dress. The straps on the dress sit in a very awkward place on my chest. As a woman who is rather too heavy, even this top was too padded and big for me. Combining that issue with the straps cutting across my chest and emphasizing the squishy parts by my armpits, I was very happy I just did a trail run with this style because it was not for me at all.
Danae Roos
Révisé le :
14 août 2020
Couleur:
Cabernet
My dress is beautiful. I'll need to have some alterations done. It came as expected.
h.berger31602
Révisé le :
10 août 2020
Couleur:
Peacock
The dress fit perfectly!! Definitely gonna use custom fit again!!!
Caitlin
Révisé le :
16 juil. 2020
Couleur:
Dusty Lavender
This dress is stunning! I was a bit worried about ordering a bridesmaid dress online, and didn't know what the quality would be like, and how the ruching would look on the front, but seriously, HAVE NO FEAR!! The dress is super well made, fit almost perfectly based on my measurements (I just need the straps a bit shorter, and the dress hemmed), and is absolutely classy and flattering. The dress came quicker than was expected, and even came with a garment bag to keep it in, which is a nice touch. I do a fair bit of sewing myself, and have made several dresses, and I can assure you, this is a very well made dress, and the price is unbeatable!