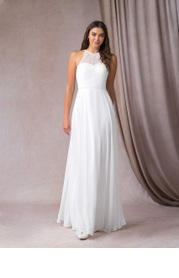 Azazie Gwendolyn
Robes de mariée
369€
information sur le produit

Robe Azazie Gwendolyn par azazie est une robe de mariée en lux en Featuring a side slit detail at front of shirred skirt, this piece is both elegant and unique.Featuring a side slit detail at front of shirred skirt, this piece is both elegant and unique.Featuring a side slit detail at front of shirred skirt, this piece is both elegant and unique.Mousseline de soie, Dentelle avec un décolleté en Licou sur une jupe en Longueur ras du sol A-ligne. Le dos de la robe est fini avec le style de dos . Disponible dans les tailles WD0-WD30 chez azazie. {Embellissement} 
Critiques de photos (2)
Avis les plus récents
Notes
Obligeance
knev
Révisé le :
13 sept. 2018
Couleur:
Blanc
Absolutely love this dress. It is so simple, which matches my style completely. It has nice beading around the neck line and around the waist which adds a little more detail to the otherwise simple look. I liked how light it felt, but was not see-through. I wore it as my wedding dress and was not disappointed!
jj
Révisé le :
27 juin 2018
I was so excited to get this dress for try-at-home. I am 6'1 so as expected the sample was a little short (barely hit the floor when barefoot) and a I am a classic size 10. The dress itself fit perfectly and is true to size. Sadly the neckline was a bit lower than expected and I will not be picking this for my wedding. My bust is 36DD and I don't think the halter style is best for my body even though I loved this dress. There is nice beading on the halter which the pictures don't show on the site.
frogprincess85
Révisé le :
8 mars 2022
Couleur:
Blanc
Type De Corps:
Poire
Taille commandée:
WD4
I order a 4 and was a Little to small normally wear between 4-6
Jckacosmo127
Révisé le :
2 août 2021
Couleur:
Ivoire
I loved this dress! Very simple and great for a beach theme. It was a Bit big in the bust. I have b cup ladies.
keithiad07
Révisé le :
5 mars 2021
Couleur:
Blanc
Taille commandée:
WD12
Dress fit perfect, however I was looking for something a little more form fitting. I tried one additional dress that ended up being the one!
Debbieespinolarn
Révisé le :
29 oct. 2019
Couleur:
Blanc
Taille commandée:
WD12
Although I am not keeping this dress, I wanted to comment on it. It is beautiful! And quality is great! Pure white . The skirt is flowing with 2 layers under the chiffon. Beads around the neck and waist are dainty, and they even give you extras. It fit me perfectly. I have already picked another dress though.
88harmon.e
Révisé le :
26 nov. 2018
This is a great dress! I thought the beaded neckline might be annoying, but it felt fine to wear. I ended up loving the way I looked in this dress. It's not my style, so I ended up choosing against it, but it definitely tempted me! My measurements were between 2 sizes, so I went with the larger. The measurements felt mostly true to size, but I think I would round down a size rather than up.
Victoria
Révisé le :
5 nov. 2018
Couleur:
Ivoire
I loved this dress! I tried it on as part of the sample program, and it is definitely one of the top contenders for my wedding dress. I was impressed with the quality and if i go with this dress it will only need slight alterations (unless I try out the custom sizing). Overall very happy with my Azazie experience so far!
karinakimberlee
Révisé le :
16 oct. 2018
Couleur:
Ivoire
It's a very simple dress, but the beading and lace make it look so beautiful. If it would have fit me better, I think I would have loved this dress more but the bust area was very large although it matched my measurements. That's the one thing that scares me about custom ordering my dress. Overall, this dress was very beautiful and lightweight.
forbiddenjade3
Révisé le :
11 oct. 2018
Couleur:
Ivoire
This was a try on. I wear a size 2. The cup size would have needed to be adjusted for me since I'm a cup size A. I used clips to adjust it temporarily. Overall the dress is beautiful. I found the dress to be a bit simple, though.
melallen1973
Révisé le :
11 oct. 2018
Couleur:
Blanc
This dress is one of my top choices. Seems to run a bit large and long.
Vy NK Vu
Révisé le :
1 mai 2018
Couleur:
Blanc
I just received my dress and loved it so much! They fit right, will definitely wear it at my wedding, my friends and family also loved it! the descriptions for the sizes are correct so measure yourself carefully when you order the dress. I also enjoyed the customer service and how helpful everyone was to me!
Bartellsha
Révisé le :
12 nov. 2017
Love love love this dress! Beautiful, great detail, the back is stunning! Tried on a sample and ordered as my wedding dress!