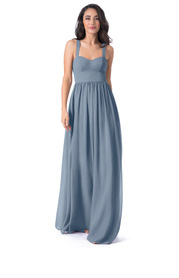 Azazie Gabby
Robes de demoiselle d'honneur
109€
information sur le produit

Le style Azazie Gabby par azazie est une robe de demoiselle d'honneur Longueur ras du sol A-ligne/princesse dans un à la mode Mousseline de soie. La robe sucré présente un décolleté Encolure en coeur et un style de dos . Le style Azazie Gabby de Que vous l'habilliez avec des bijoux tendance ou avec des chaussures plates et un cardigan, il incarne la beauté intemporelle. azazie est disponible dans les tailles A0 à A30. 
Critiques de photos (5)
Avis les plus récents
Notes
Obligeance
christianapotts
Révisé le :
21 juin 2022
Couleur:
Eucalyptus
Type De Corps:
Pomme
Taille commandée:
A16
I'm 5'4 and~ 180ibs and round in the middle, the dress was pretty but the size I got was really long I actually had to hem it a lot, and the straps were long I took off almost 3 inches and it was still really low cut. I tried another dress I got that was a size below but that definitely didn't fit. Overall the dress worked for the wedding and it had pockets which really helped to carry stuff for the bride. I'm on the left, my fellow bridesmaids also had some length issues.
amandakayerydberg
Révisé le :
13 juin 2022
Couleur:
Mûre
Taille commandée:
A10
This is a nice simple dress. The top can be super flattering with the right tailoring. It's just a little plain compared to some other options. The pockets are a nice touch and the ruching hits at a nice spot on the waist. I went with a different dress but would have been happy with this one. Ordered Size 10 (5'4, 155 lbs)
Trfredette
Révisé le :
21 oct. 2021
Couleur:
Cabernet
I had the dress custom fit to my measurements. I probably could have taken an inch off the hull measurement. Over all the fit was great. The straps were a little big and kept falling. Overall very happy with how the dress fit, and breathable so I wasn't hot. The pockets are a bonus.
anniepaya
Révisé le :
9 oct. 2021
Couleur:
Cabernet
This is a great boob-minimizing dress for larger chested gals. I'm about a 36D/DD and was really struggling to find a dress that didn't highlight my chest or make me look curvy in a not so good way. This dress kept my chest looking modest, hit me at the smallest part of the waist and hid my wider assets below. I got it in custom sizing and was worried about the chest (I would add about an inch to the chest if you go custom), but it fit pretty well overall. If you go too small on the chest, there is a seam/line through the upper third of the bodice that cuts across the lower nipple area (this is what minimizes the boobs), and if you go too small it will cut into the boob some and create a indentation/double bubble sort of look. I fixed this issue with some strategically placed padding and tape. (Had to cut the pic down to upload, but hopefully you get the idea)
courtneyfuhr.ab
Révisé le :
22 juin 2021
Couleur:
Taupe
Loved the style of this dress! My measurements were 38-32-40 so I originally ordered size 10 but that was too large in the bust. Went to a size 8 which you see photographed below and while a smidge tight in the chest, it fits much better. Gave this a 4 as which a larger bust than the photographed model, it is a little more "boobier" than expected but overall, a lovely dress!
rachelurig15
Révisé le :
1 juil. 2022
Couleur:
Bleu Marine Foncé
Type De Corps:
Sablier
Overall custom sizing was great- length was perfect with my shoes and I loved the pockets. The bust however did NOT fit in the slightest. The closest bra size I can find off the rack is a 32DDD but I really wear something closer to a 28F/G- small ribcage large cup. The cups were not nearly large enough. My mom let out the seems as much as possible but even then it still didn't fit right, but we made it work. Overall the dress was nice- well lined, looked good, POCKETS- but I would not recommend if you are larger than maybe a C cup.
michdaugherty1
Révisé le :
6 juin 2022
Couleur:
Eucalyptus
Taille commandée:
A10
I loved the dress. It was beautiful. It fit well, the straps weren't too tight, and it held in all the right places. I will say that there is not a lot of airflow through the fabric so if your event is outside, it will heat up down there. The fabric also will show any moisture it comes in contact with example: underarm sweat or any spilled drink. It will dry fairly quickly, but leave a small discoloration where that moisture touched.
kbailey1721
Révisé le :
2 mai 2022
Couleur:
Rose Perle
Taille commandée:
A8
This was a try on dress. I'm a 36DD, and the bust portion just didn't give enough coverage. If the straps were a bit shorter and the bodice material a bit taller/had more coverage, I would have liked it. I ordered a size 8 try on, but I would have needed a custom size. The top was too small, it was super long, and it could have been smaller in the bottom. I'm 5'4 1/2", 132 lbs. for comparison.
SN
Révisé le :
13 juil. 2021
Couleur:
Bleu Marine Foncé
Type De Corps:
Pomme
Taille commandée:
A12
I am 5'4'', roughly 168 lbs, 38C/36D bust, US 8/10 and can normally get away with M and L sizes. I tried this on in the A12 and the fit was just OK in my opinion, if not a teeny bit more snug than anticipated. I don't think I have the torso to rock this unfortunately but otherwise a lovely dress!