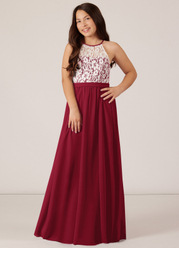 Azazie Fahari
Robes de demoiselle d'honneur junior
89€
information sur le produit

La robe de demoiselle d'honneur superbe Longueur ras du sol de azazie an une A-ligne/princesse coupée dans un exquis Mousseline de soie, Dentelle. Le style Azazie Fahari présente une encolure Licou et est disponible dans une gamme complète de tailles (J6-J16). {Embellissement} 
Critiques de photos (6)
Avis les plus récents
Notes
Obligeance
amhuen
Révisé le :
26 juil. 2022
Couleur:
Dusty Sage
Super cute and the custom size fits to the T!
Moveitgypsy
Révisé le :
29 nov. 2021
Couleur:
Rust
Type De Corps:
Hourglass
Taille commandée:
J10
My daughter and I were asked to be in my little sisters wedding, so naturally I immediately freaked out! Excited, nervous, happy! My sister had specific requests in color and material and I'm not a dress wearin' chick. So the search began. I did the try on at home method first and BOY WAS THAT HELPFUL! They ship the dresses QUICKLY! You try them on, show your family, y'all choose a style, put them in the same box and ship them back!! I went with the Azazie Sonya in silver. I barely have a chest anymore, I'm around a 36B so it's convenient to have adjustable straps on my dress. At the wedding I wore some sticky bra cups (not the PC name) just for a bit of a boost, I didn't NEED to wear them but the dress just fit perfect! Super comfy and beautiful! I ordered a 10A. The color was silver! Not greenish silver like the website shows. That was the only thing I was worried about… but the dress is VERY LONG so be sure you have time for alterations! My Daughters dress was also very long but fit her up top perfectly. She is 10 and still 'maturing' but didn't need a bra for her dress, so it was tight enough and not see thru at all. Her color was Rust, she was the flower girl in two weddings with that dress and it fit in with both a country chic wedding and a super fancy California wedding. The color was spot on. Hope this helps!
Noel
Révisé le :
24 sept. 2019
Couleur:
Taupe
Loved the dress. Arrived on time and fit my girls beautifully. Highly recommend custom fit. Dresses needed no additional alterations. This is the taupe color. I would go up just a half inch in the chest/waist to give a little more room.
Noel
Révisé le :
24 sept. 2019
Couleur:
Pearl Pink
I absolutely loved this dress on my girls. I bought the custom size and I am so glad I did. Hemming a 2 layer dress would have been close to the cost of the dress itself. I measured my girls at least 3 times. I measured them without shoes. The dress fit like a glove. If I were to do it again I would order just maybe a half inch up in the chest and waist. The color was Pearl Pink. Highly recommend this company.
halli.hicks19
Révisé le :
15 sept. 2019
Ordered this dress for our 11 year old daughter to wear at our wedding. Was a little hesitant since there were no reviews and it didn't seem like a popular style on here. But I'm so glad I chose it(with her input of course)! The color contrast was stunning in person and the pictures on here really don't do it justice. We did need some alterations at the neckline and back where the top bodice was too long. Our seamstress was able to remove the excess material and tighten up the bust area, so all was well and she was comfortable all night!
alanajoann1988
Révisé le :
24 févr. 2022
Couleur:
Vintage Mauve
Taille commandée:
J10
This dress is absolutely stunning!!! Our daughter is our maid of honor in our wedding. Thank you thank you thank you!
Jinx129
Révisé le :
11 juin 2021
Couleur:
Dusty Blue
My daughter looked great in the dress! I measured her and chose the correct size and it fit her perfect. She loved it and wanted to wear it all the time!
ktalac
Révisé le :
28 sept. 2020
Couleur:
Blushing Pink
Type De Corps:
Straight
Taille commandée:
CUSTOM SIZE
Ordered a custom size for my very tall 11yo for my niece's wedding. I was very nervous it wouldn't be right and to my surprise it was PERFECT! The fit far exceeded my expectations and the dress is gorgeous. I would not hesitate to order again. !
Denise Jacobs
Révisé le :
10 avr. 2020
Couleur:
Caribbean
Taille commandée:
J12
My niece is growing so we ordered the next size up. Well, she didn't grow as much as anticipated so it needed to be altered. I will say it does twirl. That was the main concern for my niece. However, this dress did not disappoint.
slinky_311_girl
Révisé le :
11 janv. 2020
Couleur:
Emerald
This dress is absolutely gorgeous! My youngest, "soon-to-be-bonus-daughter" picked it for when her father and I get married and we absolutely love both the color (emerald green) and the lacy top so she stands out a bit from the bridesmaids. We opted to do custom sizing and everything turned out absolutely perfect! It looks wonderful on her and she absolutely LOVES it and says it feels very comfortable!