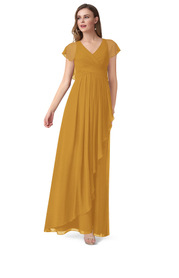 Azazie Esme
Robes de demoiselle d'honneur
139€
information sur le produit

Le style Azazie Esme par azazie est une robe de demoiselle d'honneur Longueur ras du sol A-ligne/princesse dans un facile Mousseline de soie. La robe brillant présente un décolleté Col V et un style de dos . Le style Azazie Esme de Que vous l'habilliez avec des bijoux tendance ou avec des chaussures plates et un cardigan, il incarne la beauté intemporelle. azazie est disponible dans les tailles A0 à A30. 
Critiques de photos (4)
Avis les plus récents
Notes
Obligeance
Laura
Révisé le :
10 juil. 2022
Couleur:
Glycine
Type De Corps:
Poire
Taille commandée:
7501
My least favorite of the 3 dresses I tried. While not hideous, it was not stunning either. All of the layers of fabric made me feel frumpy. The tie in the back also felt like it would be annoying to wear all day. This was one of the only options with anything resembling sleeves. I was leaning towards sleeves because I'll be in a fall wedding. But, in the end, I think I am going to go sleeveless after all so I'm not drowning in fabric. I think this dress would look better on someone taller (I'm 5'3") who would have the height to balance out all the layers. For sizing, it felt large to me. I typically wear an 18/20 and 38DD bra, and this was a size 20. I got the 20 based on the size chart. However, with this dress, if you are between sizes or have larger hips than bust like I do, I would recommend ordering based on your bust size. The skirt is cut quite generously.
kkokkinos27
Révisé le :
28 mai 2022
Couleur:
Eucalyptus
this was my favorite try-on dress! i was drawn to the back online, and it looks just as nice in person. i thought the ruffled edges might make me look childish, but it just felt the most "bridesmaid appropriate" to me. pockets would have been an added bonus, but it's still my top pick! my cat gives it 5 stars
Epalko0216
Révisé le :
22 janv. 2021
Couleur:
Bordeaux
The pictures do not do this dress justice, it's elegant, and whimsical. Very figure flattering. I'm a true size 6, and found it to fit perfect. I'm also 5'5, 130 lb, 34b. It has padding, but it's not weird or noticeable, no bra needed. It drapes beautifully, the stitching is flawless.
Amelia
Révisé le :
7 nov. 2020
Couleur:
Sauge Poudrée
I ordered a try on sample of this dress in a size 12 in the dusty sage color. I was expecting it to be big on my size 8 bridesmaids (who have different overall body types) but it actually fit them both really well(minus the length which was expected) , so I would say this dress runs a bit small in the waist. The photos of this dress online do not do it justice! I found this dress to be very figure flattering and my bridesmaids agreed. Definitely recommend trying this one!
nhill2171
Révisé le :
29 mai 2022
Couleur:
Rose Poudré
Taille commandée:
A22
It was pretty long... I had 3 inches hemmed off and it was still a bit too long. Otherwise it was super comfy and breathable. I danced all night and not a sweat stain to be found
sbartels1216
Révisé le :
20 févr. 2022
Couleur:
Rose Poudré
solomonsr1
Révisé le :
21 juil. 2021
Couleur:
Cabernet
Type De Corps:
Sablier
Taille commandée:
A4
I ordered this dress to try on, and will be ordering it for a wedding I'm in next year. Fun, and very flattering. Can definitely see myself wearing it again! I only wish the straps were a little easier to shorten, but I'm very short-waisted and pretty much everything I buy needs to come up in the shoulders.
Jljensen34
Révisé le :
28 mars 2021
Couleur:
Bleu Poudré
The option to try on dresses before you buy has been a great experience. I was able to try on three dresses which all fit the same, but be able to tell which style was right for my body type. Even better, I missed the return window, and contacted customer service which extended it at no additional cost. So far, I've had a wonderful experience with Azazie.
asullivan0119
Révisé le :
26 janv. 2020
Couleur:
Gris Dauphin
So flattering, I think it's great quality.
Lillie Gordon Delaneuville
Révisé le :
30 avr. 2019
Couleur:
Grain De Raisin
I ordered this dress as a sample for my sister in laws wedding! After trying MANY of samples I fell in love with this dress! It compliments me so well! Can't wait to order the one for the wedding!
strengtk
Révisé le :
29 avr. 2019
Couleur:
Bleu Poudré
This dress was even more beautiful when it arrived than it seemed online! Unfortunately it was a bit small for me, so I ended up having to return and purchase the next size up. I wish there was an exchange process to make this easier, but Im looking forward to receiving the new dress!
H
Révisé le :
11 avr. 2019
Couleur:
Vert Foncé
The rib cage and bust ran slightly small. Make sure to go with your bust size when ordering!
crisy003
Révisé le :
21 févr. 2019
SO beautiful in person. The photos online do it no justice. The cut is very flattering for those with curves and it's very comfortable. The sample I ordered was a little smaller than other samples I've tried in the same size so I plan to order up. So gorgeous though, the sleeves remind me of Hermiones Yule ball gown