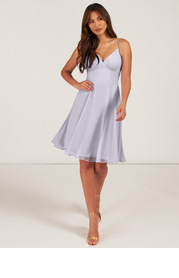 Azazie Emmy
Robes de demoiselle d'honneur
109€
information sur le produit

La robe de demoiselle d'honneur gracieux Longueur genou de azazie an une A-ligne/princesse coupée dans un élégante Mousseline de soie. Le style Azazie Emmy présente une encolure Col V et est disponible dans une gamme complète de tailles (A0-A30). {Embellissement} 
Critiques de photos (10)
Avis les plus récents
Notes
Obligeance
sarahkyllo
Révisé le :
5 août 2022
Couleur:
Black
Type De Corps:
Straight
Taille commandée:
A8
I bought this for a bridesmaid dress and it was a great dress. I bought a size 6 (5.7, approx. 145 lbs) and it fit well although just slightly tight around the rib cage. I loved the pockets and how the layers flowed for dancing. It was a hot July wedding but it still felt light.
alexisdsteele
Révisé le :
28 juin 2022
Couleur:
Vintage Mauve
This dress fit me really poorly. It felt cheaply made and just not constructed right.... It was extremely tight on my under arm so I had to let the straps out so it would feel somewhat comfortable. As you can see by my photo, this made the breast cups really low and my breasts kind of fall out of the dress. The wedding planner had to ask met to hike my dress up before walking down the aisle. The shape was also uneven and awkward on my body due to the unfunctional pockets which I think were unnecessary. Wouldn't recommend this dress.
Savannahlenz96
Révisé le :
8 juin 2022
Couleur:
Spa
Type De Corps:
Hourglass
Taille commandée:
CUSTOM SIZE
Perfect Fit, even if I'm a little bustier. They length was a little long, but it felt appropriate for a wedding. The straps held up great, even with the low back.
joycelai416
Révisé le :
20 mai 2022
Couleur:
Bordeaux
Taille commandée:
A6
I loved the try-on program! With my body type, sometime it's difficult for me to know which dresses will fit because some of my proportions are more athletic rather than lean. This helped me figure out which size would be best for me, the proportions of the dress (mainly torso), and the color on my skin tone. I ordered this dress in A02, A04, and A06 just in case, and the A06 felt the most comfortable out of the sizes I ordered. I also loved that they allowed the option of purchasing one of the try-on dresses, which is super convenient! I decided not to since I'm petite and went with the custom sizing instead. I would totally do the try-on program in the future. Thanks so much, Azazie!
manke.karen
Révisé le :
16 mai 2022
Couleur:
Coral
Type De Corps:
Hourglass
Taille commandée:
A12
Lovely quality made dress. Fit perfectly and the colour is gorgeous!
Kaylie Ortiz
Révisé le :
3 déc. 2021
Couleur:
Mulberry
Love this dress so happy with it! Color is little different than what it looks like on the picture but that's to be expected. Fits great! I was kind of in between size A14 and 16. Decided to go with the bigger one and it was the right choice fits like a glove. Beware if you are bigger chested like me…it's very booby lol.
leighphillips10
Révisé le :
9 oct. 2021
Couleur:
Dusty Sage
This dress fit perfectly and was flattering. The adjustable straps helped me avoid needing alterations, and the material is high-quality.
ashnguyen
Révisé le :
5 oct. 2021
Couleur:
Dusty Sage
Overall I loved the dress, I loved how simple it is, it fell and flowed so beautifully. I am 5'2", bust 29", waist 23", 105 lbs and ordered the A0. The only issue I had was that the chest part of the dress was a little big but that's only because I have nothing up there :p but nothing but a little double sided fabric tape didn't fix. The dress came to just below my knees which was perfect, that was the bride wanted. Paired it with some nude clunky heels, gold diamond hoops, and a high curly pony.
enovim17
Révisé le :
3 oct. 2021
Couleur:
Grape
Dress fit very well and adjustable straps were helpful. Got a lot of compliments on the dress itself. Hey
Kcberlinski
Révisé le :
31 juil. 2021
Couleur:
Bordeaux
The dress fits true to size, it just didn't end up being quite what I was looking for. But it would be perfect for a spring or summer wedding as a guest or a bridesmaid!
anna.ehrenman
Révisé le :
11 juil. 2022
Couleur:
Vintage Mauve
Taille commandée:
A0
My product arrived on time and fit perfectly, the cleavage might be a little much, but otherwise this dress was perfect on a hot summer's day with lots of dancing. I'm short and slim, and it fit perfectly.
stephanie.martin
Révisé le :
10 mai 2022
Couleur:
Amethyst
Type De Corps:
Hourglass
Taille commandée:
A16
Loved the colour and the quality. I am 5'7" and 180lbs (44,41,44). I ordered A16 rather than a18. The bust was very chesty and a little tight around the waist. I didn't like the overall fit and it was a little too plain for what I needed.
christyrushe
Révisé le :
23 mars 2022
Couleur:
Spa
Taille commandée:
A4
I am typically a 4/6 so this fit fine except the pockets made my hips look like a sack of potatoes so it you got booty it ain't working.
ivyvdelfin
Révisé le :
22 févr. 2022
Couleur:
Rose Poudré
As a petite, small busted, pear shaped gal I struggle with finding dresses that fit well without alterations. This dress is about as good as gets for me! The torso hits at a good length, and the fit is true to size. This is the dress I ended up choosing for the wedding I'm going to be in. It's very comfortable and the material is excellent. A little wrinkly, but expected with chiffon style garments. The dusty rose color is not my favorite (it's on the browner side) but the pride chose blushing pink, which is beautiful. I'm excited to receive it when it's done!
benjo79
Révisé le :
2 oct. 2021
Couleur:
Dusty Blue
I was originally afraid the sizing wouldn't be right but it was almost perfect. It was a smidge loose but not enough to bother with alterations. I was however extremely disappointed when I realized half way throughout the day the some of the stitching came undone. I was really happy that nobody noticed and I was able to get through the entire day.
smlkdl0921
Révisé le :
3 mai 2021
Couleur:
Bleu Marine Foncé
Type De Corps:
Straight
Taille commandée:
A4
This was a lovely dress, could not zip all the way, working my back muscles too much, otherwise, very cute.