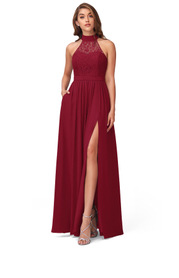 Azazie Emilia
Robes de demoiselle d'honneur
149€
information sur le produit

Le style Azazie Emilia par azazie est une robe de demoiselle d'honneur Longueur ras du sol A-ligne/princesse dans un à l'aise Mousseline de soie, Dentelle. La robe sucré présente un décolleté Licou et un style de dos . Le style Azazie Emilia de Que vous l'habilliez avec des bijoux tendance ou avec des chaussures plates et un cardigan, il incarne la beauté intemporelle. azazie est disponible dans les tailles A0 à A30. 
Critiques de photos (13)
Avis les plus récents
Notes
Obligeance
caitlinsteinly1
Révisé le :
12 juil. 2022
Couleur:
Bleu Poudré
Taille commandée:
A16
This dress was amazing! The size was perfect and it fit very well. I did not find the lace itchy, but the strap around the neck needs to be tied tightly in order to lay properly which caused it to be a little itchy. I got lots of compliments and just loved how it turned out!
Megan T
Révisé le :
13 avr. 2022
Couleur:
Spa
Type De Corps:
Droite
Taille commandée:
7496
Love this dress! It's comfortable and the lace is really pretty. It even has pockets! I found that it runs a little small so I ordered a size up and it's perfect! The try on process was easy and I'm going to order this for a wedding I'm in.
sharlettewright
Révisé le :
17 févr. 2022
Couleur:
Rose Poudré
Taille commandée:
A14
This is a beautiful dress and true to size as per the chart. Ordered a size 14. The neck tie wasn't the best but overall beautiful.
ngoconno
Révisé le :
19 août 2021
Couleur:
Sauge Poudrée
Fit really well. I could've gone with A2, but A4 still fit. I'm 5'5" and 115 lbs I hemmed the bottom and the tailor I went to made a mask out of the scraps she cut off from the dress, which was super cool!
Hillary
Révisé le :
3 nov. 2020
Couleur:
Grain De Raisin
I loved this dress! The style was exactly what I wanted for my bridesmaid look. The quality of the dress is excellent. I ordered a size 18 to accommodate my bust and then had it altered and taken in to fit properly. As long as you can find a competent seamstress, this is easy to do.
Kayla4243
Révisé le :
7 juil. 2020
Couleur:
Bordeaux
This is 1 of 3 bridesmaid dresses that I've ordered. I ordered this one as a test run for using custom measurements. So far I am impressed. This is for my maid if honor and she absolutely loves it. Fits in every way. I'll include pictures for reference. The only problem I may run into may be the colors of all dress matching. I've read that dresses may not be an exact match due to them being dyed at different times. Also different materials dye differently so keep that in mind if you are ordering bridesmaid dresses that you want to be the same color.
Zenobia Davis
Révisé le :
23 sept. 2019
Couleur:
Bordeaux
My bridesmaids LOVED their dresses. For some of my bridesmaids it was to tight around the bust area. For most of my bridesmaids the dress was way to long and they needed to see a tailer to get it himed up. Most of my brides maids are under 5.5 ft. Overall the color was beautiful and the dress was stunning.
shannon.berkman
Révisé le :
18 juil. 2019
Couleur:
Bordeaux
Fit nicely - however, the neck piece is a bit limp and even when tied tight, would sag a bit. Overall, very pretty dress.
fink
Révisé le :
3 juin 2019
Couleur:
Piscine
We were so very pleased with the fit on this custom bridesmaid dress. True to our measurements and a very good quality garment!
Regina Pierre
Révisé le :
20 oct. 2018
These dresses were gorgeous my bridesmaids were so please!!!❤️
m.ellakoons
Révisé le :
22 juin 2018
Couleur:
Rose Rougissant
I ordered this as a sample dress in A2. I wanted to try a few options before I chose my dress for the wedding I am in later this year. It was a bit snug on me, and it took me a while to zip myself up in the back, but once I did zip it up I kind of liked the snug fit. I loved the pockets and the slit in this dress , as well as the fun bow in the back! I did end up choosing this dress but will be ordering it in Grape. Sample dresses do not always have the color or size that you need, but it still worked out great to be able to try on the style! I will be posting another review after the wedding with the Emilia dress I custom ordered for. My only concern at this point before I receive my custom dress, is that this A2 size, even though it was snug in my ribs, there was still room in my bust. That is always a concern for me though in formal dresses like this, since I have a smaller bust. It was also a bit long in length. Both issues I am hoping will be resolved in my custom ordered dress.
Nikki
Révisé le :
6 févr. 2018
My sister tried on this dress for my wedding and it was perfect. She is plus size and ordered a size 24. It fit too big but now she has an idea of where she needs to be. The slit is nice and the high neck makes it look very pretty, The waist belt was in a weird spot but we figured it was due to the sizing. It will sit higher when she has the correct size and will also lift the size.
ndgraham
Révisé le :
28 août 2017
Couleur:
Rose Poudré
I am very satisfied with this Bridesmaid gown. It fit likes a glove, LITERALLY. My measurements were a little off. So it's tight in the bust and was a struggle to zip up, but I'm loosing weight so I know that will not be an issue. The color and the fabric are lovely. The dress shipped sooner than expected. I had an issue with FedEx shipping, but it was resolved in less then 3 days. Over all, I would definitely purchase from this company again and would recommend AZAZIE to others.
Dcneishell
Révisé le :
21 juin 2022
Couleur:
Bordeaux
Taille commandée:
A10
The dress fit perfectly. Not too tight in the neck area which is great. Highly recommend, it's gorgeous and well made.
CindyKudlik
Révisé le :
9 juin 2022
Couleur:
Glycine
Type De Corps:
Sablier
Taille commandée:
A20
According to the size chart I should wear a 20. I know an 18 fits better but because there was finally a dress available to try at home in Wisteria I ordered just to be sure the color I selected for my MOB dress looked good on me. It did, it does, and the bride approves! I don't know if it's the cut of the dress or just because it was one size too big, but it hangs real low in the armpits, revealing too much side-boob.
cristi6219
Révisé le :
1 avr. 2022
Couleur:
Sauge Poudrée
Taille commandée:
A10
I requested the try on dress to see the quality up closed since I don't usually shop online for things like this. Gotta say that I'm pleasantly surprised by the quality of the dress. Moreover, it's very flattering for my body type and the best part is that it has pockets! I'm going to wait a little longer before I actually buy the dress needed for the wedding later this year. Pretty sure it's going to look beautiful in royal blue.
namwobardnek
Révisé le :
11 mars 2022
Couleur:
Sauge Poudrée
Type De Corps:
Sablier
Taille commandée:
A14
This was my favorite try on dress. It fit as expected and the halter top was the best part. Super nice to have felt like I wasn't going to have to adjust myself all day, while still having some flair. Highly recommend for ladies who aren't looking for a deep plunge but still want to feel fun.
kaela.fischer
Révisé le :
6 mars 2022
Couleur:
Bleu Marine Foncé
Type De Corps:
Poire
Taille commandée:
A10
I love this dress! I have tried on a few and this one has been my favorite so far. It fits well and I love the pockets. The neck does need to be tied fairly snug so that the collar doesn't sag. I have wider hips with a small bust so I would need to get the top taken in around the chest but the rest of the dress fit great! I am about 5'4" and 160 lbs.
shibbyfoever
Révisé le :
27 janv. 2022
Couleur:
Cabernet
Taille commandée:
A20
There is boning in the chest that gives you 1950s cone looking boobs
sfhen90
Révisé le :
16 déc. 2021
Couleur:
Bordeaux
Bridesmaid loved this dress. we ordered them to her size and it fit perfectly. i also ordered other styles in the burgundy colour and they were all a perfect colour match.