Azazie Dua Combinaison Reviews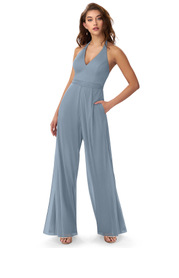 Azazie Dua Combinaison
Robes de demoiselle d'honneur
129€
information sur le produit

Amusante et séduisante, cette robe de demoiselle d'honneur en lux Engrener convient à tout mariage, de la plage à l'église. Votre fête de mariage va adorer cette robe charmant Longueur ras du sol Pantalon Costume avec un décolleté Col V. {Embellissement} 
Critiques de photos (5)
Avis les plus récents
Notes
Obligeance
alyssa_rouhier
Révisé le :
9 avr. 2022
Couleur:
Gris Acier
This jumpsuit was awful. The top part is not flattering at all. I was excited to get this but as soon as I put it on I found myself in tears. There is so much fabric in the leg part and the fit is huge. The zipper gets stuck at the seam and I had to get another dress to change into so I could use the bathroom. My friend was nice enough to have it altered for me. The seamstress ended up changing the entire Jumpsuit taking off so much fabric, the alterations cost more than the jumpsuit. I do not recommend this jumpsuit. The first picture is right out of the box and the second is the jumpsuit pinned at alterations. She changed the neckline added straps and took a lot in from the pants.
Lucy
Révisé le :
7 sept. 2020
Couleur:
Cabernet
I'm hourglass shaped with big hips and so jumpsuits are iffy for me, but I took a chance on this one and LOVE it! The waistline hits me perfectly, the halter is super flattering and holds me in with no bra, my legs look super long, and it is just all around such a fun look. The only thing that is kind of weird is the belt/tie part is soooo long that I have to wrap it around like four times. I usually wear a size 6 or 8 depending upon how fitted things are in the hips - I went with an 8 in this and other than needing a hem it won't need any alterations.
Francis.Kayla05
Révisé le :
15 mars 2020
The fit was good but I did have to get the neck strap altered. Overall the jumpsuit was very comfortable.
tanzamarie0
Révisé le :
23 févr. 2020
I loved that this was a jumpsuit but the material was a bit weird and it pulled because of the pockets. But it ended up working out and was really comfortable!
Cortni Q
Révisé le :
14 févr. 2020
I chose this jumpsuit for my bridesmaids for my wedding this coming June (2020). It is perfect for my wedding on a theatre stage. They will look classy and sophisticated under the stage lights. I have them in the black jumpsuit and it made very well and is something they can wear again, as black is timeless. To add in some bling I had them buy a $20 belt from amazon that ties in the back. This jumpsuit is flattering on many shapes and sizes. They sheer flowy overlay on the legs of the jumpsuit give it some movement and looks wonderful when you walk across the floor. I can't wait for the photos of them in these jumpsuits!
tdunn.xx
Révisé le :
11 juin 2022
Couleur:
Agave
Type De Corps:
Sablier
Taille commandée:
A18
Fit true to size, little long for 5'3! Only complaint would be for more size options in the halter as I had to pin it for day of. But colour, style, and fabric were great!
krystalbrocki
Révisé le :
9 mai 2022
Couleur:
Bleu Poudré
Type De Corps:
Droite
Taille commandée:
A0
Fits true to size but the legs are long (I'm 5'6" and had to get it hemmed with my heels) but the jumpsuit was fantastic! I received so many compliments and the pockets held everything my twin boys decided they no longer wanted to hold lol.
alanajrussell
Révisé le :
2 mai 2022
Couleur:
Crépuscule
Type De Corps:
Pomme
Taille commandée:
A16
A little small in the bust area
Jlawton
Révisé le :
4 avr. 2022
Couleur:
Rose Poudré
Taille commandée:
A10
It fit strange and we hadn't realized a tie around the waist was there. It was very long and sewn in.
shelby.foster1392
Révisé le :
1 mars 2022
Couleur:
Champagne
Taille commandée:
7499
Super cute. Didn't like the color or the cut/slit in the legs
CSisomphou
Révisé le :
5 janv. 2022
Couleur:
Sauge Poudrée
Such a fun jumpsuit! However, it's definitely a heavier material and probably better suited for a winter/fall wedding than a summer date. I'm glad that two of my bridesmaids were able to try it on before purchasing it. It fit one of my bridesmaids who is a size A20 perfectly and hugged her in all the right places, but my bridesmaid who is an A0 was swimming in it. The waist hit her closer to her belly button than her natural waist, and the bottom had a good foot of fabric that would have needed to be taken off. Bummed it didn't work for my ladies but I'm sure it will be amazing for others!
amberhanlon2019
Révisé le :
29 déc. 2021
Couleur:
Mauve Vintage
Type De Corps:
Poire
Taille commandée:
A2
This romper is gorgeous! It fits me like a glove with the exception of being a bit long (I'm 5'5"). It is extremely comfortable and great for going on a date or just walking around town. It is one of my new favorites!
sprtodd
Révisé le :
28 déc. 2021
Couleur:
Brouillard
Taille commandée:
A8
falonation
Révisé le :
26 févr. 2021
Couleur:
Noisette
Kelly Lucis
Révisé le :
18 janv. 2021
Couleur:
Bordeaux
I did a home try-on and am extremely glad I did. I am 5'6, 140 lbs. My chest and hip measurements placed me at A12 in the sizing grid, but it was EXTREMELY big. Seemed cute if it were in the right size, but it just didn't flatter my frame very well.
Laura
Révisé le :
22 avr. 2020
I don't usually review things, but I went back and forth on this, and after deciding to give it a try despite the subpar reviews, it was a rough fit. I was drowning in this jumpsuit, but also felt some parts were too tight so it was an odd combination. There was also an odd swirly pattern on the second layer that was really distracting. Azazie has some other really gorgeous products, so I wouldn't hesitate to order a dress from them, but I'd skip Dua. It was just extremely unflattering. For size reference in case you do decide to order, I'm 5'6 125 pounds and this is an A4, since the A2 would have been too tight around the ribs.
jenjen
Révisé le :
23 mars 2020
Type De Corps:
Sablier
Taille commandée:
7494
I thought this was really cute on my bridesmaid, but she chose something else. I'm wearing a jumpsuit myself, so it would've been great. More jumpsuits!
Joanne Mercaldi
Révisé le :
9 janv. 2020
Type De Corps:
Droite
Taille commandée:
A2
pockets pull the material and bulge at hips. Not flattering.
jo
Révisé le :
27 déc. 2019
Since this is the absolutely only jumpsuit on this site and I don't wear dresses (being nonbinary and a "bridesmaid" is awks), this is what I had to work with. Honestly, nothing on this site looks all that amazing, so I'm not sure why people are so bent out of shape by this one having cheap fabric. It was fine. It fit me fine. It's not the best thing I've ever worn, but it's fine. I think it looks basically exactly like it looks in the pictures. It should probably cost about $30, but it doesn't, so whatever. They know they have a captive market. Seriously, it's fine. I'm going to more or less match the bridesmaids in my friend's wedding, so I'll be fine too.
cambriaalford
Révisé le :
26 déc. 2019
Couleur:
Régence
The picture for this dress is pretty deceiving... in all honesty, the dress looks cheap in person.