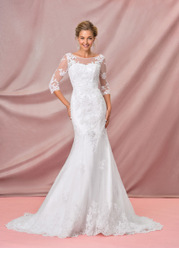 Azazie Dorothy
Robes de mariée
689€
information sur le produit

Robe Azazie Dorothy par azazie est une robe de mariée en facile en Featuring a side slit detail at front of shirred skirt, this piece is both elegant and unique.Featuring a side slit detail at front of shirred skirt, this piece is both elegant and unique.Featuring a side slit detail at front of shirred skirt, this piece is both elegant and unique.Tulle, Dentelle avec un décolleté en Illusion sur une jupe en Traîne courte Trompette/Sirène. Le dos de la robe est fini avec le style de dos . Disponible dans les tailles WD0-WD30 chez azazie. {Embellissement} 
Critiques de photos (4)
Avis les plus récents
Notes
Obligeance
Anita Alexander
Révisé le :
28 oct. 2021
Couleur:
Blanc
I loved my dress. I ordered a A26 but the bust was way too big I'm (5'4, 290lbs) so I had a custom size made. *I had no issues returning the dress first* I had the neckline, sleeves, shoulders and length altered to better fit my style. I also got a hook & eye bustle sewn in. *Yes, you need one, the train will get stepped on even when everyone is careful not to step on it. I was able to dance all night but sitting and going to the restroom was an event of it's own. One thing to look out for, the buttons (which are fake) were already falling off when I took it out of the box. Disappointing but an easy fix. If you're plus size queen and want a dress that make you feel like a "real bride" this is it. The 1st two pictures are of me trying it on with a hoop skirt, I didn't using it on my wedding day & I was happier without it.
Alexis B.
Révisé le :
4 juil. 2018
Couleur:
Ivoire
This dress was absolutely beautiful. I enjoyed wearing it so much, I felt amazing on my wedding day. I got a lot of compliments. The dress is heavy, which is a given, but it didn't bother me much. The sleeves can seem a little itchy at first, but it's fine after a while. I wish I could wear this dress again. Just make sure you get it altered to make sure it fits perfectly.
jmromanski
Révisé le :
24 oct. 2017
Just wanted to update my review with pictures. The model photos don't really do this dress justice - providing it is measured correctly, this dress is very flattering for curves! I received many compliments and it was very comfortable on the big day, even though it was 90 degrees!
morgansteiner1
Révisé le :
14 déc. 2016
I wanted to write a second review of this dress so that I could include a picture. The dress definitely fit different on me than I had envisioned, but in the best way. I am still getting compliments on this dress! My bridesmaids also are wearing the "Azazie Ginger" dress in burgundy, and they loved it!
Chrissykb77
Révisé le :
16 oct. 2021
Couleur:
Ivoire
Type De Corps:
Poire
Taille commandée:
WD12
Dress fit awesome! Im 5'3 so mostly only thing i needed altered was length and had bustle buttons added!!
dominiqueduhaime
Révisé le :
19 juin 2021
Couleur:
Ivoire
Taille commandée:
WD14
The dress is pretty but it runs small in the bust and rib cage area. I'm a 38DD and couldn't get it zipped all the way. Now for me the length was perfect if you wish to wear flats or a heel. I'm 5'8". Overall the dress was pretty and a flattering fit for a broad shouldered or big busted woman like myself. The quality seemed a bit cheap to me though. The dress also will not hide any extra stomach pooch if you have any.
Ldelod
Révisé le :
14 juin 2021
Couleur:
Blanc
Type De Corps:
Pomme
Taille commandée:
9562
Nice dress and the material was good quality. The sleeves were light weight and soft. The mermaid style just didn't look right on me.
Monica
Révisé le :
17 janv. 2019
I ordered the sample dress to determine the quality of the fabric and size in person... I was not disappointed! This dress is very well made and the detailed beading throughout the dress and along the hemline are absolutely gorgeous! The sleeves and the v-shape back are stunning too! When I do order my dress, I'm definitely going to use custom sizing and I'm glad that that is an option on this site!
Esvue
Révisé le :
8 août 2018
I ordered the sample dress because I was not sure if I measured myself correctly. The size I chose fits perfect at the bust and waist. Hips were too big, but of course you can do custom sizing. This dress has a beautiful train with sequins/beads all over the dress.
jmromanski
Révisé le :
5 sept. 2017
I stumbled across this dress while looking for bridesmaid's dress ideas. After struggling to find a wedding dress in a style that I liked in stores (anything with sleeves is hard to find), I instantly knew that I had to try this one on. As someone who doesn't like shopping that much, I absolutely loved that I could try on a sample through the mail without all the fuss of a bridal salon. Even though I was close to a standard size, I ordered with custom measurements just to be sure. I was so pleased when it arrived (a few days earlier than estimated) - a perfect fit (hooray for no alterations!). A happy ending to my wedding dress shopping experience!
morgansteiner1
Révisé le :
21 août 2016
I ordered the sample dress first and was amazed at the quality of this piece. The details and quality are excellent. I even looked in bridal stores to make sure there wasn't another dress I liked more. After looking at tons of dresses, I did't even find one I wanted to try on. This dress was always popping back up in my head. I would definitely recommend. I also purchased my bridesmaid dresses and ties for ushers from Azazie and have been 100% satisfied with every purchase! So glad I stumbled on this hidden gem!
dpspears
Révisé le :
17 juin 2016
Couleur:
Ivoire
I tried this dress as a sample, but found it to be heavy in weight. Since my vow renewal was in July, it might be too hot.