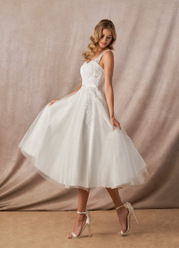 Azazie Dolores
Robes de mariée
429€
information sur le produit

Robe Azazie Dolores par azazie est une robe de mariée en lux en Featuring a side slit detail at front of shirred skirt, this piece is both elegant and unique.Featuring a side slit detail at front of shirred skirt, this piece is both elegant and unique.Featuring a side slit detail at front of shirred skirt, this piece is both elegant and unique.Satin, Tulle, Dentelle avec un décolleté en Illusion sur une jupe en Longueur thé A-ligne. Le dos de la robe est fini avec le style de dos . Disponible dans les tailles WD0-WD30 chez azazie. {Embellissement} 
Critiques de photos (8)
Avis les plus récents
Notes
Obligeance
sundaysprettyicons4
Révisé le :
23 mai 2022
Couleur:
Ivoire
Type De Corps:
Sablier
Taille commandée:
WD14
I am 5'3" and 160 lbs. My wedding dress fit very well. I ordered it over 6 months in advance and got it slightly altered right before my wedding, but it would have fit just fine without alterations. I specifically did not want a train on my wedding dress so I exclusively searched online for short wedding dresses. This dress hit at my mid-shin. I would definitely recommend!
Yolanda R.
Révisé le :
28 juin 2021
Couleur:
Ivoire
Type De Corps:
Poire
Taille commandée:
9563
This dress was absolutely amazing. I wanted to do a shorter dress for the reception and a longer one for the actually ceremony. This is the dress I selected as the reception and dancing dress. It fit amazingly, the only issue was it being a tad tight in the busy area. I will be ordering this dress with custom measurements to ensure the fitting. Other than that, it's perfect. I cannot wait to be seen wearing it.
binkybinks88
Révisé le :
21 juin 2020
Couleur:
Ivoire
Taille commandée:
Custom size
Absolutely wonderful, I'm so excited for the big day and the dress may only need the tiniest of alterations. Too bad I didnt have the correct shapewear on hand for it. All in all it's a spectacular dress!!!
aukeman.tk
Révisé le :
17 juin 2020
Couleur:
Ivoire
True to size! Thank you so much for having sample size dresses! With it I was able to put it on and see if I need to size up or down and how long it is. I am short legged and standing in at 5'6" and the skirt was long, but still hits at a fun length. Skirt was also really full for not having a petticoat underneath. I can't wait to order this as my wedding dress!
brickhouse1920
Révisé le :
2 mars 2020
Couleur:
Ivoire
Type De Corps:
Sablier
I tried this dress as a sample in size 14. I wanted to wear this dress for my bridal shower. The dress is beautiful and well made. My issues with the dress is the length and waist. I wanted a dress that comes to my knees and came in at the waist. I'm 5'9 and this dress was past my knees. I would have to get the waist altered for it to fit the way I want it to fit....or I could go down a size :), but that doesn't fix the length.
Michelle McGrady
Révisé le :
10 oct. 2017
Couleur:
Champagne Classique
First things first, PAY ATTENTION TO THE PRODUCTION TIME! I made the GIANT mistake of misreading it and I just barely received my dress on time! My wedding was October 7th, my dress was set to be delivered October 5th-12th! I was SO nervous but Azazie's team was there to answer my questions and help every time I messaged them about the status of my dress (which was often). They helped me get my dress two weeks before my wedding (instead of two days!) I was able to have a few alterations done and it was absolutely perfect in every way! I'm plus size, 26/28 so I ordered this dress when they offered it as a sample in WD26. It fit great so I knew what to order when it was time to order it for real. It arrived just right (inside out actually for some reason, so I got a little scared when I opened the bag and didn't see lace!). I could've worn it right out of the bag but I decided to alter a few things since I had time. My chest didn't fill it out at a 38C so I had push up cups added, some boning taken out and the straps shortened a bit. It also came with a small piece of lace lose, so my seamstress just had to tack it down. It was extremely comfortable all day up until about the last hour when some of the boning started digging into my underarm, but that was my only complaint. Everyone was in awe of how beautiful it was, people couldn't stop complimenting it and my choice to go with a short dress. Overall, due to my own mistake, my experience with Azazie was stressful but they did everything they could to help! I couldn't ask for a better dress, especially for the price!
kristin.josephson
Révisé le :
12 janv. 2016
Couleur:
Ivoire
This dress nearly became my wedding dress. The two problems I had with it: The straps were too long, so they would have needed significant shortening to fit well, and the waist was too high; with shortened straps it would have been 3 or 4 inches above where I would have wanted it to fall. I wish you could adjust lengths with custom sizing, not just widths.
Natalie Collier
Révisé le :
8 juin 2015
Wearing the Paris wedding dress ! Loved it. Thank you for making a perfect dress for me !
ruthjmanthey
Révisé le :
14 juin 2022
Couleur:
Ivoire
Type De Corps:
Sablier
Taille commandée:
CUSTOM SIZE
I bought the Dolores dress in ivory for my wedding reception, 2 years after my actual wedding due to COVID. I went for the custom sizing option but was still amazed at how well this dress fit - only 3 measurements and it fit as though it had actually been made for my body. The only alteration I made was getting a little more space added for my arms, but that was an easy change with a local seamstress. I loved this dress, it really was the more casual version of the dress I originally wore for my actual wedding. It hit just above my ankle, which was great for showing off my shoes. When we danced the top layer of the skirt was almost horizontal, which was so much fun. I would absolutely recommend this dress! Unfortunately the pictures I have so far from the photographer are too big to upload here. I'm not sure if I'll be able to update this review once I get more pictures but I'll try to share them later.
Laurenator
Révisé le :
29 mai 2022
Couleur:
Ivoire
Type De Corps:
Sablier
Taille commandée:
WD14
Lovely dress but too tight in the bust.
kaseltman
Révisé le :
6 avr. 2022
Couleur:
Ivoire
Taille commandée:
WD12
Nice but not what i wanted
Renée Hamel
Révisé le :
22 janv. 2022
Couleur:
Ivoire
Type De Corps:
Poire
This dress is amazing! Very well made. I opted for the custom sizes and I was not disappointed.
Kristina Johnson
Révisé le :
18 déc. 2021
Couleur:
Ivoire
Type De Corps:
Sablier
Taille commandée:
WD14
Very cute dress. Very heavy good material.
rvpeters
Révisé le :
9 nov. 2021
Couleur:
Ivoire
long for a short woman and a little heavy with the underskirts.
JLD
Révisé le :
15 oct. 2021
Couleur:
Ivoire
Type De Corps:
Pomme
Taille commandée:
9565
This dress was super cute! More toil at the bottom then I thought it would have but still super cute
Carolcay1961
Révisé le :
18 août 2021
Couleur:
Ivoire
Type De Corps:
Pomme
Taille commandée:
WD20
carpenter.kayla
Révisé le :
28 juil. 2021
Couleur:
Ivoire
Type De Corps:
Sablier
Taille commandée:
WD12
Overall incredibly impressed with this dress, especially for the price point. The bodice is very well-structured, and I would feel completely comfortable wearing this without a bra (and am large-chested). The skirt is very full and beautiful, definitely does not need a petticoat because it's borderline ballroom-gown feeling with how full it is (which, ultimately, was not something I wanted, but just preference). My only criticisms would be that in the back, the zipper goes past the bodice and into the skirt portion, and the outer layers of tulle just have an open portion to access the zipper (which is in the material underneath); and some of the appliques have some loose threads (but also it's the sample dress). Still an excellent value for the price of the dress though.
rosesetzer2021
Révisé le :
5 janv. 2021
Couleur:
Ivoire
Type De Corps:
Sablier
Taille commandée:
WD6
This dress is absolutely gorgeous and fit like a dream. Only reason I didn't buy it was because I wanted more of a mermaid/formal gown as opposed to this one which I felt was more casual.
emailmeganb
Révisé le :
15 nov. 2020
Couleur:
Ivoire
I love this dress! I am so excited to get married in it! That being said, I would highly recommend doing the at home try on to make sure you get the best fit. I ordered the try on of the size I thought would work and decided that a smaller size may fit so I tried the next size down and it fit like a glove! This is perfect for the bride who wants to look like a bride but with a twist!
Amanda Fillio
Révisé le :
21 juin 2020
Couleur:
Ivoire
When you are deciding on a size, keep in mind that this dress flares out at about your natural waist or a little higher, so don't worry so much about the hip measurements. It ended up being a few sizes too big on me because of that.