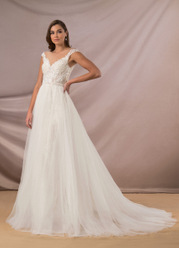 Azazie Diviana
Robes de mariée
729€
information sur le produit

Cette robe Train de la chapelle, Amovible, A-ligne de azazie est confectionnée dans un magnifique Tulle, Dentelle. Azazie Diviana présente un style de dos et une encolure Encolure en coeur, Illusion. Azazie Diviana par azazie est disponible dans les tailles WD0-WD30. {Embellissement} 
Critiques de photos (6)
Avis les plus récents
Notes
Obligeance
danielle.pillon
Révisé le :
2 mai 2022
Couleur:
Diamant Blanc
Type De Corps:
Pomme
Taille commandée:
WD16
I was really impressed with this and other try on dresses! I love how it's two dresses in one. The overskirt is gorgeous! Ultimately I decided against this dress because I wanted one with more structure in the bust and waist area, but it was a close one! For reference I am 5'3" and about 180lbs. Photos are squished a bit to make upload work
jsb10687
Révisé le :
22 mars 2022
Couleur:
Diamant Blanc
Type De Corps:
Sablier
Taille commandée:
WD24
Love it!! The top is a little big on me but overall it fits great and is so beautiful. Lots of beautiful beading. I'm going to add a lining to the top. Can't wait for my wedding day
jennaprice16
Révisé le :
1 juin 2021
Couleur:
Diamant Blanc/Champagne
Usually I wear a size 12, but I had to do the try-on dress in a size 10 (diamond white/champagne) because that was the only one available at the time... Although it was pretty tight, I felt so beautiful in this dress! I especially loved the removable overskirt. It was light and flowy, and it was a lot softer than a mesh overskirt I tried on with a different azazie dress. It was fairly easy to put on and to remove, though I did have to have a friend help me with that part. The beading and lace details are STUNNING in person. I honestly don't have a single negative thing to say about this dress! This dress is by far my favorite one I've tried on so far!!!
kels.kemp5
Révisé le :
19 avr. 2021
Couleur:
Diamant Blanc/Champagne
This dress is beautiful. I loved that it was two dresses in one. It was comfortable and easy to get on. The details are even more stunning in person. My only complaint is the top. The actual top is see-through. The only covered part is the padding for your boobs. In person it was very noticeable and being in my 30's, it just isn't my thing. When I took these photos, I wore a nude tank. For me, I could easily sew another liner into the dress so its not a big deal. However I know that sewing is not a skill everyone has. This dress is still in my top contenders In the photo I weigh 165 lbs. The size 10 was just loose enough to be comfortable but still have a tailored look.
alyssapaquin
Révisé le :
27 mars 2021
Couleur:
Diamant Blanc/Champagne
This dress is amazing and I'm so happy i did the at home try on. I'll start with the sizing, the try in was a little tight but it has boning in the waist to help hold the shape. It's form fitting but hugs the right areas. The attachable tulle hooks on in the front back and sides of the waist. It's not heavy at all. The lace is beautiful and so detailed. Loved the color and the mesh sleeves. Sleeves were not itchy at all. Planning to get this for my dress and I'm so excited to have found the one! Sorry for the bad quality photos, had to compress them in order to meet the size requirement for photo reviews.
Ariel.fleitz
Révisé le :
2 févr. 2021
Couleur:
Diamant Blanc/Champagne
This dress on the model is stunning. However it was not the case on me. It was slightly big. I got a size 4, which I usually am, and it hung weird. Also, cap sleeves for my broad gymnast shoulders was a huge no. I felt like Spongebob...a big rectangle. BUT the dress itself was SUCH amazing quality and packaged beautifully! It just is not for my body type whatsoever.
Aalyiaheguia
Révisé le :
4 oct. 2021
Couleur:
Diamant Blanc/Champagne
Type De Corps:
Sablier
Taille commandée:
WD22
I did get a chance to try on my actual size (my size is a 16, this was a 22) but the materials and making of the dress are done well and it's beautiful. The only thing I'd change about it is the removable skirt. I wish it wasnt so sheer so you couldn't see through it.
lojay2000
Révisé le :
14 juil. 2021
Couleur:
Diamant Blanc
I loved this dress! First one I tried on and it was perfect! Needed some alteration to fit exactly how I wanted but everything was great quality
ashnhill18
Révisé le :
27 mai 2021
Couleur:
Diamant Blanc/Champagne
I ordered a try-on of this dress & it is GORGEOUS! I love how well the mesh blends in with my skin and how I can have 2 different looks by taking on/off the overskirt. My only issue is that the dress fit fine everywhere but the top. We couldn't zip the dress up all the way past my waist. However, now I know to order 2 sizes up than normal (I'm normally a 14 and ordered a 16 for this try on).
jordanmarieshea
Révisé le :
10 mai 2021
Couleur:
Diamant Blanc/Champagne
I loved this one me!! The skirt is a little bit tricky to figure out how to clasp, but it is so fun and whimsical, then you get a more understated looked with the dress by itself. I am loving this look and it fit amazing. I will be adding a belt to the dress when not wearing a skirt. I love this style and it allows me to have two dresses in one. Can't wait to order it closer to my wedding!!
annalouisemorris96
Révisé le :
30 avr. 2021
Couleur:
Diamant Blanc
This dress was gorgeous! The fit was just right! I'm 5'9" and I weigh 130lbs. The only issues I had were that the tulle skirt was only 1 layer of tulle, so you could easily see through it. Also, I don't like how the top on the front is almost see through. It made for a weird straight line across my waist from where the lining started. That was not flattering on me. I also wish the dress without the skirt was a little more form-fitting, but that can be altered! Overall, it's a great dress for the price!
Chey
Révisé le :
21 avr. 2021
Couleur:
Diamant Blanc/champagne
This dress, in person, looks exactly the same as it does online. I received my dress with custom sizing and it fits perfectly. I love the fact that it comes with a skirt and it's removable, making it perfect for my reception. The buttons on the back of the dress aren't sewn on tight enough in my opinion. I will be getting that altered. But, if you decide that this is the dress for you, you won't be disappointed.
Staci B
Révisé le :
28 févr. 2021
Couleur:
Diamant Blanc
Dress was mostly as pictured. You can tell some parts they were poorly done but for the price and on a budget it'll work well for the wedding day. Overall satisfied