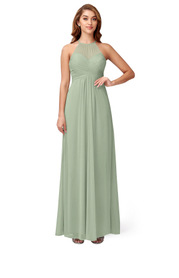 Azazie Darien
Robes de demoiselle d'honneur
129€
information sur le produit

Amusante et séduisante, cette robe de demoiselle d'honneur en exquis Engrener convient à tout mariage, de la plage à l'église. Votre fête de mariage va adorer cette robe beau Longueur ras du sol A-ligne/princesse avec un décolleté Licou. {Embellissement} 
Critiques de photos (7)
Avis les plus récents
Notes
Obligeance
jamie.templar21
Révisé le :
4 juil. 2022
Couleur:
Bleu Poudré
Type De Corps:
Poire
Taille commandée:
A6
Love this dress! I'm 5'7, 140lbs with a mom belly/hips. Size 6 fit perfectly, it was a smidge snug around the rib cage area, so consider trying both sizes of inbetween in sizes. Dress has lots of cute details including little gemstone for the back neck clasp. Highly recommend it.
sgordonesq
Révisé le :
10 mai 2022
Couleur:
Agave
I decided to keep this try on dress because it fit perfectly! I was concerned it was going to be way too small (especially in the bust) because my custom measurements were much bigger than the size 10, but I think if I had went with my custom measurements, I would not have had the breast support that I needed. I will have to get it hemmed and I am intending to get a sit cut into it.
kgv31
Révisé le :
6 mai 2022
Couleur:
Noisette
Type De Corps:
Sablier
Taille commandée:
A12
Absolutely loved this dress in the wedding I stood up for. According to the dress size chart it states I would be a 14 but ended up fitting in the 12 perfectly so I'd say sizing one down from the recommended is what worked best for me. I only needed alternations for the length and to shorten the straps as they are not adjustable. Overall super comfortable dress but as a larger chested girl (36H) as the day went on the straps did dig in. Definitely recommend I got a lot of compliments on the halter.
Jordan Renée
Révisé le :
8 févr. 2021
Couleur:
Noisette
LOVE LOVE LOVE this dress! I was worried about the color matching what I saw online and it was the same shade in person. The dress itself was light and supportive and I got compliments all night on it! The dress was a little long but with a pair of heels, it would had been the perfect lenght. Highly recommend!
Kim Servick
Révisé le :
31 mai 2020
Couleur:
Quartz Rose
Love how it fits. I custom ordered and it fits like a glove. Before that I ordered two sizes of sample dresses just to be sure so it would help me know my exact measurement. I have a large bust and wanted to have it snug enough that i didn't have to wear a bra with the dress and it was success!
kyleengomez1
Révisé le :
27 févr. 2020
After trying on a few trial dresses for my friend's wedding, I ended up liking this one best. It's flattering in the waist and fits nice if you have a larger chest, without being too showy. Oh- and it was super comfy! Ordered in custom sizing so hoping it will fit a little better for the actual wedding day!
Katie
Révisé le :
16 nov. 2019
Tried a sample of this dress, and I think it was pretty unflattering. The bust jut sits so low, and I don't think you could alter it because of the mesh. It's comfortable, but not for me.
rklein78
Révisé le :
21 mars 2022
Couleur:
Bleu Encre
Type De Corps:
Sablier
Taille commandée:
A18
I tried the Darien dress in Ink Blue, size A18. This dress is very pretty and I love the stretch mesh fabric - it's a nice detail on the bust where it goes up into the halter and on the peek-a-boo back. I felt like this dress fit true to size, and would be a nice option for a lot of figures including mine as a plus-size gal. My only critiques were that I wish it had a slit in the skirt, and maybe less pleating over the stomach area where the skirt starts - it just adds additional bulk in an area that I don't want it. But if those aren't issues for you, you would love this dress!
tiffanylaquiere
Révisé le :
13 mars 2022
Couleur:
Champagne
Taille commandée:
A18
This dress is even prettier in person. It came in quickly and fits perfect! I love this pretty.
gigi23caa
Révisé le :
4 févr. 2022
Couleur:
Rose Poudré
Type De Corps:
Poire
Taille commandée:
7493
Ordered 3 to try on. I can t believe this is the first time a find a dress not only a dress but a very special dress to renew my vows with my husband. They came in bags perfectly wrapped! What a great experience. I'm sending the 3 dresses back with the pre paid sticker and purchasing the one I loved. So me!!!!!! :)
rosa.perez1029
Révisé le :
10 nov. 2021
Couleur:
Glycine
Taille commandée:
A10
Absolutely love this dress and is my pick for my bridesmaid dress. Bodice was perfect fit. I'm really short so I will have to get it altered, but it's great.