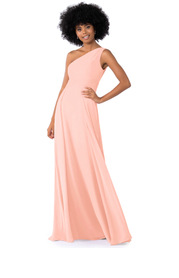 Azazie Dallas
Robes de demoiselle d'honneur
139€
information sur le produit

La robe de demoiselle d'honneur à la mode Longueur ras du sol de azazie an une A-ligne/princesse coupée dans un magnifique Mousseline de soie. Le style Azazie Dallas présente une encolure Une épaule et est disponible dans une gamme complète de tailles (A0-A30). {Embellissement} 
Critiques de photos (14)
Avis les plus récents
Notes
Obligeance
theresaliszkay
Révisé le :
10 juil. 2022
Couleur:
Dark Navy
Type De Corps:
Straight
Taille commandée:
A14
I was completely surprised as how well it fit! I didn't have enough time to get a customized measurements but even then it fit perfectly! The only thing is I'm 5' 10" and it was just reached my feet so I imagine someone who isn't as tall would have to get it mended.
Rach42290
Révisé le :
22 mai 2022
Couleur:
Blushing Pink
Loved this dress! I did custom sizing and it was a little tight in the chest but otherwise fit great. The design of the skirt is more form fitting than some other styles and doesn't hide as much as other styles but all in all a great dress. Loved the one shoulder look very fashion forward and I felt very secure without a bra.
hannahlovik.shop
Révisé le :
8 mai 2022
Couleur:
Dusty Sage
Type De Corps:
Hourglass
Taille commandée:
A14
I was a bit between sizes and sized up, and while I could have gotten in taken in and hemmed, I didn't and everything still looked great!! It fit well for the most part. I felt very beautiful, and got a bunch of compliments. I loved this bridesmaids dress!
eease150
Révisé le :
9 févr. 2022
Couleur:
Acier Bleuté
I was really excited to try on this dress for an at-home try-on, but it wasn't as flatter on my body as I had hoped. I would recommend a slip underneath the dress because the fabric clung to me more than other dresses I tried on. It felt comfortable to wear without a bra (which was great for my 34DDD chest), but wearing a strapless bra would have been very easy to do. The dress fit almost perfectly. I wasn't a fan of how it sat on my midsection, but that's personal preference. If you are looking for a one shoulder dress, I think this is a great option. Lots of room in the length for us tall women! Easy to hem and gives plenty of wiggle room.
warlolleyeagle
Révisé le :
13 oct. 2021
Couleur:
Rose Petal
I loved the simplicity of this dress!! Photographed well and may be my favorite bridesmaid dress I've worn to date. Looked great on my petite frame! It was comfortable, and even though I am a breastfeeding mom with saggy DDs, I was easily able to go braless, and the girls stayed supported and in-place through lots of jumping on the dance floor, and I never had to readjust. It fit TTS based on my measurements using their sizing chart. I'm usually a size 4/6 in everyday wear, and the A10 fit my chest perfectly, without being too big anywhere else. I probably could have done the A8, BUT…this leads me to my one complaint: the side zipper. I LOATHE side zippers. The first few times I tried on this dress, it took an act of god to get this zipped up. It became easier as the zipper got worn in though. Because the A10 was a tad bit big on me, I could find a way to finagle the zipper all the way up. I think if I got the A8, I would have required somebody else to zip me up.
Sage
Révisé le :
26 août 2021
Couleur:
Agave
This was the second dress I ordered from Azazie and I can honestly say I am blown away with them! I ordered custom sizing which says 3 weeks to process plus shipping on top of that but my dress arrived in about 2 weeks. I would definitely recommend doing custom sizing. I had to return my first dress because it could not be altered and I lost weight so the dress no longer fit. This dress has ZERO stretch and is not forgiving in the stomach area so I would suggest adding an inch around the waist if you are worried about gaining even an ounce of weight before the event. This dress is simple but classic and looks amazing in person. I'm very happy with this choice!
jteague00
Révisé le :
9 juil. 2021
Couleur:
Grain De Raisin
This dress was very pretty, & fit very well, like most of the others that I tried on from this site as well!
oliviasobaski1
Révisé le :
12 avr. 2021
Couleur:
Blushing Pink
Type De Corps:
Straight
Taille commandée:
A12
I really liked how this dress fits. It was comfortable and super flattering. Although shipping times were slow, I was happy with my purchase. It ran a bit large, but I was in between sizes and sized up, and it zipped up perfectly.
Alexa
Révisé le :
6 mars 2021
Couleur:
Bordeaux
Taille commandée:
A8
Love it! Fits perfect and sits at the smallest part of my waist. Chose this one in burgundy for my cousin's wedding!
Jackie
Révisé le :
16 févr. 2021
Couleur:
Cabernet
Classic and elegant. A8 was a little tight and it was way too long even in heels so I would go for custom sizing. Good support in the bust, at 34DDD I would feel comfortable going bra-less in this.
LR
Révisé le :
17 août 2020
Couleur:
Peacock
Type De Corps:
Straight
Taille commandée:
A8
This dress is beautiful! It's a little big at the top of the zipper on my right side (opposite the shoulder strap side) but otherwise it's a great fit, and pretty true to size (I did round up in my measurements). I ordered the Color peacock In A8. Pretty well constructed and The internal boning will provide a smooth shape, but is lacking in support a little. I did not add any length to the dress since this was a standard size, but still might need to hem it a tad.
Tracy Sharpe
Révisé le :
21 juil. 2020
Couleur:
Plum
Type De Corps:
Apple
Taille commandée:
A14
i got this dress for a friends upcoming wedding that im a bridesmaid in. its SUPER comfy and fits really nicely! its not too tight, its almost perfect fitting! i ordered it in a 14 and will absolutley need to get it altered. the side without the strap will be taken in, and the dress needs to be shortened. other than that, im SO happy with it! im so excited to wear it! it even came with a cute dress bag for it to be hung up or even folded.
megan.hewitt
Révisé le :
21 juin 2020
Couleur:
Bleu Roi
I ordered the Dallas dress in size A6 as part of the try-on program (for my friend's wedding this October). I was quite impressed with the fit of the dress and quality of the fabric. The sample try-on process was very efficient - I would strongly recommend it if you want to compare dresses in person before buying. I am 5' 7", 145 lbs. I have a tall torso, so the only concern I had was that the one-shoulder strap was a bit snug. Otherwise, it was a great dress!
Sarah
Révisé le :
5 nov. 2019
Sample dress color: Burgundy This dress is great! I am ordering it for a bridesmaid dress for 4th of July. I was hesitant to sample it at first because the picture online looks plain, but it is made really well and it was really pretty in the burgundy. This dress fit perfectly (aside for length because I am short) and is really comfortable. It allows you to show some skin while not having to worry about accidentally flashing someone. Ignore the weird poses... I was sending these to the bride (my best friend) and was being silly :)
stephtapia09
Révisé le :
18 juil. 2022
Couleur:
Agave
Type De Corps:
Straight
Taille commandée:
A8
Zipper was hard to raise. Size was pretty accurate. Chest part was slightly bigger.
chezbissell
Révisé le :
10 juil. 2022
Couleur:
Mist
Taille commandée:
A8
courtneymarchiafava
Révisé le :
6 juil. 2022
Couleur:
Eucalyptus
Taille commandée:
A14
Fit great and comfortable.
emery.moore04
Révisé le :
31 mai 2022
Couleur:
Twilight
Taille commandée:
A10
I was overall very satisfied with my purchase. It is a flattering dress and the color is great. It did have a small rip in the side after only trying it on for alterations. However, it was barely noticeable. Quality of the dress seemed to be good despite the small hole.
Gia Williams
Révisé le :
28 mai 2022
Couleur:
Pin
Type De Corps:
Hourglass
Taille commandée:
A22
The dress fit me to a tee and the material is light and easily maneuvered around in.
qatticus17
Révisé le :
23 mai 2022
Couleur:
Bordeaux
Type De Corps:
Hourglass
Taille commandée:
A18
I'm helping a friend narrow down bridesmaid dresses, and the sizing for Azazie's dresses, including this one is standard for Bridal wear - order one size larger than you normally wear (if you generally can wear off the rack sizes). I'm normally an XL or 16 in street clothes - and this dress was great. The 18 was closest in size to my hip measurement, and although my other measurements are 1.5" to 2" smaller than this size, it simply meant the dress was comfortable vs. no room to breathe. The dress drapes well but is a bit plain. I will say, all the dresses I've received for try-on are well-constructed. My mom spent 35 years as a seamstress in the bridal industry so I always check the construction, and I've been pleased with the items I've received. Now... if we can just narrow down a dress... we'll be in business.