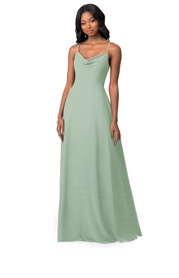 Azazie Daenerys
Robes de demoiselle d'honneur
129€
information sur le produit

La robe de demoiselle d'honneur brillant Longueur ras du sol de azazie an une A-ligne/princesse coupée dans un à l'aise Mousseline de soie. Le style Azazie Daenerys présente une encolure Col V et est disponible dans une gamme complète de tailles (A0-A30). {Embellissement} 
Critiques de photos (12)
Avis les plus récents
Notes
Obligeance
Kyra Simmons
Révisé le :
29 juin 2022
Couleur:
Steel Blue
Type De Corps:
Pear
Taille commandée:
CUSTOM SIZE
Steel Blue - Custom Sizing So perfect!! High quality fabric, no flaws in the sewing or dress at all really, the only thing is the chest was an inch or two too wide and I'm gonna take it in. I would recommend taking off an inch or two off the shoulders and bust if you have a smaller chest. Overall fits perfect at my waist, adjustable straps are nice, length is perfect with my heels, just above my toes. I would totally recommend doing the custom sizing.
Villares.4
Révisé le :
10 avr. 2022
Couleur:
Jade
I absolutely LOVE this dress. I was trying to find something not overly sexy but still on trend and didn't hide my figure and this is it. The quality is amazing, and the custom fit is absolutely perfect. I was a little worried because there is a 15 inch cap on the difference between hip and waist measurements that you can enter, so I added an inch in the waist and went one inch down in the hip but it came out perfect with just a little room. The top is so cute and the boning is nice and supportive!
Makenzie Saunders
Révisé le :
23 mars 2022
Couleur:
Pine
I loved this dress! It was a little long on me, so I did have to get it hemmed (I'm 5' 6"). My body type is a little odd with the measurements, so I ordered a few try-on before deciding. When I ordered to try on, I ordered this in an A10. It fit will, but the waist was just a hair too big that I felt like it wasn't flattering. So, I ordered a size down to an A8 and if fit PERFECTLY! The bride (one of my best friends) kept commenting on how good my boobs looked in it, so that's a bonus. No slit made it a little "boring" but the fabric moves beautifully, it held up during a night of dancing, and it was comfortable. Ten out of ten!
miaraecarrola
Révisé le :
5 févr. 2022
Couleur:
Dusty Rose
Type De Corps:
Pear
Taille commandée:
A6
This dress was very beautiful and looked great in photos. It fit true to size and fit well on my pear shaped body. My only complaints were that the straps were not adjustable and did slip off my shoulders at certain points and that the front ruching did not sit in a very flattering way, even after much steaming. It is a great choice of a dress overall!
Anonymous
Révisé le :
16 janv. 2022
Couleur:
Rose Du Désert
Type De Corps:
Hourglass
Taille commandée:
7496
Beautiful dress overall! It fits slightly large, so if you're between sizes I would size down in this one. I'm an 8 or 10 usually, 5' 9" tall, and went with the 10 for this try-on, so it was a little bit loose all over. I ended up going with a different dress but really have no complaints on this one. (except maybe that it doesn't have pockets lol)
scherer.lauren
Révisé le :
28 déc. 2021
Couleur:
Bleu Poudré
I love my try ons! Azazie has made this whole process so easy! I thought it would be stressful not having an in person store, but with the at home ease it's even easier than having a store. Less stress!! Glad i found my bridesmaids dresses here! I would say size up in this dress! Material is amazing.
mariasmailbasket
Révisé le :
17 déc. 2021
Couleur:
Dusty Blue
GET THIS DRESS! For reference I'm 5'9 and size 32 B bra. My bride requested we get the color dusty blue in chiffon material on azazie. I searched this website for hours. Finally I decided on this dress because I loved how the top and body fit, however, I hated the bottom. It was too big for me. So I decided I would try it out knowing that I could always tailor the bottom to be more form fitting. AND WOW! I tried it on and the 0 fit me perfectly. I don't have much in the chest area and I have a very small waist. It fits me tight up top which I love because it snatches me. On top I'm typically between a small and xsmall, but I go xsmall when I was to be sucked in. The first picture is of the dress as is, and the second picture is what it will look like once I'm done tailoring the bottom. The dress has a built in bra and the entire top is like a corset. It's made so well and it doesn't look like all the other basic bridesmaid dresses. I'm so impressed and I can't wait to wear this on my friend's wedding day!
emmieeerudd
Révisé le :
10 déc. 2021
Couleur:
Pin
i love this dress!! so beautiful! if you don't like showing your arms, it's definitely not for you. it compliments curves so well!!
adowney17
Révisé le :
10 déc. 2021
Couleur:
Pine
Type De Corps:
Straight
Taille commandée:
CUSTOM SIZE
I ordered this dress for a wedding. I really loved the neckline and the elegant simplicity of the dress. I got many compliments! For the price, it was great! I did the custom sizing, and I was very pleased!
nichols.coonradt
Révisé le :
16 mars 2021
Couleur:
Blue Jay
Fits my daughter perfectly(5'8, 120lbs), no alterations needed as she will be wearing 3 inch heels as my maid of honor. I absolutely love the color! Fabric has a nice thick feel without being too heavy when wearing it. Nice boning and cups sewn in, so no special undergarments needed.
christinealysesmith
Révisé le :
28 févr. 2021
Couleur:
Terracotta
I ordered this dress and another for my friend's wedding to try both on and see how it fit. I liked this dress but I just didn't find it as flattering. I wish there was a slit but I did enjoy how there's pads and felt like it fit well otherwise.
Sarah D.
Révisé le :
10 févr. 2021
Couleur:
Mist
I had high hopes for this dress. I loved it online, but when i got it, the top didnt look as nice, and was really low cut, and ended up just gaping open at the chest. I ordered standard sizing, would need adjustments if i had kept it. overall fit too large for me.
lexievasilikos
Révisé le :
5 août 2022
Couleur:
Black
Type De Corps:
Apple
Taille commandée:
CUSTOM SIZE
Perfect fit! Absolutely beautiful dress that I will definitely keep and rewear. Normally don't see a possibility rewearing bridesmaid dresses, but I will definitely with this one! My favorite bridesmaid dress I've ever worn.
melissa.rafaniello
Révisé le :
12 juil. 2022
Couleur:
Terre Cuite
Taille commandée:
A0
joaniethom
Révisé le :
2 juil. 2022
Couleur:
Burgundy
Taille commandée:
A6
Cute, comfortable dress in a beautiful color!
m.kfedran3
Révisé le :
8 juin 2022
Couleur:
Twilight
Custom fit was perfect! No alternations needed.
Cwilliams4010
Révisé le :
28 mai 2022
Couleur:
Champagne
Type De Corps:
Hourglass
Taille commandée:
A4
The dress fit according to size BUT my straps snapped 30 minutes before the ceremony and had to be safety pinned :( the skirt also has a large amount of material making you look larger in the hips/lower body so I got it tapered. I'm 5'1, around 130 pounds and an athletic/hourglass figure
kara.wells95
Révisé le :
16 mai 2022
Couleur:
Étain
Type De Corps:
Hourglass
Taille commandée:
A10
Just no. This was so unflattering on it looked like I was wearing a bedsheet with straps. Skip this one.
Kait B
Révisé le :
7 avr. 2022
Couleur:
Sky Blue
This dress is very well made and the size chart is accurate.
jaire4
Révisé le :
6 avr. 2022
Couleur:
Dusty Rose
Type De Corps:
Pear
Taille commandée:
A12
I love the way that it flowed down my body. The material was soft and really highlighted my curves. I wore it is a bridesmaid dress but it's too cute not to wear elsewhere!