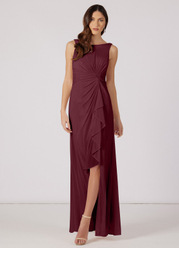 Azazie Chiara
Robes de demoiselle d'honneur
129€
information sur le produit

Le style Azazie Chiara par azazie est une robe de demoiselle d'honneur Longueur ras du sol Gaine/Colonne dans un fabuleux Engrener. La robe à la mode présente un décolleté Col bateau et un style de dos . Le style Azazie Chiara de Que vous l'habilliez avec des bijoux tendance ou avec des chaussures plates et un cardigan, il incarne la beauté intemporelle. azazie est disponible dans les tailles A0 à A30. 
Critiques de photos (11)
Avis les plus récents
Notes
Obligeance
pauletteklynn
Révisé le :
29 juin 2022
Couleur:
Bleu Roi
This was a try on dress for MOB. This was the 2nd most comfortable dress I tried on. This was probably my 2nd favorite for this reason. Very lightweight material. Nothing was too tight and would be perfect for a summer event. I am 5'6" 140 pounds and size 6 was good except I may of needed slightly taken in at the bust/top.
lesliesknapppa
Révisé le :
23 mai 2022
Couleur:
Orchid
My dress was perfect! I received it 2 weeks early, and upon trying it on, it was a perfect fit. The quality of the fabric and the sewing were excellent!
bkelch21
Révisé le :
26 mars 2022
Couleur:
Hazelnut
I really liked this dress. I got the size to match my chest as I'm a DDD so I did get it taken in around my stomach. The dress was comfortable and the neckline was flattering.
Mbpeasall
Révisé le :
30 oct. 2021
Couleur:
Mulberry
I ordered this dress custom-made to wear to my son's wedding, and it was perfect. It fit beautifully, was so comfortable, and arrived when promised. I was a little worried since I hadn't ever ordered a custom made dress, but I got so many compliments. I would not hesitate to order from Azazie again if I ever have the occasion to need a formal dress.
Révisé le :
22 mai 2021
Couleur:
Steel Blue
Measure yourself and the fit will be perfect. Mother of bride here and my daughter's bridesmaids all got their dresses here. Quality material, great price and the shoppe that hemmed my dress had great things to say about these dresses.
Kayci
Révisé le :
12 mars 2021
Couleur:
Glycine
I really liked this dress. It doesn't have boning, which I felt added to the comfort, but I don't have a lot of experience wearing formal dresses so I would have struggled to find the right bra to wear underneath that wouldn't show. I fell in love with the stretchy material- just enough stretch, and more comfortable than chiffon. Our colour is royal blue; I got a fabric swatch and, though the colour varies by fabric, the bride agreed that the subtle difference between the chiffon and stretch lining wasn't noticeable (the other bridesmaids are wearing chiffon). I ending up going with the Fran in A14 (also stretch material), because I felt that style was more "me" and that I would wear the dress on more occassions. I ended up sizing down because I prefer form-fitting clothes and I did find the Chiara a bit loose at my waist in A16.
sarah.williamsd
Révisé le :
30 août 2020
Couleur:
Dusty Sage
Loved it and the material. Didn't need to wear a bra either and I'm 5'9 and didn't need to get it hemmed.
veronica
Révisé le :
29 juin 2020
Couleur:
Vintage Mauve
The dress size is pretty close to the measurements I took based off Azazie's size chart (so I would definitely recommend working off of that). The material is great. I'm going to just bring it in the waist a little and up (I'm 5'5" and it's probably two-three inches too long, even with 4-5" heels on. Great price and came in a timely manner. I would definitely buy from them again. Thanks!
Shelby
Révisé le :
26 juin 2020
Couleur:
Cabernet
Fits perfectly and I love the cut! Gives a great shape and easy to move in.
mteasley33
Révisé le :
16 juin 2020
Couleur:
Sky Blue
I am very happy with this dress. I was a little skeptical about ordering online because I'm 5'11", but the length is perfect. It arrived before the expected date. Dress runs a little big, I suggest sizing down
jessica.king94
Révisé le :
17 mai 2020
Couleur:
Burgundy
I love this dress. It came a month early and is very comfortable. The only thing I would critique would be the front upper area. It was baggier than I liked but a couple safety pins and it's absolutely amazing and I can't wait to wear it at my sisters wedding! Thank you so much!
vlaase
Révisé le :
6 août 2022
Couleur:
Dusty Sage
I bought this to wear at my daughter's wedding & received lots of compliments! The one thing I would say is that it fit a little odd in the chest but it's a beautiful dress.
Cassandralsmall
Révisé le :
25 juil. 2022
Couleur:
Noir
Taille commandée:
A20
This dress is fabulous in every way. This is a keeper!!
accekyle
Révisé le :
5 juil. 2022
Couleur:
Desert Rose
Type De Corps:
Straight
Taille commandée:
CUSTOM SIZE
My dress was too large despite being custom sized and first using the try-on-at-home program. The A4 try-on dress fit almost perfect and was made well. In hindsight, I should have bought the try-on dress. Instead, I reduced the bust and hips slightly (only 1/2 inch each) on a custom order dress and that dress arrived larger than the A4 standard size dress. So there you go. Also, the top of the slit at the leg did not have finished stitching. Threads were loose and I hand sewed it myself to secure the top of the slit. I wound up taking the dress to a local alterations who did the best she could with the large areas of the dress but it was triple layered and not a simple adjustment. I did get many compliments and the dress was comfortable. The Desert Rose color was pretty and matched the swatch.
15krporter
Révisé le :
11 juin 2022
Couleur:
Cabernet
Beautiful dress! I wore this as a bridesmaid in my best friend's wedding. It was a humid Tennessee outdoor wedding, and this dress was perfect! The color(cabernet) hid sweat stains pretty well, and the slit and the low back were great for keeping somewhat cool. Being stretchy, it was super comfortable to wear for most of the day. Because I'm petite, I got custom measurements, and it fit beautifully!
Amandapeterson3
Révisé le :
11 juin 2022
Couleur:
Bordeaux
Type De Corps:
Pear
Taille commandée:
A8
This dress was very flattering. I like that the slit was high enough to allow movement but didn't feel inappropriate for a church wedding. It was big in the bust for me but I plan to have it tailored.
Spopmetal
Révisé le :
30 avr. 2022
Couleur:
Steel Blue
Taille commandée:
A16
Loved this dress. So comfortable. True to fit.
junkbiondo
Révisé le :
9 avr. 2022
Couleur:
Orageux
Taille commandée:
A8
Love this dress! I didn't quite fit into the standard size 8, so I ordered a custom fit. Was great to be able to try on the dress to make sure I like it before ordering.
rcrgsmith
Révisé le :
1 avr. 2022
Couleur:
Dusty Rose
Taille commandée:
A6
Dress was just as shown on website. Fit was true to measurements in line. Material was good quality and dress was well made.
patti.bedore
Révisé le :
21 mars 2022
Couleur:
Bleu Marine Foncé
Taille commandée:
A12
Nice clean lines. Ran a little small.