Azazie Berdie Combinaison Reviews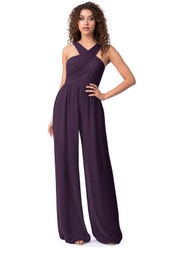 Azazie Berdie Combinaison
Robes de demoiselle d'honneur
139€
information sur le produit

Amusante et séduisante, cette robe de demoiselle d'honneur en élégante Mousseline de soie convient à tout mariage, de la plage à l'église. Votre fête de mariage va adorer cette robe à la mode Longueur ras du sol Pantalon Costume avec un décolleté Licou. {Embellissement} 
Critiques de photos (4)
Avis les plus récents
Notes
Obligeance
stephanie.n.hanson
Révisé le :
7 août 2022
Couleur:
Dusty Rose
Taille commandée:
A18
The quality was good. The fit was pretty true to size. I only had to have the jumpsuit hemmed (which I completely expected), oherwise it fit perfectly. It was comfortable and breathed well on a very hot & humid day. The closure was a bit on the tiny side which made it difficult to fasten & unfasten. Other than that I was very satisfied with this purchase.
Miyadabee83
Révisé le :
3 juil. 2022
Couleur:
Lavender
Type De Corps:
Pear
Taille commandée:
A28
I was the Belle of the ball
Mschellenberg
Révisé le :
2 juin 2022
Couleur:
Pewter
This jumper fit my daughter perfectly for the wedding. However, she is 5'11" so she's very tall and thin. I ordered her an a four. We didn't need to do any hemming or adjustments because of her height. Otherwise you will likely have to get a seamstress to shorten the legs a bit. Excellent quality!
amberw95
Révisé le :
29 avr. 2022
Couleur:
Wisteria
This jumpsuit is very pretty and all my friends thought I should wear it- however I ended up going with a different option as the hips were a little tight and made it hard to sit, and taking it off and on by myself was difficult. If you're considering this and have big hips/butt, I recommend sizing up/ going with the larger size if you're between sizes. Over all, it's a lovely option for people who look good in jumpsuits
Jennyann102813
Révisé le :
1 juil. 2022
Couleur:
Dusty Lavender
fit perfectly, had to hem the bottom just a tad, looked great and fit perfectly
wolbert_2008
Révisé le :
19 juin 2022
Couleur:
Black
Taille commandée:
A18
Too small ordered to fit hips then breasts fell out top
4x4starrs
Révisé le :
7 juin 2022
Couleur:
Regency
This jumpsuit is ADORABLE!!!!! The color Royalty is stunning! I had ordered it in a size 14 as a try at home & loved it! It was too big by enough to feel comfortable ordering it in the size 12. I was so sad that the size 12 was a bit too tight in the chest. I'm a 36 DD and wear medium & large t-shirts depending on the brand or if I want it to fit more loosely. I loved it so much & would have ordered the 14 again & had it altered to fit me, but I didn't have time to do that before my event.
htopel2764
Révisé le :
7 mai 2022
Couleur:
Agave
Had to have the straps shortened but otherwise it was a great fit! It was perfect for my bonus daughter to stand by her father's side for our wedding. The color was gorgeous
natmoore2431
Révisé le :
18 avr. 2022
Couleur:
Pin
It is super cute and I have custom ordered my size! I usually am a 22 in jeans, and a 2x on top so I got a 22. The hip area for me was very tight. I was able to zip it, but would be afraid that I would rip the seam if I bent over or did anything. The top is flattering and I like that if it fits properly I could go without a strapless bra (size DDD over here!) it also is flowy enough that it still looks like a dress to some extent.
Zoeylopera
Révisé le :
6 avr. 2022
Couleur:
Rose Du Désert
Fit nicely everywhere, but was a tiny bit loose on the top. Fell in love instantly!
shelby.foster1392
Révisé le :
29 mars 2022
Couleur:
Acier Bleuté
My only complaint is it didn't have pockets. Love this one.
Jeanne Muller
Révisé le :
28 mars 2022
Couleur:
Agave
More jumpsuit styles please! This was a big big in the chest and a big tight in the waist for me. Didn't like the pleating detail on the chest. Also way too long for my height, would have needed to alter if kept.
A.B.
Révisé le :
12 mars 2022
Couleur:
Noir
Really wish this jumpsuit had pockets. I'm a tall, curvy woman so this was definitely short for me, even withOUT some heels on. The top felt fine while the crotch area was a bit snug. Not for me.
britjunkie
Révisé le :
12 mars 2022
Couleur:
Twilight
I was extremely nervous ordering this in custom sizing, but I followed all the instructions online, making sure I added the .5" to everything, and it was PERFECT. The biggest thing is making sure you take accurate, that-day measurements of yourself. I added too much length to the legs. I wasn't sure where the pants legs were going to hit, so I added 3" and probably shouldn't have added more than 1" (with my 3" heels) if anything at all. I made do with it as it came, but I should have had it hemmed back up. There's a built-in bra that's nice. I'm smaller chested, so it was all I needed. The color is prettier in person. It's more "steel," if that makes sense. I wish Azazie did more clothes than bridal gowns because I'd definitely keep coming back for that custom sizing. I'm tempted to order one of these in black to have in my "night out" collection. Also, it was very comfortable on, and surprisingly flattering. I'm 5'6" and up to about 150 these days, which is about 20lbs heavier than what I'm used to, and the cut and style of this made me feel confident again, which was nice.
ashley.fitchette01
Révisé le :
12 mars 2022
Couleur:
Dark Navy
Fits amazing! Great for curvy girls!!
kopp.sarah2
Révisé le :
5 mars 2022
Couleur:
Noir
Super cute jumpsuit and excellent quality!
shelby.foster1392
Révisé le :
1 mars 2022
Couleur:
Bleu Poudré
Super cute. But would have to be brought in a touch.
htopel2764
Révisé le :
27 janv. 2022
Couleur:
Acier Bleuté
My step daughter was trying this on for our wedding and it looked so beautiful in her. It fit her well, true to size (will need minor adjustments). We ordered this in the color we wanted!
esmeralda.m14
Révisé le :
14 janv. 2022
Couleur:
Dusty Blue
Lovely pantsuit, the color was the exact color advertised. The fit was almost perfect a little snug on my rib cage but I have wider rib cage. My only issue was the length even with heels it was dragging, and the amount of fabric for the legs of the pantsuit (I am not very thick) there was just so much material for my frame.
ski.kirsten
Révisé le :
5 nov. 2021
Couleur:
Bordeaux
Loved this one for my maid of honor! will definitely be ordering!