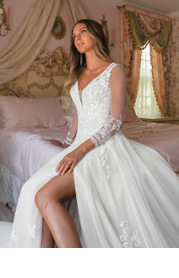 Azazie Ariya
Robes de mariée
539€
information sur le produit

Cette robe Train de la chapelle, A-ligne de azazie est confectionnée dans un magnifique Tulle, Dentelle. Azazie Ariya présente un style de dos et une encolure Col V. Azazie Ariya par azazie est disponible dans les tailles WD0-WD30. {Embellissement} 
Critiques de photos (3)
Avis les plus récents
Notes
Obligeance
pierce_ni
Révisé le :
3 janv. 2022
Couleur:
Diamant Blanc
Type De Corps:
Pear
Taille commandée:
WD6
I ordered this dress as a try-on. The dress I really wanted was unavailable so I chose something in a similar cut and feel. I.....ended up falling in love with this dress. The try on dress was a size down from what I normally wear (size 8) but I could tell that because of the quality of the dress and the style that a size up would fit me like a glove (well...almost since my bust size is a 34). I'm so impressed that an affordable wedding dress could look and feel this luxurious! I'm so happy that I stumbled across this website!
j_huntley078
Révisé le :
15 nov. 2021
Couleur:
Diamant Blanc
I did a try at home dress with this one. It was a few sizes too big, but the quality and feel of the dress it gorgeous. It feels sexy, yet modest and plenty of lace and sparkles. This is one of my top choices, but I haven't make the decision yet.
hennessey.laura
Révisé le :
10 oct. 2021
Couleur:
Diamond White/champagne
I won't lie, I was very nervous to order a wedding dress online - one that I hadn't tried, that I wasn't sure if I would like the style, and one where there were no reviews and no photos of a plus size model (at the time of ordering, at least - I see that photos of a plus size model have been added which is great)! But wow, I am SO happy with my dress. Looks just like the picture, quality is great. I ordered a size up from the size chart rather than the custom size option because I was worried I would need to return it, and if I kept it I knew I would need a bit more room in my chest. I absolutely love the little dot detail on the tulle, and the diamond white/champagne color combo is gorgeous - it gives the dress a sort of off white/cream look that I love! The illusion sleeves are great because I felt like I had coverage on my arms (an area of my body I'm self-conscious about) without feeling like I had heavy sleeves, or like I was just trying to cover up my body. I can move my arms, raise them above my head, sit down, dance, etc in the dress without feeling constricted or weighed down. The fit was good - it is a bit big on me (which I expected from ordering a size up) but I was planning on getting alterations anyways. The cups were more supportive than I expected, I have a large chest and wasn't wearing a bra in photos. I expect it to be even more supportive when properly altered to fit me. The dress feels well made and looks beautiful in person, no issues with construction that I saw. Honestly it looks even better in person than these photos I took when trying it on!! It's such a flattering dress and I felt beautiful wearing it. Can't wait to wear it for the wedding!! One thing I will add - this dress is also so light!!! I tried on the Stevie BG with the try at home program, which was gorgeous but wow I was sweating/hot after 15 minutes with AC blasting. When I took it off I felt like my temperature dropped ten degrees. But with the Ariya BG I didn't have that issue at all, it didn't feel too warm at all! Even the illusion sleeves were very light and breathable. My measurements are 48" bust, 41" under bust, 42" waist, and 53" hips, I'm 5'4 and around 240lbs, for anyone with similar measurements interested in this dress! I ordered a 22 (based on the chart I'm between a 20 and 22) and could have gone with the 20. I wear size 20/2X in most clothing brands (usually a size 1, sometimes 2 at torrid)
Christyjomullins78
Révisé le :
30 juin 2022
Couleur:
Diamant Blanc/Champagne
Type De Corps:
Hourglass
Taille commandée:
WD8
Sleeves were too baggy. Very pretty dress and well made. Just wasn't satisfied with how the sleeves fit
briannamarshenglish96
Révisé le :
6 juin 2022
Couleur:
Diamond White
Type De Corps:
Hourglass
Taille commandée:
CUSTOM SIZE
Beautiful dress, it was everything I hoped for and more
ajluv77
Révisé le :
26 oct. 2021
Couleur:
Diamond White/champagne
I'm usually a 7/8 , I ordered the 8. It was large in the bust( I'm a 34b) and 135lbs 5'3 its very long more than floor length, definitely needs to be tailored or high heels. SIZE DOWN. I'll be ordering the 6. It is a beautiful dress, heavy and good quality. It has intricate dot throughout the tooling. And very pretty floral inlay.