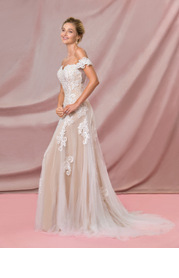 Azazie Adeline
Robes de mariée
619€
information sur le produit

Robe Azazie Adeline par azazie est une robe de mariée en exquis en Featuring a side slit detail at front of shirred skirt, this piece is both elegant and unique.Featuring a side slit detail at front of shirred skirt, this piece is both elegant and unique.Featuring a side slit detail at front of shirred skirt, this piece is both elegant and unique.Tulle, Dentelle avec un décolleté en Encolure en coeur sur une jupe en Train de la chapelle A-ligne. Le dos de la robe est fini avec le style de dos . Disponible dans les tailles WD0-WD30 chez azazie. {Embellissement} 
Critiques de photos (10)
Avis les plus récents
Notes
Obligeance
Sara Oliveira
Révisé le :
9 avr. 2022
Couleur:
Diamant Blanc
Found my dress!!! I'm obsessed. Although I plan on making the neckline more of a sweetheart neckline and also adding more tulle to the skirt so it can puff out a little more.
brookematson1
Révisé le :
31 janv. 2022
Couleur:
Diamant Blanc/Champagne
Taille commandée:
9563
First dress ordered off of website for "try on". It was good material and cute dress however I didn't feel like it was "the one". Liked the dress a lot though. I'd say sizing is pretty spot on.
chickswhorock
Révisé le :
2 août 2021
Couleur:
Diamant Blanc/Champagne
Taille commandée:
WD20
I can't attest to the fit because this try-on dress was about 2 sizes too big. (I would normally wear a 16 and this was a 20.) We used a few clothespins to keep it from falling off and to get a better sense of how it looked. Honestly, it's beautiful! The quality is equal to or better than the dresses I tried at the big box bridal store. It was lighter in weight than I expected and very comfortable to wear. The hidden elastic in the off-the-shoulder sleeves was genius! It kept them in place while not restricting movement of my arms. I like that the lace isn't overkill and the back is gorgeous! There's just the right amount of sparkle, too. I tried on the Diamond/Champagne and really liked the color. It looks a little different in various lights but it's stunning in each setting. This is definitely a contender for the big day. Thanks, Azazie!
Maegan.m.foster
Révisé le :
2 juin 2021
Couleur:
Diamant Blanc
Type De Corps:
Poire
Taille commandée:
WD6
This is absolutely my dream dress. I loved working with Azazie and finding my wedding dress! All the dresses I tried on were stunning in person. They were amazing quality and I was amazed at what I was able to find for the price.
angie
Révisé le :
3 déc. 2020
Couleur:
Diamant/nude
The dress is absolutely gorgeous! Everything is perfect. I did the custom sizing (i rounded up to the next full inch on the hips and waist just to be safe qnd just wore my shoes when i measured my height) and it fits perfectly. I would not change a single thing about it!
Kiersten Marie
Révisé le :
17 oct. 2020
Couleur:
Diamant Blanc/Champagne
This ended up being my miracle dream dress. I ordered it last minute (2 weeks before) for my elopement and it was the last one in my "off the rack" size. It was VERY long which I expected since I'm only 5'2" but I liked the dramatic effect for my wedding photos. It fit nicely, was comfortable. Had I gotten a custom size it probably would've been perfect to fit but it was close enough and looked amazing! I was so thrilled! It was the dress the I always wanted! So glad I took a chance on it!
Liz L
Révisé le :
19 juil. 2020
I can't comment much on the fit of this dress as my sample size wasn't available (usually I'm a 6, in the photos I'm wearing an 8) but I could tell the quality of this dress was good and nothing seemed off about the fit. The waistline is very elegant and forgiving and the shoulder straps are sewn onto a little stretchy band to give them a bit more of a grip on your arms. The beadwork was a little heavy-handed for my personal taste but seemed well made. I think if I was having a spring or summer wedding I would be very tempted by this dress, but we ended up looking at next fall due to covid19 so this dress won't be the one!
Chynna
Révisé le :
14 mai 2020
Beautiful! I ordered a custom size. The dress is so well made and fits perfectly. Better than I had imagined! Thank you Azazie!
Allie
Révisé le :
8 mai 2020
I first saw this dress months ago and couldn't get it out of my mind. It became the dress to beat as I tried on other dresses in retail stores. I finally decided to take a chance with online ordering and while I was nervous, there were other reviews of the dress in the size and colour I wanted (thanks to others for reviewing!) so I decided to take a chance. I am so glad I took the risk! I absolutely love this dress; it is so elegant. I got it in the champagne colour and it's exceptional. I am a pretty standard size 16 and I got that size in this dress hoping it would be okay (because I knew I couldn't return a custom size) and it was. This dress fits me like a glove. It seriously needs no alterations, except for maybe some hemming at the bottom (it's a bit long, and I'm 5"8). It was hard to tell from the photos, as the design seems to just show the embroidery, but there's also some nice beading on the embroidery that gives it a bit of sparkle. The dress is comfortable and I feel like I can move in it, but at the same time you can tell the fabric is high quality. There are also two layers of the dress lining underneath the tulle, so it's sturdy and there's no danger of it being see-through. I am looking forward to wearing it at my wedding (whenever that may be...we may have to postpone). I hope this review is helpful to those who like this dress and want to buy it too: go for it!
Karythia
Révisé le :
30 janv. 2019
What a beautiful dress!I love the design and silhouette of the gown. The fabric is comfortable. I cant believe the quality of the dress for the cost. I tried on the diamond with champagne.
babyjake1018
Révisé le :
8 févr. 2021
Couleur:
Diamant Blanc
Taille commandée:
WD18
this dress is gorgeous!! I really love it . I put it on and it was like this is the one for sure?. Thank you Azazie! Your website is such a blessing. Don't hesitate to shop here. Everything is as its described and actually it's more beautiful than in the photos. Customer service is exceptional!!
CC
Révisé le :
17 avr. 2020
Couleur:
Diamant Blanc
Type De Corps:
Droite
Taille commandée:
Custom Size
I used the custom sizing. It came in about 5 weeks rather than the 10 weeks the website had said. The dress fits perfectly with my custom sizes. I definitely would recommend the entire website on the custom sizing. Azazie has made my wedding dress very affordable and I did not have to get my dress altered anywhere else. LOVE MY DRESS and this website!!
aiapayrideout
Révisé le :
18 mars 2020
Couleur:
Diamant Blanc/champagne
Type De Corps:
Sablier
Taille commandée:
WD18
Overall great dress. Some loose threads but nothing too major. Was slightly disappointed that the colour was slightly different than that in the pictures but still gorgeous. I can not wait to wear this dress on my special day! Dress will need alterations could have sized down, the size chart was slightly off but overall I am satisfied with the order
tbartly
Révisé le :
18 mai 2019
Couleur:
Diamant Blanc/Champagne
Type De Corps:
Poire
Very soft and comfortable. Could do with appliqué on skirt and train hem, and more give on the sleeves
Lindsay V.
Révisé le :
11 mars 2019
Couleur:
Diamant/nude
Type De Corps:
Pomme
Taille commandée:
WD20
I love the way this dress looks and feels, although I didn't really like how it looked on me being plus size. It was not horrible, but I lose my shape in it until I can lose a little more weight. Definitely think it needs to be tighter or something. But overall, LOVELY dress!
Tina
Révisé le :
28 nov. 2018
This dress is gorgeous. I especially liked how the lace is pieced throughout the dress. I was worried about the fit as ordering wedding dresses online can be tricky but I did custom sizing and was really happy with how it turned out. I had my wedding at a beach and this dress was perfect for it. The fabric was soft and flowy and I felt amazing the entire day.