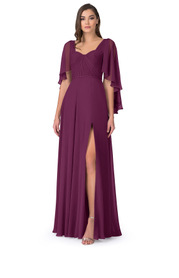 Azazie Adelina
Robes de demoiselle d'honneur
149€
information sur le produit

Amusante et séduisante, cette robe de demoiselle d'honneur en magnifique Mousseline de soie convient à tout mariage, de la plage à l'église. Votre fête de mariage va adorer cette robe sucré Longueur ras du sol A-ligne/princesse avec un décolleté Encolure en coeur. {Embellissement} 
Critiques de photos (8)
Avis les plus récents
Notes
Obligeance
Guillenmi_94
Révisé le :
14 juil. 2022
Couleur:
Agave
I love this dress! It was so simple but beautiful! I got a custom order and it fit so well and arrived within a month of ordering it. I was very nervous for this wedding, I was not feeling the most confident and had a lot of insecurities I wanted to hide, my arms being one of the main ones. I gained a little bit of weight after I got the dress so it scrunch at the waist but even then I felt very comfortable with it and felt it hid my stomach very nicely. I got so many compliments on the sleeves, saying how elegant they looked and how pretty they flowed in the wind while taking pictures. I'm so happy I got this dress! P.s. I only asked for 1 inch extra length and wore very low heels, but that meant my dress never dragged and when I switched to sandals it still looked the same.
Bonnieltozzi
Révisé le :
23 juin 2022
Couleur:
Sauge Poudrée
Type De Corps:
Sablier
Taille commandée:
A18
I love this dress!! It was too long but I made due. Fantastic style, very comfortable & elegant. Loads of compliments. I'm very happy with this dress.
daphnetrue
Révisé le :
27 mai 2022
Couleur:
Caraïbes
Taille commandée:
A24
Absolutely gorgeous and beautifuly made. This color was perfect. All the bridesmaids and maid of honor's ordered from Azazie and it was perfection. I highly recommend when ordering from Azazie to pay close attention to the ordering time frame and the shipping time frame. It's exactly as it is stated. Thank you for making my brother's wedding so beautiful. Your company deserves a 5 star rating.
Lauren Charpentier
Révisé le :
16 mars 2022
Couleur:
Bordeaux
Loved this dress. I tacked on the sleeves so the wouldn't come off during the wedding or show a gap between the strap and my arm.
Daniela Brown
Révisé le :
9 févr. 2022
Couleur:
Bordeaux
Chose this as one of three At-home Try-on, and I expect to order my actual dress with custom sizing. I'm 5'2", and have a pronounced hourglass shape. I got the sample dress in size 8, color burgundy. Burgundy is a gorgeous pinkish red color. My sample dress only came with one detachable sleeve, unfortunately, but I was able to imagine it with both. The sleeves are super special. I think the sleeves give it a very glam, elegant, Old Hollywood feel. Of the sample dresses I tried, this dress fit my proportionally small waist the best, Adelina being the most snug and secure on me. The way it cinched in my waist really accentuated my wide hips and booty, which I loved. The only thing I didn't like was that the pleats on the bodice kind of "folded" in just under my bust, which isn't the best look. Looking back on the photos, I think the pleating detail is a little bit too "busy" on me, and I don't like the shape/lines it creates over my bust. I think some better boning or structure would fix the bunching. I think this dress might be better suited to people with a less drastic hourglass shape than me, or with a smaller bust.
Nanunez23
Révisé le :
17 nov. 2021
Couleur:
Sauge Poudrée
I usually wear a size 10 am 5'2 so that's what I got. I had to cut the bottom bc it was too long. The xtra fabric from that was place on the side of the dress so that it would fit the top( I am a 36DD). The dress was beautiful. Made me look slimmer and it gave me the hourglass shape. Also it hid my arms, which it's the one part on my body am most uncomfortable with.
Breesmith13577
Révisé le :
28 juil. 2021
Couleur:
Bordeaux
It's beautiful, and I absolutely love it!!
captainhanny
Révisé le :
15 mai 2021
Couleur:
Orageux
Most of the dress was great! I loved the bottom and the sleeves, but the chest/stomach area gave me issues. The middle kept riding up and bunched up so I had to keep pulling on it. I would highly recommend wearing a strapless bra with it. I had cups put in and those didn't help. The dress and color were pretty, but I'm definitely going to be getting a different one next time.
Laprenda.00
Révisé le :
11 juin 2022
Couleur:
Tahiti
tpathmore
Révisé le :
9 mai 2022
Couleur:
Acier Bleuté
Taille commandée:
A14
I got this style for a wedding taking place in Greece. This was the perfect greecian feel I was going for. The only thing is the sleeves come off way too easily so I will have to alter them to be sewn in. I prefer that style anyways where it's a little bit more closed in by the armpit. Also like most reviews some hemming needs to be done. I'm 5'5 , so about 5-8inches will have to be cut. Otherwise the bodice is great, you won't have to wear a bra because it has some support as it has a corset/bustier like fit in the core.
D B
Révisé le :
6 mai 2022
Couleur:
Gel
I thought this dress was beautiful but the attached sleeves are a little awkward. I would recommend having them permanently affixed because the hooks are visible. Overall nice but runs small in bust.
rebecca.duback
Révisé le :
7 avr. 2022
Couleur:
Noir
Type De Corps:
Sablier
Taille commandée:
CUSTOM SIZE
100% recommend, with the custom fit. I'd already tried the Try-On dress (although I ordered it a little big), so I knew I liked the style. I was anticipating the dress needing some alteration, but it fits like a glove. The detachable sleeves are great, it's like having two dresses in one. The slit came up a little too high in the try-on dress, but it's perfect in the custom sized dress. I am larger in general, and definitely large chested, and I can wear it without a bra, although I may choose to tape for a little more cleavage. It's super comfortable, and I have no regrets. I did pad my measurements a tad, as the FAQs say to, about a quarter inch. I would have included photos, but the wedding isn't until July.
Hayley
Révisé le :
12 mars 2022
Couleur:
Sauge Poudrée
Type De Corps:
Poire
This one was nice! Again not my favorite in the hip area but it was comfortable and I'd probably wear this to events!
Tynisha Hurd
Révisé le :
25 févr. 2022
Couleur:
Lilas
Taille commandée:
A14
rebecca.duback
Révisé le :
17 févr. 2022
Couleur:
Mauve Vintage
Type De Corps:
Sablier
Taille commandée:
A26
I ordered this in a size up from what I thought I was, because the try-on was available and I knew when I ordered the actual dress, I'd go with custom measurements anyway. Of the three I tried on, this is the one I'll be ordering. The back is a little low, nothing crazy, but be aware. The detachable sleeves are really great, and the loops that the sleeves hook onto are made of thread, so you can't see them at all when the sleeves are off. As someone who's not a fan of my upper arms, this is a great style. The slit was a little high for me, but I'm also shorter than average, and the try on dress is probably fitted to someone average height.
saveitforlater89
Révisé le :
14 déc. 2021
Couleur:
Bleu Roi
Type De Corps:
Poire
Taille commandée:
A22
Very nice and very nice in material really enjoyed it without the sleeves and the cut is very nice with no seam
christinahdz93
Révisé le :
7 nov. 2021
Couleur:
Noir
Sizing was perfect. Loved this dress. Not tight on stomach area.
sher
Révisé le :
12 oct. 2021
Couleur:
Bordeaux
Taille commandée:
7500
Great fitting I thought I was going to be a sixes bigger since I was told I was a 22 but turns out I was an 18. My order came a few days early not complaining and the dress is just gorgeous
cbiezunski
Révisé le :
2 oct. 2021
Couleur:
Vert Foncé
I had many compliments on this dress. I wore it for my sons wedding. Someone said I floated like a butterfly in it. The sleeves are detachable but I chose to stitch them slightly so they stayed on better. Beautiful color green, perfect for a fall wedding.
Biagettiroxanne
Révisé le :
10 août 2021
Couleur:
Sauge Poudrée
It fit very big on me even though I ordered my size according to measurements. The sleeves were a little strange the way the fell. It was an ok dress but not quite right.