2023 Wedding Dress Ideas: The Ultimate Guide for Your Big Day
The most special day of your life deserves the best wedding gown! With the vast array of wedding dresses out there, it's easy to be overwhelmed. That's why we're here. Azazie will provide guidance for you to choose a dress that flatters your beauty and promises to be comfortable all day. How do you want to be unique? Would you like a statement color? A classic silhouette? Maybe something more trendy, like a tea-length dress or a mermaid silhouette. Azazie is here to help streamline your wedding dress search.
The Little White Dress
Sometimes the best thing to wear is the simplest. It will always look put-together and fresh. As recommended by Brides.com, Azazie just launched its Little White Dress Collection and everything is under $300!
Azazie's Little White Dress Collection is simple, clean, and goes with everything. Whether you want a little white dress as your primary wedding dress, or as a second look, nothing says elegance like a simple white wedding dress. Versatile and classic, it's perfect for a bachelorette party, engagement party, or elopement party. Embrace your inner ballerina with a light and flowy, swan-like dress. The new collection features stretch crepe fabric, perfect for your rehearsal dinner and/or bridal shower. Choose an A-line silhouette to look effortlessly stunning when twirling on the dance floor. This type of dress is sure to keep you comfortable throughout the festivities.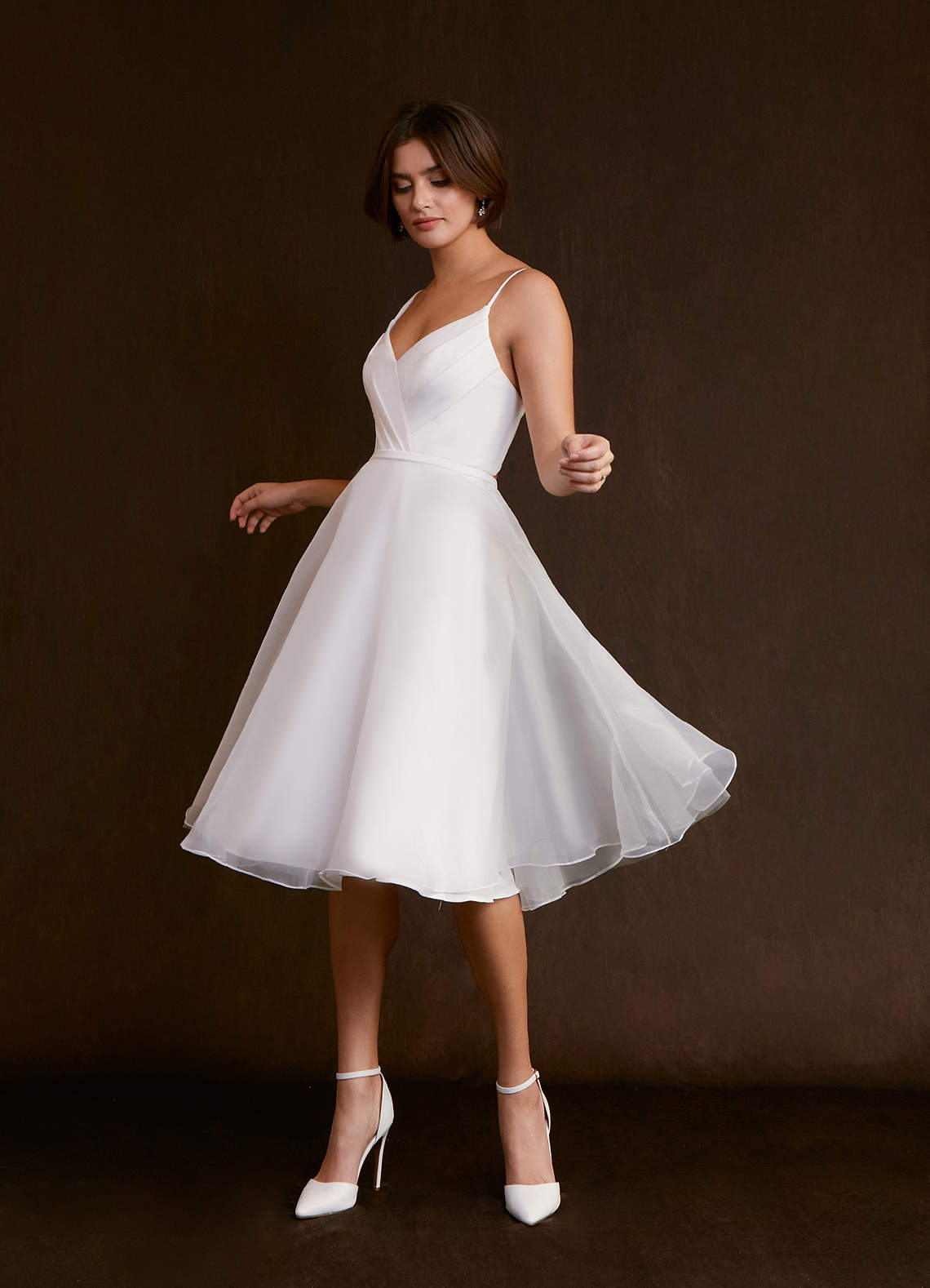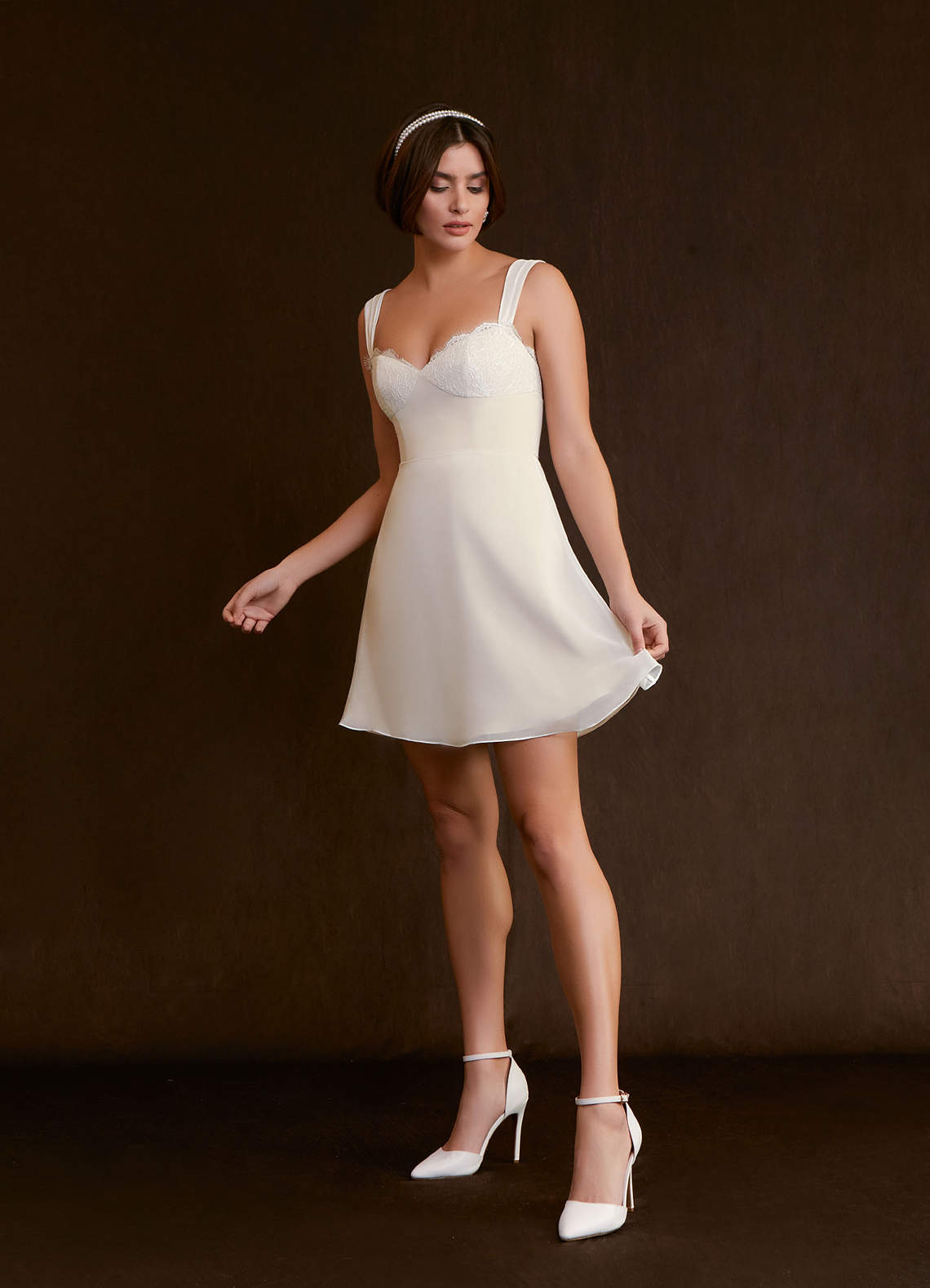 SHOP THE LOOK: AZAZIE ARDEA WEDDING DRESS; AZAZIE SCARLETTE WEDDING DRESS;
SHOP THE LOOK: AZAZIE LOEY WEDDING DRESS; AZAZIE CALI WEDDING DRESS
Black Wedding Dresses
Increasing numbers of modern brides are abandoning the classic white wedding gown in favor of something alternative and different for their wedding day. Black wedding dresses are a great choice for more adventurous and daring brides, and will make your wedding truly and uniquely unforgettable! These magnificent looks are designed to make you feel like the most beautiful and confident self on your special day.
SHOP THE LOOK: AZAZIE MARI WEDDING DRESS; AZAZIE AERITH WEDDING DRESS
Colored Wedding Dresses
You don't have to follow the traditional idea of wearing a white wedding gown. There are no limitations on what a bride can or cannot wear. Misty blue and blush pink wedding dresses make for a beautiful, dreamy look. In every color and every style, choose the gown that's as individual as you are.
SHOP THE LOOK: AZAZIE SEDONA WEDDING DRESS; AZAZIE ARIYA WEDDING DRESS
FLATTERING SILHOUETTES
Your wedding day is a time to bask in the limelight, with all attention focused on you, whether you're walking down the aisle or socializing with guests. As such, this momentous occasion calls for a dress that fits the event. However, the vast array of choices available can make the decision-making process daunting. That's why having a basic understanding of the styles that best suit your personality and body shape can simplify the selection process. Here are some suggestions to consider.
Mermaid
A fitted sheath, mermaid, or trumpet gown will accentuate your curves.
This silhouette contours the body from the chest to the knee and flares outward to the floor. The style is known to emphasize the waist and hips rather than narrow them, especially if you're apple-shaped. Choosing the right shapewear récemment lancé is important for the mermaid dress. Considering how fitted it is, you'll also want to make sure that you can move freely in it. Check out these sultry looks:
SHOP THE LOOK: AZAZIE MISTIE WEDDING DRESS; AZAZIE LEONIE WEDDING DRESS
Ballgown
If you dream of a fairy tale ending and want to feel like a princess on your special day, this gown is perfect for you. The ballgown wedding dress style is ideal for those with a curvy top half and slimmer hips, as it highlights the waist and conceals the lower body. However, brides who are self-conscious about their hips should be aware that the full skirt may add volume to this area. 
SHOP THE LOOK: AZAZIE BEATRIZ WEDDING DRESS; AZAZIE TONI WEDDING DRESS
A-line
This is a universally flattering favorite, especially for plus-size brides. Complementing all body types, including curvier figures, it remains fitted until the waist, from where it flares out into a soft A-shape, hence the name. From sleeveless aux cap-sleeve, from V-neck aux off-the-shoulder, A-line silhouettes make elegant wedding dresses at affordable prices. While wedding dresses with sleeves were all the rage for several years, the strapless silhouette is back, according to theknot.com. It hugs the waist area, creating a slimmer waistline while flattering the bust. It's a great choice for pear-shaped or curvy brides. Also, tea-length A-line dresses can make a petite bride look taller with their overall slimming effect. A simple wedding dress with an A-line silhouette is really elegant and charming!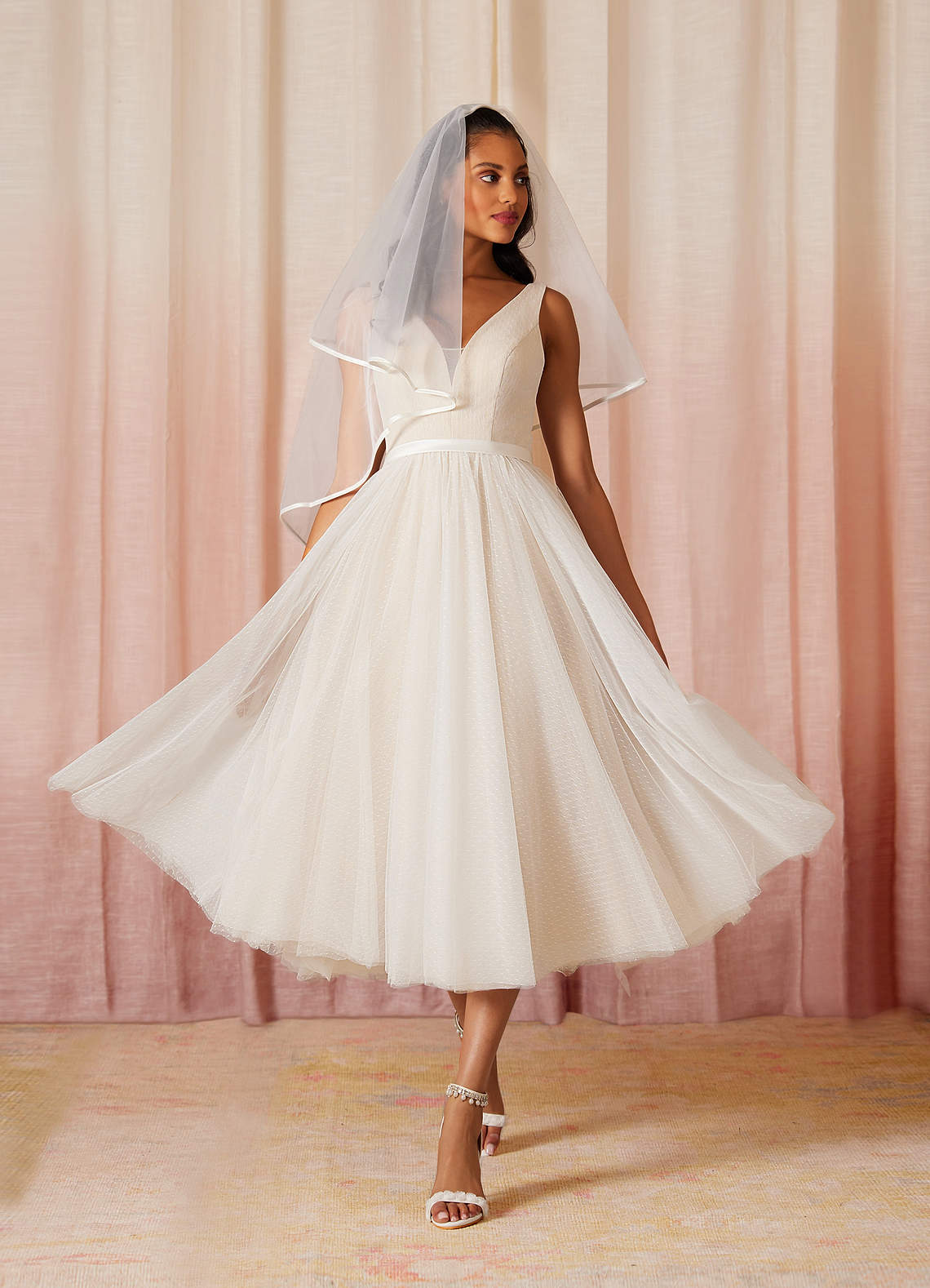 SHOP THE LOOK: AZAZIE WINDSOR WEDDING DRESS; AZAZIE XENA WEDDING DRESS
Jumpsuit
Besides satin wedding dresses, a nice chiffon jumpsuit is also a brilliant idea. Whether you're planning a low-key courthouse ceremony or a second look for your reception or after-party, a wedding jumpsuit always makes a bold statement. There are numerous jumpsuits available in a variety of styles and price points to fit every bride's style and budget, from modern and basic to extravagant and spectacular.
SHOP THE LOOK: AZAZIE TAMARA; AZAZIE FLORINE
A helpful tip when thinking about your wedding look: If you are going for a bold and striking wedding dress, try to simplify the rest of your des accessoires incroyablement abordables. Allow your dress to be the focal point and make a statement while keeping the other accessories minimalistic.
Choosing the perfect wedding dress is one of the most important decisions a bride can make. It's a once-in-a-lifetime opportunity to feel like a princess and make a statement on your special day. Whether you opt for a classic ballgown, a sleek and modern sheath, or something in between, the key is to choose a dress that makes you feel confident, beautiful, and comfortable. Don't be afraid to try on different styles, and experiment with accessories. Remember, this is your day, and you deserve to look and feel your best. So, embrace your inner princess, and let your wedding dress be a reflection of your unique style and personality. Happy wedding planning!