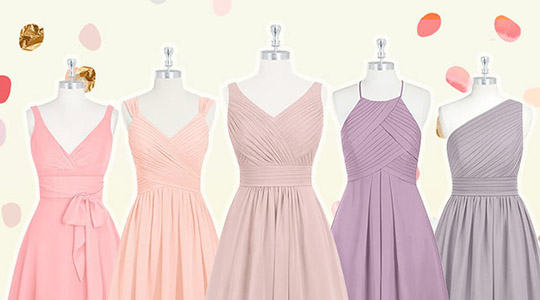 Yellow Bridesmaid Dresses
Choose your favorite yellow bridesmaid dresses
Choose the perfect bridesmaid dress in yellow
Yellow is the color of happiness, energy, and friendship! Could there be a more perfect color for your bridesmaids to wear on your special day? It's a beautiful choice for a wedding at any time of the year. If you're not yet sure which shade will work best for your ladies, there's no need to worry! We have bridesmaid dresses available in shades of yellow that will enhance every wedding theme.
From March through August, yellow is fresh and floral. It makes you think about lemonade and hot days spent in the sun. Short yellow bridesmaid dresses pair well with wildflowers, bright tropical greens and lemons. Have your ladies stand by your side wearing Daffodil dresses and clutching bouquets filled with roses, hydrangeas, or daisies. Ask your girls to put on their best cowgirl boots and dance in knee-length Lemon dresses until the summer sun goes down.
From September to February, yellow is warmth and joy. It is a reminder of sunshine-filled days. Yellow represents the sparkle of holiday lights, golden fires burning at night, and sunflowers in a harvest field. Deep greens and dark red petals complement your girls' floor-length Marigold dresses. Bridesmaids in Gold dresses add glitz to your glamorous winter night affair.
Now that you have chosen the perfect color for the wedding of your dreams, it's time to find the right style for your bridesmaid dresses. Whether you're looking for short and flirty, or long and elegant, we have a style suited for every bride's dream wedding. Which dresses will you choose for your bridesmaids?