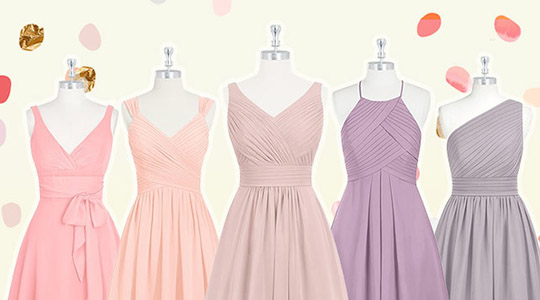 Wine Bridesmaid Dresses
Choose your favorite wine bridesmaid dresses
Wine bridesmaid dresses exclusive to you
A wine bridesmaid dress can be considered a fashion trend. Despite that the trendiness of the wine color is seasonal, you can be sure of its return to the fashion scene often. This is due to the attractiveness of the color which will make it timeless for all generations.
One special occasion that you can see a wine color dress being used all throughout the year is a wedding. Brides and bridesmaids can't resist the elegant look of wine bridesmaid dresses. This color suits any style and design of a bridesmaid dress.
The wine color is a spectacular choice for a winter or fall wedding. It will complement any jewel tone palette and accentuate any backdrop. For summer weddings, the vivid color of wine will surely make bridesmaid dresses a standout amid a sea of pastels and pinks that are the traditional colors during the season.
It is recommended to use seasonal hues and flowers to bring out the rich color of wine into a summer wedding palette. A color block pattern or a fun print is perfect in transitioning wine bridesmaid dresses for the summer season.
Mixing softer colors such as dusty rose would create mismatched bridesmaid look and give a lighter feel to wine dresses. Winter weddings do well with using heavy fabrics or dresses with an airier feel.
The bold hue of wine also flatters many skin tones. The wine colored dresses' versatility makes it an ideal color choice for an elegant black-tie wedding or a bohemian themed affair. Whether a wedding theme is whimsical or chic, there is always a wine hued dress that will complement any bridesmaid style.