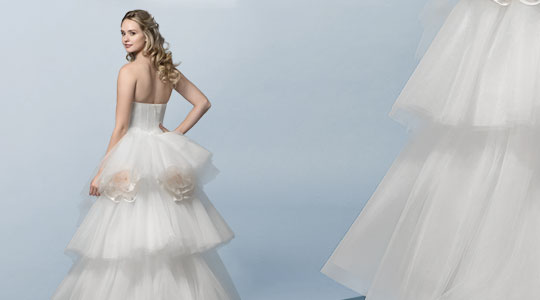 Wedding Dresses For Short Brides
Choose wedding dresses for short brides here
Choose a wedding dress exclusive to you
Finding the perfect wedding dresses for short brides is a daunting task. You've spent hours browsing over bridal magazines, still have no clue about imagining your own style. Need to find a gown that elongates your figure. Silhouettes to shop for are sheath, trumpet, and the always flattering A-line. Avoid romantic wedding dresses with excess material—you'll drown in them! They'll make you appear shorter than you really are, hiding your beauty in bunches of material. Stay away from over-detailed dresses with lots of beading or big bows, too. They may be beautiful, but they'll hide your show-stopping looks in the end. If your dream look requires a veil, keep it simple. A birdcage would be ideal, or anything short.
A-line wedding dresses are gorgeous on every body type. If you're petite, shop for an empire waist. If you've got some gorgeous curves, highlight your natural waist for a flattering result. Cocktail A look that hits at or above the knee could be both flirty and fashion-forward!
Get a dress that's ideal for whatever stage of your wedding you're in, and be prepared to amaze your guests with a memorable wedding gown that's all yours. Let us help you discover your dream wedding dress in our ever-changing collections. Also, give yourself a chance to be the focus of all at the important moment.