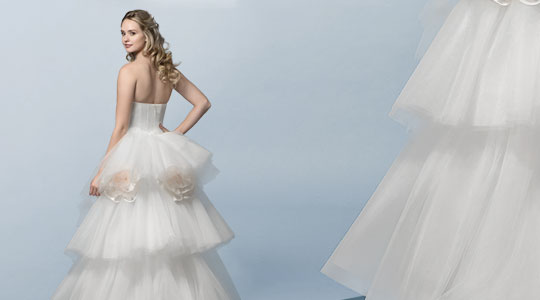 Wedding Dress Stores
Shop our wedding dress stores
It's a great idea to shop online for your perfect wedding dress
Once you finalize the date of you big day, your shift naturally focuses to finding the perfect dress. Many brides choose to visit traditional wedding dress stores only to find that the dress they have chosen takes at least 3 months to deliver, not including the additional time needed for alterations. It is critical to visit a wedding dress store as early as possible to give yourself enough time to find, try on, order and complete alterations. After all, you cannot take too many precessions on one of the most important days in your life!
In addition to a lengthy wait for your dress, many stores now charge to merely try-on your dress. This forces you to choose what dresses to try-on wisely in order to avoid overspending, even before you find your dream dress. When you finally order your dress, wedding dress stores will usually ask you to put 50% down as a deposit. That is a considerable amount of money, as most wedding dresses now cost anywhere between $800-$2000.
You do, however, have another option. Instead of going to a regular wedding dress store, you can shop online for your wedding gown. It's affordable, offers fast delivery and still has many wedding dress styles to suit all body types. Its a great idea to check out what online stores can offer you before visiting a wedding dress store.