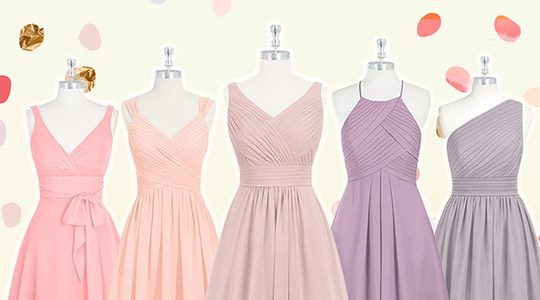 Vintage Bridesmaid Dresses
Shop vintage bridesmaid dresses at Azazie
Vintage bridesmaid dresses exclusive to you
Vintage wedding dresses are having a major moment in the bridal world. Playing a starring role is luxurious antique lace fabrics: a bridal classic made fresh for the modern bride. Vintage wedding dresses with linear bead work and sparkling art deco inspired gems highlight timeless silhouettes and give a hint of Old Hollywood elegance and the same holds true for vintage bridesmaid dresses.
If you love all things vintage, you'll find plenty of inspiration in the beautiful vintage bridesmaid dress collections from Azazie. In this spectacular vintage bridesmaid dresses collection, you'll find sophisticated fit and flare, glamorous bridesmaid dresses that come alive in the most exquisite fabrics and are adorned with dazzling beading.
We have colorful vintage bridesmaid dresses. Your guests will be in awe seeing your beautiful bridesmaids wearing one of our best designs. These dresses do have traces of modern design acumen, so they give you the classic and modern look at once. Since you want your girls to show off their feminine beauty, make sure you select the sweetest gowns you can find here and flaunt their unique sense of richness. At Azazie, our goal is simple: we want to offer you the most amazing vintage bridesmaid dresses for extremely affordable prices. Options in varieties of styles and silhouettes are available now!