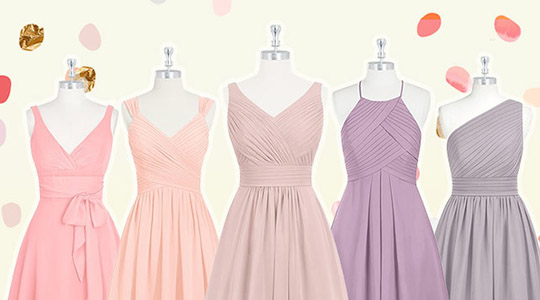 Unique Bridesmaid Dresses
Find your unique bridesmaid dresses at Azazie
Unique bridesmaid dresses exclusive to you
If you are looking for quirky, unusual and unique bridesmaid dresses for your special day, then have a look at our collection. Available in a wide variety of vibrant colors, silhouettes, and cuts, we are sure you'll find the perfect dress, to match your wedding theme. No matter what body shape, size and age you are, our unique bridesmaid dresses are feminine, fun and flirty, and elegant with exquisite detailing and pretty embellishments.
The awe-inspiring unique bridesmaid dresses are an essential in your wardrobe. Just to put your mind at ease, we insist you take a look at the reviews for any dress you take a liking to. Opinions from other brides who have selected the same dress before you can help you make up your mind and say, 'I do' to your dream dress.
Modest bridesmaid dresses are sternly endearing as they retain a formal entreaty that aligns with the celebration.