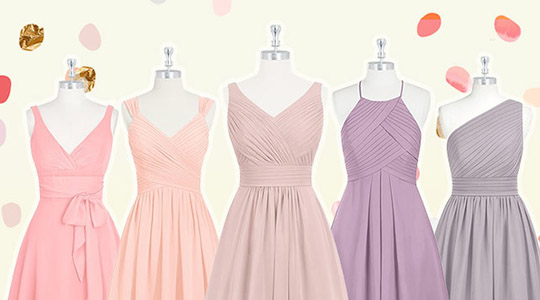 Tan Bridesmaid Dresses
Find the best tan bridesmaid dresses
Tan bridesmaid dresses exclusive to you
Even though the color tan is not one of the most common color choices for bridesmaid dresses, tan bridesmaid dresses are elegant and graceful. Being a solid, reliable choice, it helps create a neutral, comfortable and inviting atmosphere. The tan collection communicates sincerity, strength, maturity, but also elegance and delicacy. Using original and unique material combinations like chiffon, taffeta, lace, embroidery silk and beading makes any bridesmaid feel beautiful and unique; tailored lace or chiffon dresses are sophisticated, romantic, elegant, and exquisite; exploring femininity beyond imagination creating outfits that perfectly suit to any bridesmaid.
It is also a beautiful color for winter. Lighter shades of tan are excellent options for beach weddings while the darker tones are warm and bold for winter weddings.
Combining tan with the bride's ivory dress, will exude warmth and richness that will create a beautiful wedding color palette. Tan bridesmaid dresses can be complemented by flowers, shawls and other details that create a unique look. Pair it with colors like khaki, blush, mint blue, grey, yellow, purple, coral, gray, black, red, cream, light red, navy blue, burgundy or pink, deeper pink, green apple or sage green, orange or rust creating an amazing and different contrast.
There are many accessories that can be matched with tan bridesmaid dresses and with such a variety of options, it's no wonder that styles like short length lace dresses seem so popular with our brides. Our tan collections are elegant and very fashionable! We are so excited to present to you an entire collection, with a wide selection of stylish options for tan bridesmaid dresses that will add a neutral tone to the celebration and serve as background for bolder details.