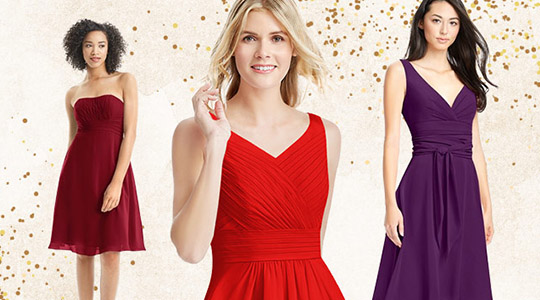 Shop Affordable Bridesmaid Dresses
Chic dresses that fit your budget!
Shop Affordable Bridesmaid Dresses
Finding affordable bridesmaid dresses can be a challenge. But, Azazie is here to give you a wide range of options that incorporate different skirt lengths, details, sleeve lengths and embellishments.
When it comes to affordable bridesmaid dress options we also have a range of tulle skirts that maids can pair with unique tops. Azazie has knee length and floor skirts with comfortable elastic waistbands with a classic A-line silhouettes that are romantic and soft. These tulle skirts can also be incorporated into your larger wardrobe as special occasion pieces.
Affordable bridesmaid dresses feature pleated details through the bodices and skirts that give the looks a delicate feel. A majority of these dresses are A-line cuts that are defined through the waist with belts or wider bands that will highlight your silhouette. These designs are also crafted from sumptuous lightweight chiffon which is a soft fabric that will make every maid comfortable in any season. The flirty, shorter dresses are a fabulous choice for spring or summer nuptials in a fresh garden or on a beach setting. But, these looks are also a great choice for fall and winter weddings because they give the bridal party a relaxed and fun vibe.