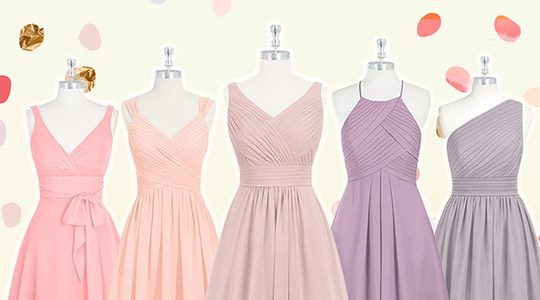 Seafoam Bridesmaid Dresses
Shop the best bridesmaid dresses
Seafoam bridesmaid dresses exclusive to you
Brides who want to keep up with the latest trends would take delight in a seafoam bridesmaid dress. The seafoam color is a favorite for springtime weddings but can also be used in other wedding seasons. Brides who prefer pastels simply love the seafoam color and the cool ambiance that it creates.
A bridal party in seafoam bridesmaid dresses is a refreshing and vibrant look. A deeper shade of sage for a bridesmaid dress makes an earthy statement suitable for a fall wedding. Seafoam bridesmaid dresses are also ideal for a rustic wedding, beach wedding, or a traditional wedding. The seafoam color palette includes sage, frosty green and light green so there is a wide array of seafoam shades to flatter different skin tones. If you are looking for dress color inspiration, look no further than actress Eva Longoria and her mother Brooklyn Decker who were both bridesmaids in a seafoam themed wedding.
A sexy and sleek floor length mint bridesmaid dress with side slit is a trendy style. Choosing a style with a slit at the front of the dress would allow your bridesmaids to show off their shoes and legs. A fit and flare mint bridesmaid dress with beaded illusion lace back will definitely make heads turn. This style commonly has a fitted bodice with sleeves that can be long or short or no sleeves at all. Make use of the versatility of the color and find the perfect style for your mint bridesmaid dresses which will highlight the beauty of your bridesmaids.