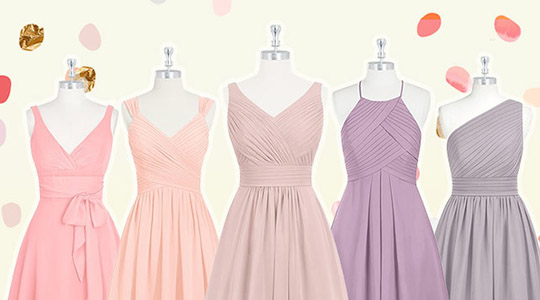 Rose Gold Bridesmaid Dresses
Choose your favorite rose gold bridesmaid dresses at Azazie
Rose gold bridesmaid dresses exclusive to you
Rose gold bridesmaid dresses are a classic and timeless alternative to light pink and peach tones. The rose color is often associated with love and romance, which makes this shade a favorite at weddings and other occasions.
As a tertiary color, rose gold is closely similar to red and magenta. Inspired by the rose flower, the color comes in many variations such as misty rose, tea rose, rose pink, dusty rose and rose quartz. Each hue of the rose flower conveys a meaning different from one another. Red roses signify beauty while a pink rose is a classic symbol of elegance and grace and given to show admiration and appreciation. The serene beauty of a white rose is perfect for weddings and new starts while enthusiasm, gratitude and passion are conveyed by orange roses.
A romantic or bohemian wedding is the perfect occasion for a knee length lace bridesmaid dress. Add a silk sheath to the final look for a beachfront wedding while the shimmering drape of satin A-line gowns is ideal for formal events. The rose hue of pink and peaches in layers of silk and delicate tulle will give any wedding a youthful touch.