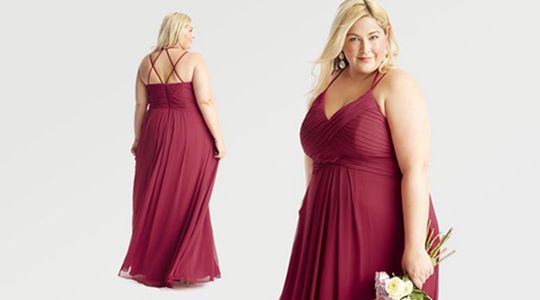 Find Chic Plus Size Bridesmaid Dresses
Get the perfect fit with styles for every body.
Go chic with unique plus size bridesmaid dress
Finding a bridesmaid dress that fits your body type and shape shouldn't be a hassle and Azazie takes that to heart. Now, with our added plus size dresses, finding the perfect fit for every occasion and wedding is easier than ever. Our selection of plus size bridesmaid dresses makes it effortless for each person in the bridal party to look and feel as beautiful as they are.
From floor length, to mini and knee length, we acknowledge that the bride may want her wedding party to have an assortment of dress lengths and that's perfectly fine! With stunning styles and endless colors to choose from, selecting a fashionable, well-fit dress for the Bride's big day is an extremely smooth and relatively simple process. Our plus size bridesmaid dresses are reasonably priced and allow for custom fitting so you can ensure that your dress is exclusively suited to your body shape.
At Azazie, we make it our mission to make dress shopping for the Bride's big day stress free so everyone can focus on what's really important. We also offer a wonderful selection of dresses for those in need of maternity dresses or who prefers a modest look.