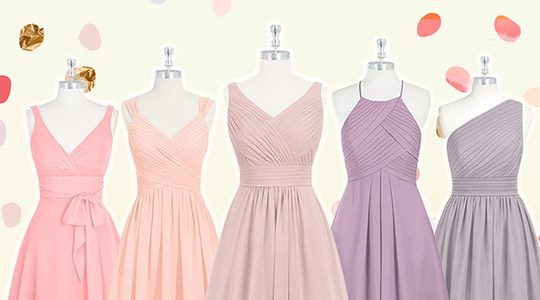 Pastel Bridesmaid Dresses
Choose the best pastel bridesmaid dresses
Pastel bridesmaid dresses exclusive to you
Dress your bridal party in delicate pastels from Azazie. We have a wide selection of pastel bridesmaid dresses in an assortment of shades to match the color scheme of your dreams. Light pinks, calming blues and every gentle hue in between can help create the demure look you're seeking for your special day. Find the perfect pastel dresses and accessories for your wedding party at Azazie today.
Draped in a whisper of color, your bridal party will be a breath of fresh air on your wedding day. Choose from the palest pinks, lightest lavenders, delicate oranges and the gentlest greens to create a gorgeous ensemble for all your favorite ladies. We offer an expansive array of styles and cuts in pastel colors to help you find the perfect fit for your unique vision.
Get creative with our collection of pastels to create the bridal party look you love most. For a traditional theme, choose a floor-length design in the same pastel hue for each bridesmaid to wear, or add a dash of daring design by choosing different dress styles that show off each lady's unique personality. Double check that each dress is available in the same soft tone to perfectly match your preferred pastel approach.
For a more modern wedding party look, dress your ladies in an ombré of pastels. This on-trend styling will create a delicate yet dazzling impression that your wedding guests will adore. Each bridesmaid can wear the same dress style in a spectrum of pastel tones, or you can style them in different dresses and hues to achieve a completely contemporary look.
Whatever your style preferences, shop Azazie to find everything you need to realize the wedding of your dreams. We have the perfect bridesmaid dresses and accessories to match your pastel wedding theme and bring the look you want to life.