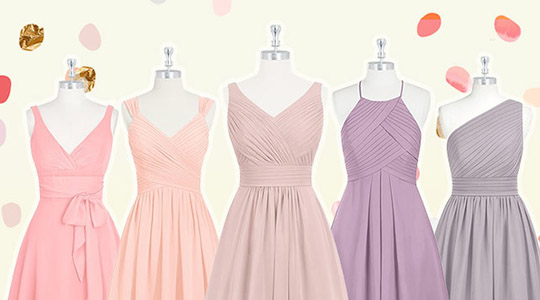 Mauve Bridesmaid Dresses
Find the perfect mauve bridesmaid dresses
Mauve bridesmaid dresses exclusive to you
The best bridesmaid dress is one that ties the entire day together with it's small details and color theme. While our collection of bridesmaid dress covers most colors, mauve is a special color. This is because mauve is muted, calm, serene and complements the white dress of the bride very well. That's why we are so proud to showcase our new collection of mauve bridesmaid dresses. We feature a range of dresses and gowns in our collection, featuring different styles and designs in different shades of mauve. Our dresses are designed to make bridesmaids feel their best and have our brides excited to walk down the aisle with her leading ladies.
Mauve is a color which complements all skin tones and is suitable for most occasions. Mauve bridesmaid dresses are a good choice for most weddings including vintage, rustic, classic, traditional, modern, formal and even country weddings. Also, due to its muted tone, mauve also highlights any accessories that you adorn. No wonder mauve is one of the most popular choices when it comes to bridesmaid dress. And you'll find an excellent selection of the best Mauve Color Bridesmaids Dresses in our online shop. Our dresses are available in designs ranging from modern to traditional and many even feature intricate embellishments. Our bridesmaid dresses are reasonably priced as well. So, simply go ahead and choose a dress that you love. It won't break the bank, we promise!
Our Mauve Color Bridesmaids Dresses feature the highest quality. We use only top quality imported fabrics and pay incredible attention while crafting dresses. Whether you're looking for a bridesmaid gown made of satin, tulle, chiffon, lace or any other fabric, we have it all. Our dresses are available in plenty of different styles ranging from fun one-shoulders to traditional halter necks. With our wide range of mauve bridesmaid dresses, you're sure to find the perfect dress to complement your beauty.