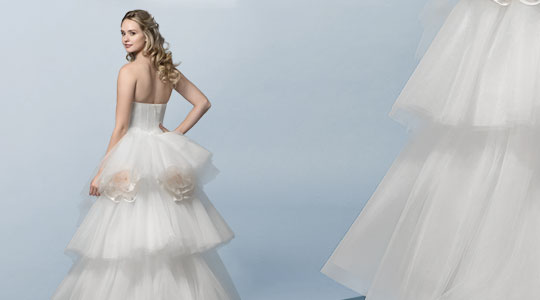 Long Sleeve Wedding Dresses
Find a beautiful selection of long-sleeve wedding dress here
Choose a wedding dress exclusive to you
Compared with strapless wedding dresses, add a major dash of elegance to your "I do's" with a long sleeve wedding dress. This elongating sleeve style dresses up plain gowns and grounds embellished ones for a look that makes a beautiful impact. Play with our endless selection of bridal accessories for a sexy long sleeve dress that works at casual and lavish weddings alike.
All our wedding ball gowns with long sleeves are crafted to provide complete comfort. Available in range of sizes, these modern bridal gowns are tailored to your shape to make you feel simply sexy yet comfortably covered. Whether you go for a modest and casual design or a more glamorous style, if you wear one of Azazie's long sleeve wedding dresses at your celebration, it'll be plain to see that you're the most radiant one in the room.
Your wedding is one of the most memorable days in your life and we are sure you can find which one bridal gown you really want from Azazie on the most important day of your life. Make sure your dress fits this oh-so-special occasion by choosing the absolute perfect match from our extensive collection of more than 1,000 wedding dresses. It's an incredibly inspiring moment. And we love it. Get a dress that's ideal for whatever stage of your wedding you're in, and be prepared to amaze your guests with a memorable wedding gown that's all yours. Let us help you discover your dream wedding dress in our ever-changing collections. Also, give yourself a chance to be the focus of all at the important moment.