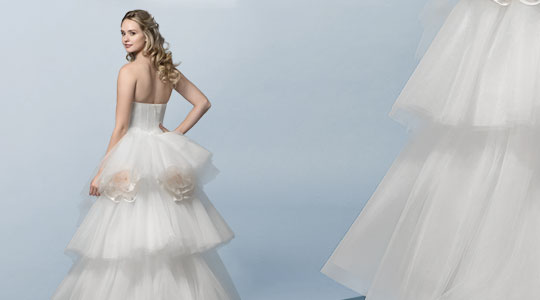 Elegant Wedding Dresses
Find elegant wedding dresses for your special day here
Choose a wedding dress exclusive to you
The exclusive flagship collection, Azazie, features elegant wedding dresses that symbolize the brand's signature style. Designers carefully construct dresses that have an air of romance and grace, while also incorporating fashion-forward, innovative designs inspired by European trends.
Azazie has been offering brides a unique range of pretty wedding dresses. Contemporary designs are combined with classic touches to create dresses which every bride dreams of wearing on her wedding day. From sleek silhouettes to full A-line wedding dresses, the internationally recognized collection offers gowns for brides of all shapes and sizes. The Azazie range is carefully created for sophisticated brides, who long for luxury on their big day. Shop the exclusive collection today and discover wedding dresses that flaunt couture, provide exceptional quality and exude beauty.
There are many things a bride wants to be on her wedding day. Beautiful, stunning, and most importantly, elegant! The way a wedding dress falls and moves all adds to the elegant look and these 21 dresses are the best of the best. Make sure you have elegant bridesmaid dresses and super smart groomswear to match. Let us help you discover your dream gowns for weddings in our ever-changing collections. Also, give yourself a chance to be the focus of all at the important moment.