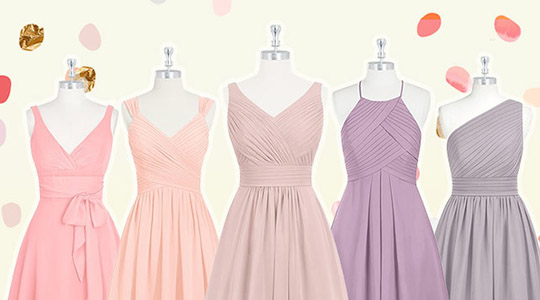 Cobalt Blue Bridesmaid Dresses
Choose your best cobalt blue bridesmaid dresses
Cobalt blue bridesmaid dresses exclusive to you
If you haven't noticed yet, cobalt blue is everywhere; making it a great choice for your bridesmaid dress color if you're looking for a shade that makes a major statement.
Perfect for a spring or summer wedding, outfitting your bridal party in this electric color is a good way to amp up your wedding's color scheme, whether it draws out the slightest detail in your invite or serves as a contrast to the softer tones sprinkled throughout your big day.
Plus, it's a universally flattering color that looks good on nearly any skin tone and in any style. A romantic, cobalt blue chiffon dress that sweeps the floor is just as fitting as a modern shift with an architectural neckline. The best part, though, is this color's current popularity. Since everyone wants a piece of this bright blue, it's available everywhere, meaning you can give your girls some flexibility and let them choose the style that suits them best in a price point that works with their budgets. Unlike a coral or emerald, there's not much room for interpretation when it comes to cobalt. Ready to dress your bridesmaids in this bold hue? Click through to see all of our favorite cobalt blue bridesmaid dresses.