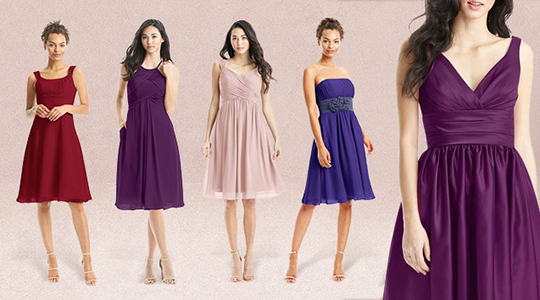 Find Fashionable Cheap Bridesmaid Dresses Today
For under $100!
Find Fashionable Cheap Bridesmaid Dresses Today
If you're tired of searching for cheap bridesmaid dresses, look no further than Azazie. These bridesmaid dresses cost less, but still have the same quality as many similar more expensive styles. When we're talking about cheap bridesmaid dresses, we're looking at styles that are less than $100.
Even though these designs can be classified as cheap bridesmaid dresses, Azazie still has an impressive collection of designs that range from fun and flirty to long and elegant. These dresses also include details such as elegant plating through the bodice and skirt, which gives the looks more romantic movement.
You'll also find dresses that are crafted from stiffer fabrics such as a tafeta that will give you a more traditional look. Taffeta, along with satin, adds more dimension to any pleating or gathering details because of the delicate sheen of the fabric. These cheap bridesmaid dresses also feature more fun, trendy accent like 3-D floral details, one shoulder accents and unique ruching.
When you're shopping for cheap bridesmaid dresses, you'll also find a collection of tulle skirts that can be added to bridesmaid looks to give them a more modern and romantic look. We have skirts in knee and floor lengths that can be paired with a variety of embellished tops to create the perfect bridesmaid look.