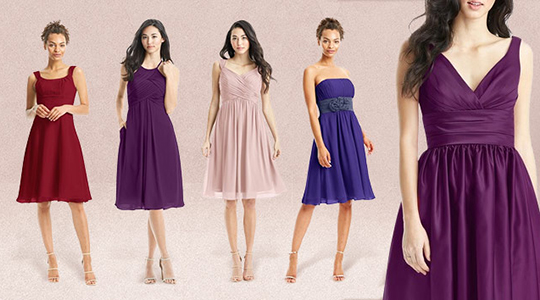 Find Fashionable Cheap Bridesmaid Dresses Today
For under $100!
Light up your beauty with chic bridesmaid dresses on the cheap
Cheap is the new chic here at Azazie. Being part of a wedding party means finding a dress that looks great, fits well, and is comfortable to wear. Recognizing that bridesmaids often have a budget for their dresses, we have produced gorgeous fashionable dresses that are made with a variety of fabrics, all at an affordable price. The most popular bridesmaid dresses we have online are made in a variety of colors so you have countless options to match the Bride's ideal wedding color and theme. You can feel confident about choosing our lower priced dresses because they are all under the low price of one hundred dollars. No longer do you have to worry about spending a fortune. Instead, now you can spend your time making the Bride's big day even more special by showing your support and enthusiasm. For the bridesmaids in need of a maternity dress or want a modest dress, we have a stellar selection for you to choose from as well.