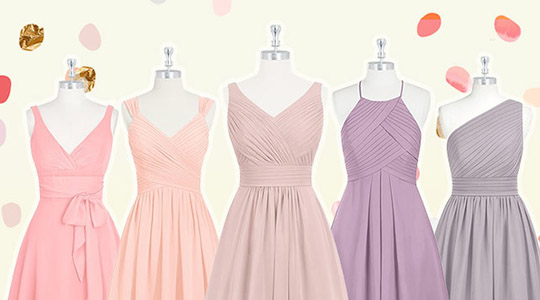 Charcoal Bridesmaid Dresses
Find the best charcoal bridesmaid dresses
Charcoal bridesmaid dresses exclusive to you
A color somewhere between silver and deep gray, charcoal is a rich shade of gray that has very remarkable depth and presence. With gray as the primary color in charcoal, the shade is solid and stable, creating a sense of calm and composure.
In weddings today, it is common to see a charcoal bridesmaid dress paired with complementary colors such as dark shades of blue, orange, beige, purple, red and golden yellows. The charcoal color has a steadying effect on other colors with which it comes into contact. Charcoal tones down the stronger and brighter colors and illuminates or brightens the softer ones. Charcoal is considered a neutral shade and it blends well with colors that are solid and definite. This is why many brides have been using it as a neutral base for their weddings.
If you have settled on the color charcoal for your bridesmaid dresses, it is time to think about the style and design. This could be easy if your bridal party has similar body types. But how about if some of them are curvy while others have wide shoulders and a broad chest? You may decide to give them a free hand to choose their preferred style and design. With nearly infinite combinations of styles and colors, you'll find something that fits your theme and your bridesmaids at Azazie.