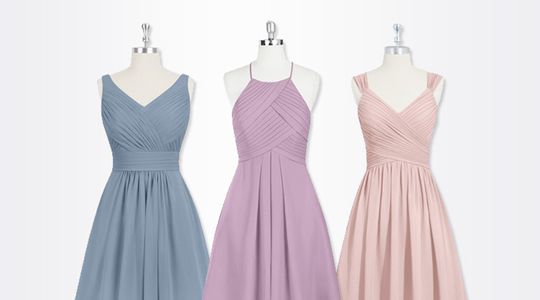 Bridesmaids Styles Under $100
Look good & stay on budget with these trendy styles under $100!
Diverse selection of bridesmaid dresses under 100 dollars
Beautiful bridesmaid dresses under 100 dollars are hard to find. Not with Azazie. We have worked day and night with our designers to create a variety of gorgeous dresses that you can feel proud of, knowing that you look elegant and fashionable, yet only spent pennies on the dollar.
We know that brides have specific color schemes and as a bridesmaid you want to make sure you get the color she wants. That's not a problem since Azazie has a myriad of color options to ensure your dress matches the bride's dream theme. With your budget in mind, we want to make certain you spend the absolute lowest amount possible for a dress. We acknowledge and take pride in all of the sizes and shapes our bridesmaids have, so when you find the dress you love, be sure to check out our FREE custom sizing option before you add the dress to your bag. Our custom sizing option means we tailor the dress from your unique measurements. This works as an advantage to you because you can spend less time going to a tailor's shop and spend less money total on an exclusive dress made especially for you! So browse our diverse selection of bridesmaid dresses under 100 dollars and feel confident about making the right choice.