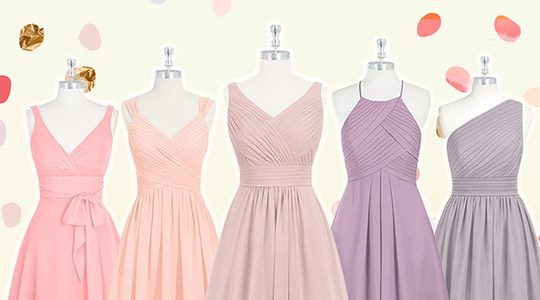 Beautiful Bridesmaid Dresses
Find the beautiful bridesmaid dresses here at Azazie
Beautiful bridesmaid dresses exclusive to you
Choosing the perfect bridesmaid dresses for the most important ladies in a bride's life is one of the most exciting aspects of wedding planning, but it can be so difficult! This decision is also an important one since it serves as a reflection of the bride's style and connects to the overall décor of the wedding day. It's also hard to find a style that suits a number of different shapes and that everyone loves. That's where Azazie can help!
With pieces in romantic, pastel hues of pink, purple and blue, as well as in darker, more dramatic blues and reds. No matter what colour scheme you're going for, Azazie will have beautiful bridesmaid dresses just as you need. Not only are bridesmaids very helpful leading up to the wedding, if you're forgoing a wedding planner, your bridesmaids can be the ones who will make sure everything goes perfectly on your big day.
Here at Azazie, you won't find your typical bridesmaid styles, but more interesting silhouettes, with asymmetrical hems, unique cutout details and colour blocked styles; basically, outfits that are cool and chic; your bridesmaids are sure to feel stylish. Whether you're doing the choosing or giving your girls the freedom to pick their own outfits, our style guide on the latest bridesmaid dress trends is here to help. It's hard to find gorgeous bridesmaid outfits that fit your body and personality perfectly, but our collection offers you dresses beyond imagination.