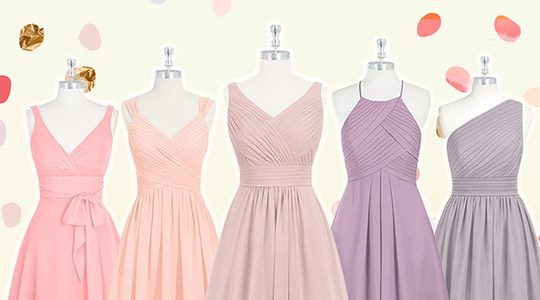 Baby Pink Bridesmaid Dresses
Shop the best baby pink bridesmaid dresses at Azazie
Baby pink bridesmaid dresses exclusive to you
Addition to rose gold bridesmaid dresses, Baby pink is a favorite color when it comes to debuts, fashion events and weddings. Brides just love the feminine and sweet look of a petal pink bridesmaid dress. This is one of the favorite colors of many women because this color can be complemented with green, yellow, white, brown, gray and pale blue.
Compared to satin bridesmaid dresses, Baby pink is a very soft and light shade of pink and is associated with femininity. But did you know that centuries ago the color pink was associated with boys while the color blue was for girls? The reasoning behind this idea was, since pink is a combination of red and white, and red being known as the color of strength, made it suitable for boys, while blue being more delicate was best for girls. The key turning point to the association of pink as a color for girls was when the wife of former U.S. President Dwight Eisenhower wore a pink gown during his presidential inauguration in 1953.
You can use black, brown or gold to reduce the feminine tone of pinks for your event. You can opt to use red sashes or bows on floral bridesmaid dresses to give warmth and depth to the overall look. Pairing baby pink with purple exudes boldness while using metallic colors gives an edge to the complete look. A baby pink bridesmaid dress can play a starring role in any wedding occasion when styled to suit the season and theme of the event among best bridesmaid dresses.