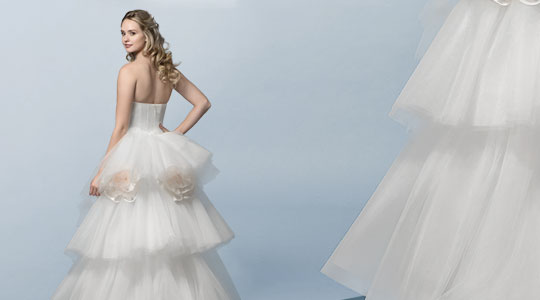 Amazing Wedding Dresses
Amazing wedding dresses for you
Let your beauty shine on your big day
Azazie's goal is to make brides look beautiful on her big day. A wedding gown is something to be treasured forever, and they should be created with lasting beauty and relevance. Whether you prefer a more subtle look with a simple silhouette or a more fun one with billowing, voluminous skirts, we have a plethora of amazing wedding dresses you can choose from. With a wide size range from W0-W30, we want everyone to have the chance to look and feel as beautiful as they should on their big day. In addition, we also offer custom sizing because finding the perfect wedding dress should be an enjoyable experience, not a hassle because it doesn't feel right in some places.
From classic cathedral trains to romantic floor lengths to flirty tea length dresses, we want there to be an amazing wedding dress for everyone. With over 200 bridal styles to choose from, finding the perfect dress is simple when you shop with Azazie. We also acknowledge that some brides may want to stray from the traditional wedding white, which is why we offer different colour variations such as ecru, cream, butter and blushing pink!
With so many amazing wedding dresses to choose from, selecting a gorgeous gown will be an extremely smooth and easy process. Azazie has got all your bridal needs covered so your big day will go by without a hitch.