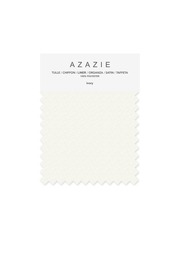 Azazie Swatches - Brides
Swatches & Fabric
$2
product info

We know that the colors you see on your screen may appear differently in person. And, we want you to be sure that you are able to shop our Bridal Collections with confidence! Go ahead and choose any of our color options listed, and we will send you our Satin, Tulle, Organza, Chiffon, Taffeta and Charmeuse fabric in that selected color. Seeing and feeling the different fabrics will help you decide which color is right for your dress, making shopping at home easy. All fabric swatch sales are final. Ask a question
molaronic
Color:
Champagne
Reviewed On:
2016-11-28 17:25:06
So glad I ordered this swatch. I couldn't tell if I liked the color on the website so I ordered this and the taupe swatch to compare the two. Definitely confirmed that I wanted the champagne color and seeing the difference in fabrics was so helpful!
dpspears
Color:
Ivory
Reviewed On:
2016-06-17 04:25:02
The swatches were true to the color of the dresses I received. Great investment! I was able to match my flowers and accessories exactly, GREAT job!
Celeste Parks
Reviewed On:
2016-01-25 10:19:17
Swatche samples are perfectly sized and true to color. So glad I found this site.
mnbride
Color:
White
Reviewed On:
2015-09-05 11:54:51
The swatch includes all the fabrics and is about 4 x 4 inches.
Jesi1494
Color:
Ivory
Reviewed On:
2015-07-02 16:18:57
The ivory is not even remotely ivory. It is maybe off-white at best.
Erica
Reviewed On:
2014-12-30 12:12:16
I ordered these swatches and was so happy that they came very quickly and were reasonably priced! I ordered several swatches (4 actually) and it was just what I needed to make a final decision on color. I plan on using Azazie for a lot of my wedding needs and wanted to make sure the colors I was seeing online were what I was envisioning- and they were! :) I just ordered the chiffon shawls and the wide ties in dark navy for my wedding party! Very excited for them to come in.