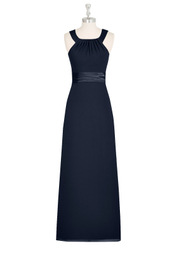 Azazie Rory
Bridesmaid Dress
FABRIC: Chiffon and Charmeuse
$129
product info

The lovely floor-length bridesmaid dress by Azazie has a sheath/column cut in a beautiful chiffon and charmeuse. Style Rory features a halter neckline, and comes in a full size range (A0-A30). A pleated detail at the front and back of the flowing skirt makes it perfect for the reception or a city hall wedding. Ask a question
Lauren Whidby
Reviewed On:
2015-10-29 02:12:00
Absolutely loved the dresses I chose for my bridesmaids for my September wedding!
desonyatyms
Color:
Grape
Reviewed On:
2016-11-22 13:10:22
Overall, the dress is well crafted and beautiful. However, the straps on my dress are extremely big. I will have to get them altered in order to make them fit. Maybe you all should consider asking measurements for those as well. The rest of the dress fits perfectly on me. Thank you so much for a beautiful dress. My only advice would be to also ask for sizing for the straps...if that is possible.
cecedescoto
Reviewed On:
2016-11-14 12:20:43
I've tried so many samples for my Maid of Honor dress to wear in my sister's wedding coming up. And as soon as I put on the Rory sample, I loved it!! I tried such a variety of sizes in the different dresses I sampled, and I've noticed how each style fits so differently. For instance, I tried the dress Britney in a size 4 which fit perfectly (Just wasn't what I was looking for) but for the style Regina I couldn't zip the size 4, or the size 6 in Cherish (because of my wide rib cage). So I ended up trying Rory in a size 8 and it zipped up perfectly but was then too big in shoulder area. And very long, (I'm 5.2") So I custom ordered this dress and I'm waiting for it to arrive in a few weeks. Really, really hoping it fits well! But so far, I've loved Azazie! The sample ordering has been sooo helpful. And I'm looking forward to leaving a review on my custom sized Rory dress soon(:
caitlint
Reviewed On:
2016-10-27 09:02:15
Ordered 6 of the Rory dresses for my bridesmaids and we LOVE them. We ordered some as regular sizes and had others custom made and they all came correct. They are very well made, good quality dresses. We took advantage of the $10 sample dress, as well as the colour swatches, to be sure we liked the dress/colour and we are so grateful we did as it helped us be certain about our selection. Highly suggest utilizing their $10 sample dress and swatches offer. It makes your life so simple. Everything with Azazie was easy, straight forward, timely and simple. Nothing but positive feedback in regards to our experience with Azazie.
nola347
Reviewed On:
2016-10-01 20:03:53
Gorgeous dress - period ! I put it on and instantly felt amazing but then REALLY fell in love seeing it in the mirror. Although I will be in royal blue the red is simply stunning! It is a seemingly simple dress but the neckline pleating along with the satin straps and waist are the perfect details that turn it into a dress that is both elegant with a hint of sexy at the same time. I love that it was perfect for my thin frame and, being 5'11", I am happy with the length while wearing any heel under 2". I cannot wait to wear it for the wedding!
Tricia Ciampa
Color:
Red
Reviewed On:
2015-10-30 08:59:14
The dress was exactly as I expected. I had already tried on a sample (in a different color) which made ordering the dress online much less stressful. I ordered it in a standard size (which just so happens to match my measurements) and it fits perfectly. I love having the option of custom sizing at no charge. The dress quality is great, production/ship time was quick. Very happy!
newnik2011
Color:
Dark Navy
Reviewed On:
2015-10-01 09:56:39
You got the dress shipped before the due date, however UPS lost my dress for my wedding. I had to be refunded but you did that expeditiously and I appreciate it. I am sure I would have been pretty in my bridesmaid dress! I would shop with you but I think anything over a $100 should require signature otherwise I like this company.
mistyisalice
Color:
Grape
Reviewed On:
2015-06-24 19:25:58
Dress was so well made. Shipping communication was very accurate, dress fit well - beautiful material.