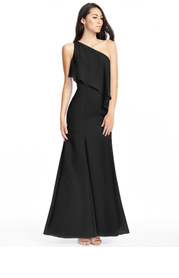 Azazie Nadia
Bridesmaid Dress
FABRIC: Chiffon
$139
product info

Fun and flirty, this comfortable chiffon bridesmaid dress is appropriate for any wedding from the beach to the church. Your bridal party will love this graceful floor-length trumpet/mermaid dress with an one neckline. Ask a question
Ashley Martinez
Reviewed On:
2016-09-22 08:59:24
ABSOLUTELY LOVE THIS DRESS!!! Every time I put it on, I don't want to take it off!!! I have an outrageously difficult time finding dresses that fit and flatter me. I'm a top heavy hourglass figure (which just means I have a huge bust for my size; 32G) and I'm short (5'2"). I tried the sample dresses first to find a style I liked. And I'm really glad I did because I quickly learned that would not work for me. I tried on a sample 8 dress in three different styles and none of them fit my bust. I highly recommend everyone take advantage of the free custom made dress option using your personal measurements. The standard sizing is best if you don't have a bust and can literally wear anything without concern if it will fit or not. The custom dress fits me PERFECTLY!!! This is DEFINITELY a dress I will keep after the wedding and continue to wear. It's comfortable, sturdy, and well made. I have the dress in grape but I tried on the standard in red and both colors are GORGEOUS!!! Basically this dress is AMAZING and comes in a garment bag that folds up with handles! So cool!!!
tamarah_averitte
Color:
Silver
Reviewed On:
2016-08-08 12:39:08
Beautiful Dress worn by my mother who was the Mother Of The Bride! The dress is very elegant and looks exactly as pictured! We did a custom fit on this dress and it fit perfectly!
Elizabeth Lee
Reviewed On:
2016-05-11 10:50:18
This dress is stunning! The fabric is the perfect weight and folds very beautifully around the body. I received the dress in mist and think it's such a lovely ethereal color. The perfect dress for a wedding or any other special occasion!
cheesepo247
Color:
Grape
Reviewed On:
2016-10-28 06:09:12
Great decision on this purchase for myself as the mother of the bride/maid of honor. My daughter made a great choice with Azazie for dresses for her bridal party
Brittany Means Carowick
Reviewed On:
2016-10-12 07:08:41
I ordered this dress in a panic, after unsuccessfully trying to find a wine-colored bridesmaids dress in the store. The Azazie process was wonderful! I loved that I could make sure the dress fit me by providing custom measurements for the same price as ordering one of their regular sizes. The Nadia was at the upper end of my price range, but it wears like a much more expensive dress. When I got the dress, it came in a beautiful carrying bag with a hanger--not shrink-wrapped and wrinkled! I was anxious about shipping, because the dress was supposed to arrive the same week of the wedding. Instead, it arrived early, with a week and a half to go! What a relief! Everyone complimented my dress all day. It fit me perfectly. I was nervous about the mermaid bottom, because I'm short and it's hard to find a good flare that flares in the right places. However, the Nadia was amazing. It hugged where it was supposed to and flared where it was supposed to--and I loved the top, which hid my tummy. Note to potential buyers: I indicated that I was going to wear flats with the dress, and did not add any extra inches to the bottom. When I got it, it just hit the floor, so I thought I should get a small heel to keep it from dragging. However, when I got some wedges, I ended up returning them because the dress was a good few inches off the floor with them on. Trust the process! I exchanged the wedges for flats, and the dress hung perfectly. The dress zips up the right side under your armpit, which (as a right-handed person) meant I needed some help zipping it up because of the angle. This was no problem for me, surrounded by other bridesmaids as we got ready, but just a note in case someone wants to wear this alone. If I had known about Azazie when I had my wedding, I would have asked all my bridesmaids to order from this site. Unfortunately, I didn't, so I'm going to spend the next year or so recommending this to everyone I know.
Shopsalot
Reviewed On:
2016-10-05 20:03:44
Dress design: 4 stars (out of 5) Quality: 3 stars The fact that Azazie offers custom sizing for the same price as standard sizes: 5 stars Actual custom sizing dress received: 2 stars Based on the great reviews for this dress, I think my experience with custom-sizing must be an unusual and isolated one. If you do order the dress with custom measurements, I recommend ordering this dress with ample time before the wedding/event, so that you can have it altered. Hopefully, your dress fits well and you don't have to get a custom-size dress altered to fit you. I initially tried on two different sizes of the sample Nadia dress from Azazie. I suppose I could've ordered a standard size, but since the prices are the same for standard and custom sizing, I ordered this dress with custom sizing. Positives: 1. Dress arrived on time 2. Neatly enclosed within the garment bag 3. The length of the dress is just right with the heels I expect to wear the dress with 4. The design of the dress is different than other silhouettes I've worn as a bridesmaid, so I had been looking forward to this dress 5. The availability of custom sizing services at the same price as standard sizes! How cool! And it makes sense since they don't even make the standard sized dresses until it is ordered anyway. Negatives: 1. That said, I'm quite unexcited about the excess fabric at the bust, waist, and especially the hips given that I had provided my measurements. My measurements haven't changed (regrettably) since I ordered the dress either. The dress is loose and ill-fitting so that it appears that I bought a dress 1-2 sizes bigger, instead of a dress with my measurements. 2. Bunching in the front that cannot be covered by the chiffon overlay, and will not lay flat due to the poor stitching work. 3. This is NBD, but some parts of the dress (e.g., overlay and the visible layer beneath the top layer of chiffon) arrived wrinkled as if it had been balled up tightly before being slipped into an unwrinkled garment bag (nicely covering up the wrinkles).
tamarah_averitte
Color:
Silver
Reviewed On:
2016-07-26 11:58:49
I ordered this dress as a secondary because the first place I ordered my dress from didn't fit and to tell you I'm excited and beyond grateful that Azazie was able to deliver the dress of my dreams. I ordered it custom fitted and it came in about two weeks. The dress was as pictured and fit me perfectly!!! I would absolutely order from Azazie again!!! Pics Coming Soon!!!!
breanna29010
Color:
Pearl Pink
Reviewed On:
2016-04-25 05:43:35
Beautiful for my bridesmaids. We did custom sizing and added am inch everywhere to be safe (unnecessary)...just send them actual measurements...they'll get it right! =)
breanna29010
Color:
Pearl Pink
Reviewed On:
2016-04-25 05:43:34
Beautiful for my bridesmaids. We did custom sizing and added am inch everywhere to be safe (unnecessary)...just send them actual measurements...they'll get it right! =)
Shawnmarie.northcutt
Color:
Pool
Reviewed On:
2016-03-22 09:53:38
Received my dress way ahead of schedule and the packaging was impressing, definitely shows this company cares about their product. The quality was more than worth the price. I will still have to get it altered in some places because I lost weight but the other measurements were spot on!
featherlump
Color:
Tahiti
Reviewed On:
2015-09-01 09:18:45
This is a beautiful, flattering dress that is made very well. My only negative is that with the custom order does not account for people's different butt sizes as that measurement is not taken, so it's a little tight there. But overall a stunning dress. Also Azazie customer service staff were helpful and friendly. I had a good experience purchasing from this site.