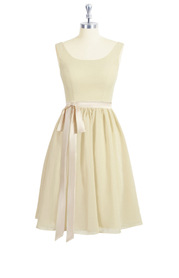 Azazie Mila
Bridesmaid Dress
FABRIC: Chiffon and Charmeuse
$99
product info

Style Mila by Azazie is a knee-length A-line/princess bridesmaid dress in a fabulous chiffon and charmeuse. The lovely dress features a scoop neckline and scoop back style. A playful bow detail on the dress makes it feminine, flirty and sweet. Azazie's Mila style comes in sizes A0-A30. Ask a question
Addy
Reviewed On:
2016-09-23 07:23:55
This dress was awesome! I got the custom sizing done, which I'll admit made me nervous as I knew my order wouldn't arrive until just before the wedding. It came out great though! My only complaint was that there was no way in the measurements for them to know how long my torso is and therefore how low the waist should be. So it was about 2 inches above mine, as I'm 5'10". They nailed the distance to my knees though! Keep in mind that this has a sort of built-in bra padding, so I wish I'd done my measurements with no bra! However, the measurements were perfect to what I sent in. I'm very impressed. This was a great dress (and amazing for the money!) and I recommend this website to my friends all the time. Also arrived a week earlier than expected.
swingthedayaway
Reviewed On:
2016-03-23 16:56:19
I absolutely adore my Azazie dress. It is wonderfully made and fits perfectly. There's nothing like a custom fit! I am so glad that Azazie can do custom fits and that they are affordable as well. Another that I love is the many colors to choose from! The quality is amazing and I would highly recommend this dress and company!
Lauren
Reviewed On:
2015-09-23 19:42:41
I chose Azazie because after doing a LOT of online research, and going to David's Bridal, I realized nothing else was as good a deal for as good of quality. It seemed from the photos that the quality of Azazie's dresses was good, and David's Bridal was just God-awful. SO cheap looking and expensive. I liked the Azazie dresses so much I ordered one for myself for the reception. Use Azazie for your dresses! (But be sure to do the custom measurements – a couple of my girls who didn't heed my advice on that front had to exchange theirs).
cjordan90
Color:
Dark Navy
Reviewed On:
2016-11-13 07:02:39
Fit perfectly- on all 4 bridesmaids. Measurements are accurate, nice quality and arrived quickly. Looks as good in person as the pictures. Will definitely recommend Azazie
Liz
Reviewed On:
2016-08-18 08:06:47
I am very satisfied with the wait time of the dress. Since it is shipping back and forth with UPS. It is definitely safe and the item arrives in a timely manner, it usually only takes approximately 3-4 days after their transaction period of making the dress and etc which takes the longer approximately 2-3 weeks. After Multiple dresses back and forth. In the end, I was able to find my dress! Sizes are a hit and miss definitely. Got a Size 14. My height is 5'7 and I usually wear approximately a size 10-12 in regular clothes so it was a hit and miss. Had to play with the sizes. However, Size 14 fit me very well! I'm very satisfied with the product. The dress is for a wedding Bridesmaid outfit, but can be used for other outings after the wedding. The dress quality is decent. The color I got Azazie Mila is in Coral. Thank you for the Great Customer Service! It must be hard without having a store and customers having to exchange dresses ever so often! I appreciate it since it took approximately 2-3 months for me to finally pick the dress I'm all for! Thank you!
bethanymparker3
Color:
Dark Navy
Reviewed On:
2016-06-22 20:54:25
I got this dress for my younger sister as a junior bridesmaid dress and it was perfect! We did the custom measurements and it fit her like a glove. I can't say enough good things about the way the dress looked on her--the quality, sizing, and style were all perfect for my wedding. I'm so glad I chose Azazie for my bridesmaids dresses!
B
Reviewed On:
2016-06-08 21:07:07
Simple and pretty dress. I used the custom measurements option, and while the dress technically fit, it was proportionally very off. The waist hit well above my natural waistline and was not terribly flattering. The dress comes with odd, triangular padding in the bust that also did not fit properly. All in all the dress worked out fine for the wedding, but was not as flattering or as well fitted as I would have hoped with the price and custom measurements.
debi5702
Color:
Burgundy
Reviewed On:
2015-09-12 06:43:01
This is a beautiful dress....absolutely gorgeous. Only prob it was for a 11 year old. We ordered 1 1/2 months in advance. Unfortunately our daughter's body was changing.....and she developed a larger bust size....so we are having it altered locally in time for the wedding! The new seamstress is only charging 25$ and said there is enough material to do this.....so we are ecstatic!!!
mackenzie.s.sarna
Color:
Sky Blue
Reviewed On:
2015-08-01 07:56:31
The dress arrived promptly and fits perfectly. The neck line is a bit higher and the straps a bit wider than I expected, but other than that it is exactly what I expected. I am very pleased with my purchase!
rarwatki
Color:
Dark Navy
Reviewed On:
2015-07-14 08:03:49
Beautifully made dress - and it came in a nice garment bag. The skirt was a bit fuller than I expected, just as a note. And it runs a little small through the waist and bust. I typically fit in a size 12 or 14, and I will need to return it and order a 16.
Wendyjeanstevens
Color:
Ocean Blue
Reviewed On:
2015-06-30 19:13:38
gorgeous color, fabric has a very nice feel, luxurious. and fit is very classy and flattering.
Krystal M
Reviewed On:
2015-06-29 07:08:23
The dress is great and feels great on. If ordering a standard size order the size that fits your waist. That's what I did and it overall fits great.
katie.e.nation
Color:
Steel Grey
Reviewed On:
2015-05-25 14:25:33
The material and colour turned out just how I'd hoped, but the sizing is way off! I ordered a custom sized dress and it's HUGE on top. I'll have to get it tailored as I don't have time to return it. I bought it in steel grey and the ribbon is shinier/more silver than pictured.